If you have updated your version of Windows 10 recently and you happen to run multiple monitors, then you may run into issues while gaming. Microsoft has revealed this week that its latest update has brought along some problems when running 3D apps with more than one monitor connected to the PC. These problems were described in the 'known issues' section of the patch notes for Windows 10 build KB3213986.
The patch notes were initially reported by techpowerup, they say: "Users may experience delayed or clipped screens while running 3D rendering apps (such as games) on systems with more than one monitor. To work around this issue please consider the following options: 1. Running the application in Windows mode (not full screen), or 2. Starting the application with only one monitor connected".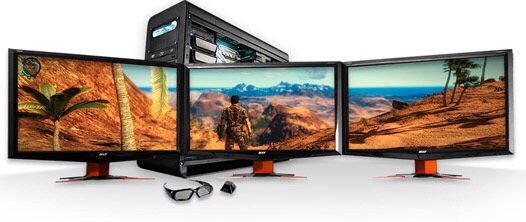 This essentially means those running two, three or more monitors on their gaming PC may experience a number of issues while trying to run games in full screen mode. The obvious way around this would be to use borderless windowed mode, which you may do already. Regular windowed modes will also work.
Microsoft has this issue listed so we will likely see it fixed by the time the next Windows Update rolls around, though the company hasn't confirmed that for sure.
KitGuru Says: I haven't had a chance to play many PC games this week so far so I can't say I've come across any problems just yet. However, I know plenty of our readers also use multi-monitor setups, so I would be interested to hear whether you guys have had any problems?