We may never know how many real people had their details leaked to the world as part of the Ashley Madison hack that took place last year, but we do know its effects are far reaching. In the latest follow up scandal, someone is sending letters to the wives of people who were members on the site, demanding Bitcoin payments or they threaten to release the information to friends and family.
Worse yet, these are follow up letters. The person behind these was also behind original letters sent to the husbands making similar demands. Now seemingly they've upped the ante by contacting spouses directly, thereby enhancing the embarrassment and/or anger of the situation.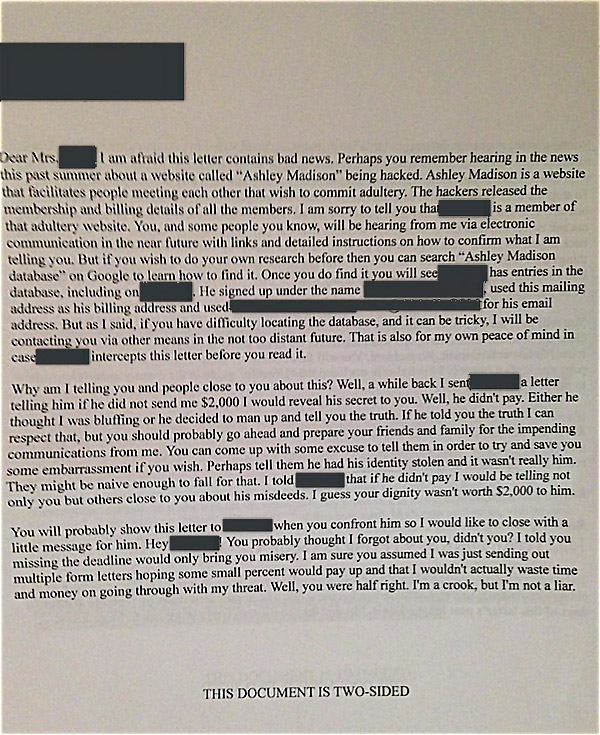 Source: GrahamClulely
The worry now of course, is that if the $2,500 Bitcoin ransom is not paid, will the blackmailer follow through on their threats to get in touch with family members? It seems unlikely, as that road is not paved with Bitcoins, but the threat is certainly there and perhaps people intercepting the letter before it reaches their other half will decide to pay in the hopes of keeping it under wraps.
Fortunately the scale of the blackmailing letters doesn't seem to be particularly large just yet, but of course with the very nature of these sorts of communications, people may choose to keep it quiet. A few have reached out to security blogger Graham Cluley, who urges anyone receiving such letters to not pay under any circumstances, as it will only encourage the person behind the letters to continue their harassment of that person and others.
[yframe url='http://www.youtube.com/watch?v=-tYsrw5tOF0′]
There is little suggestion from the language involved that the blackmailer knows much about wives, friends or family members of the victims in this case, so there is less chance for a follow up communication beyond this point.
So far it doesn't look like anyone has paid up however, so this scam may quickly disappear.
Discuss on our Facebook page, HERE.
KitGuru Says: It's difficult, but always advisable to not pay ransoms for any reason. Even if it temporarily fixes a problem, in the long term it makes you more vulnerable and puts others at risk of further exploitation.