One of the worst parts of the Edward Snowden revelations back in 2013, was that they explained how it was possible for the US and other governments to force companies to hand over information on their customers without telling anyone. And that's exactly what looks to have happened in the case of Wikileaks, where three of its staffers had their emails and other information sent by Google to the US government in 2012 and they've only just been informed.
Understandably, the whistleblowing organisation is not happy about this news and has contacted Google's current chairman, Eric Schmidt, to complain, demanding to know what exactly was handed over. The letter postulates that by delaying so long, Google has threatened the foundation's ability to protect the privacy of its staff.
The letter – which can be read in full here – also points out that the site's founder, Julian Assange, had a conversation with Eric Schmidt back in 2011, where it was pointed out that Twitter had challenged the government over revealing when search warrants were issued for customer data and that Google should do the same. Moving forward, Wikileaks demands that Google inform it of all information that was given to the US government and on top of that, an explanation for why it took over two years for the search giant to inform the Wikileaks employees that it had handed over data on them.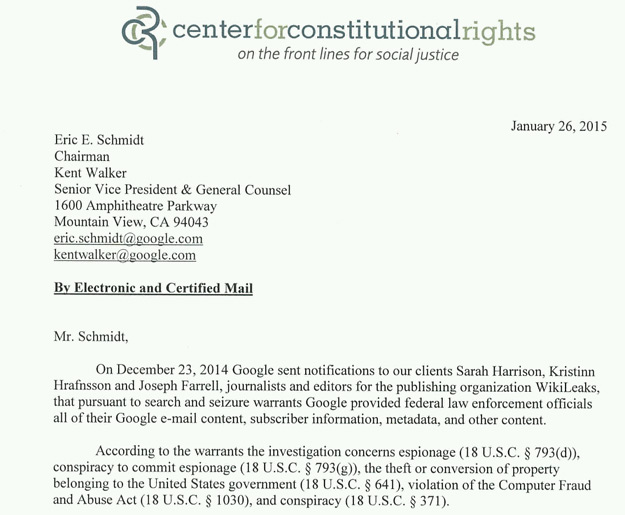 Some of that information is expected to be private, personal correspondence. One of those investigated was British spokesperson for Wikileaks, Sarah Harrison, who said in a chat with the Guardian that she was horrified to imagine the FBI pouring over her emails that consoled her mother for a death in the family. She went on to accuse both the US government and Google for violating her rights and invading the privacy of a British journalist.
Indeed, while there is an argument to be made by the US for discovering how Wikileaks gets it information, is it any different from a news organisation with confidential sources? Is through its actions, the US threatening the foundation of a free press?
Google's only comment on the matter has been that it does not comment on individual cases.
Discuss on our Facebook page, HERE.
KitGuru Says: It seems strange that Google would roll over as much as it has here. Twitter mounted a big defence when it had to hand over information on its users and it won the right to inform them when it was happening, allowing them to mount their own legal defence.