The Open Rights Group has warned that the UK's recent push for age verification on pornography sites as part of the Digital Economy Bill, could lead to more people being at risk of credit card and identify fraud. Although credit card checks exist for purchases, age-gates that use credit cards opens up many more people to potential data theft.
The Digital Economy Bill is a piece of legislation currently passing thought he various houses of UK parliament and if enacted, would bring about many sweeping changes to the way the online world works in the UK. The most commonly cited problem with it though is the forcing of legitimate age verification checks on sites that host pornography. If the sites don't do that, they can be fined or blocked, censoring them entirely.
Although no system has been put forward as a standard for how these sites could force age verification, the most commonly suggested is credit card checks. But if many thousands or millions of people begin inputting credit card details on sites that may or may not securely store such information, that could put them at serious risk.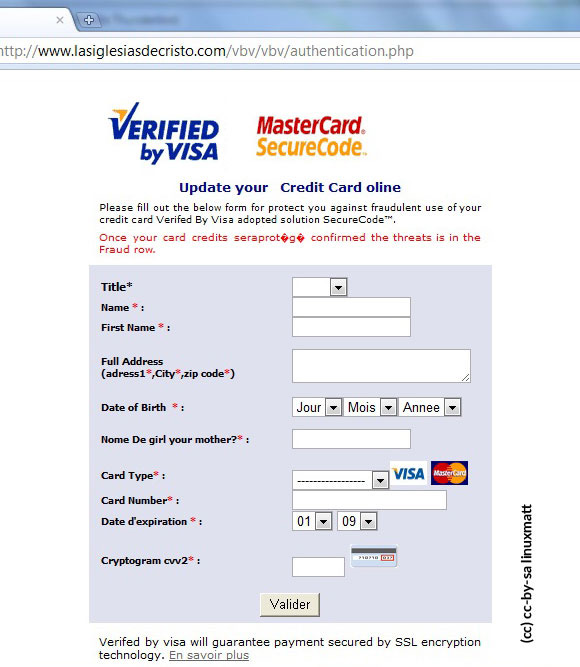 If you saw this every time you looked at porn, you'd be far more lax about where you input that information. Source: ORG
"If asking for credit card details becomes common or permissible, and a credible ask in the minds of UK citizens, then the government will have created a gold mine for criminals to operate scam porn sites targeted at the UK, inviting people to supply their credit cards to scam sites for "Age Verification," the Open Rights Group warns.
It would be easy to set up any kind of site that was linked to from social networks or similar, with salacious content hidden behind a "prove you're 18," gate that requires inputting personal information. It's not hard to imagine such a scam becoming common place.
"Anything that normalises the entry of credit card details into pages where the user isn't making a payment will increase the fraudulent use of such cards," ORG continues. "And if a website is validating credit cards to prove age, but not verifying them, then the internationally agreed standards to protect credit card data are unlikely to apply to them."
Even for legitimate sites, it would certainly be easier to implement effective, but insecure age verification to avoid being blocked or fined by the government. Who's to say that those sites couldn't be hijacked or hacked and credit data stolen and sold on?
Discuss on our Facebook page, HERE.
KitGuru Says: More surveillance state moves by the British government. First the Investigatory Powers Bill that forces internet connection records and now this shortsighted legislative act. We really need to see more technical expects in parliament.