The Nintendo Switch announcement has been exciting for many but unfortunately, there are those out there looking to take advantage of that. This week it emerged that a Nintendo Switch beta scam is doing the rounds, using fairly unsuspicious looking sites and a fake sign-up form to lure in Nintendo fans.
Those targeted are pointed towards beta.nintendo-eu.com and betanintendo.us, which will ask visitors for their email address. Neither site looks particularly out of the ordinary at first, it has a clean design and the Switch trailer embedded. However, things start to go downhill after handing over your email.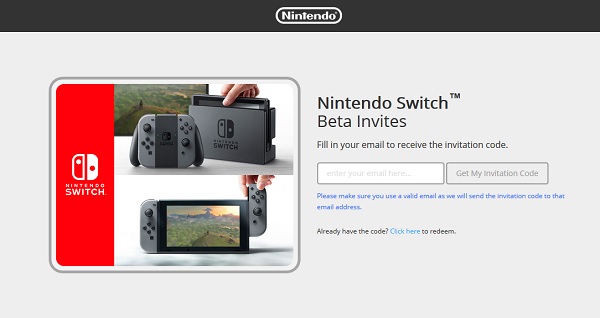 Once handing over an email address, you should get a message with fairly bad grammar, which is usually the first giveaway when it comes to internet scams. The message claims that you have successfully been chosen for the Nintendo Switch beta program and gives you a sixteen digit code which looks similar to the codes the Nintendo eShop uses. Full message below:
"PREPARE FOR REVOLUTION,
Congratulation! You are eligible to join the Nintendo Switch™ Beta Program! You are chosen, which means you can get into the Nintendo Switch Beta! You will receive the Nintendo Switch Beta Hardware which includes 1 System, 1 Docking Station, 2 Switch Controller (Left and Right) HDMI cable, 1 power adaptor, as well as instruction booklet. Below, you will find a code to redeem. Please note: This code is specifically for your account, so do not share this with anyone."
At this point, the scam should be fairly obvious but if you happen to miss the grammar mistakes in the message and click over to the new site to 'redeem' your sixteen digit code, you will likely be greeted by malware. At the time of writing, these two sites are still active and have not been shut down, so the best thing we can do is raise awareness to help reduce the number of potential victims.
Discuss on our Facebook page, HERE.
KitGuru Says: This isn't really anything out of the ordinary, we tend to see beta scams for most big multiplayer game launches these days too. In fact, there was one for Battlefield 1 earlier this year. However, hopefully calling this stuff out will help more people avoid it.