Although Samsung Electronics and SK Hynix have been sampling LPDDR4 memory for mobile devices for well over half of a year now, actual devices featuring the new type of low-power dynamic random access memory will not hit the market until the second half of next year. According to market analysts, the fourth-generation mobile DRAM will only be required by next-gen application processors.
Flagship smartphones and media tablets from leading manufacturers will likely start to utilise LPDDR4 memory in the second half of 2015, according to Mike Howard, a senior principal analyst at IHS, reports Computerworld. Mainstream devices will start to use the LPDDR4 technology in 2016, according to the analyst. Previously it was believed that the first devices featuring the new memory standard will be available starting from late 2014.
So far only Qualcomm has introduced a system-on-chip that supports LPDDR4 memory. The Snapdragon 810 features four ARM Cortex-A57 and four ARM Cortex-A53 cores, Adreno 430 graphics processing unit with support of 3840*2160 resolution, LPDDR4 memory controller and so on. The chip will become available commercially in the first half of 2015. Apple, Intel and Samsung yet have to announce application processors with LPDDR4 support.
The first LPDDR4 chips operate at 3200Mb/s effective clock-rate and have 8Gb capacity; by contrast the fastest LPDDR chips operate at up to 2133Mb/s data-rate and have up to 4Gb capacity. The new LPDDR4 memory consumes approximately 40% less energy at 1.1 volts (compared to LPDDR3), according to Samsung. Mobile devices with quad-channel LPDDR4 sub-system will feature peak memory bandwidth of 25.6GB/s, which is in line with today's PCs. The LPDDR4 technology is not based on the DDR4 architecture.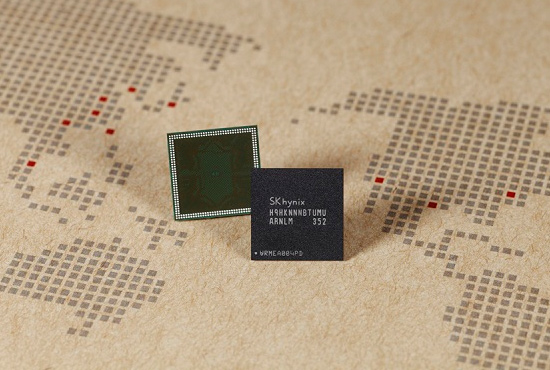 While the first LPDDR4 devices will arrive somewhat later than originally projected, it is expected that they will become mainstream faster than the LPDDR3 did because the forthcoming mobile application processors will need additional memory bandwidth to support ultra-high-definition video as well as advanced video games.
"Mobile games are becoming increasingly demanding and bandwidth intensive," said Nathan Brookwood, principal analyst at Insight 64. "But faster processors won't have much of an impact on game performance unless more memory bandwidth is also available."
It is interesting to note that the LPDDR memory is not used solely by ultra-mobile devices. Apple MacBook notebooks utilise LPDDR3 memory in order to cut-down power consumption.
Discuss on our Facebook page, HERE.
KitGuru Says: The LPDDR4 memory will further shrink the gap between personal computers and mobile devices. Future smartphones and tablets with quad-channel LPDDR4 memory sub-systems will feature memory bandwidth of 25.6GB/s. Next-generation mainstream personal computers with dual-channel DDR4 (at 2133MHz) will feature memory bandwidth of 34.1GB/s.