Intel Corp.'s Thunderbolt interconnection introduced in 2011 has been the champion in terms of performance and usability, but its limited adoption by PC makers, high price and other peculiarities have made it an outsider in the market. This week Intel introduced its third-gen Thunderbolt, which uses industry-standard USB type-C receptacle and cables as well as can work with all USB 3.1 type-C devices.
The Thunderbolt 3 combines three interconnection technologies: SuperSpeed+ USB 3.1, DisplayPort 1.2 and PCI Express 3.0. The new technology has maximum bandwidth of 40Gb/s, it can deliver up to 15W of power to any bus-powered device and up to 100W for charging, everything using an industry-standard USB 3.1 cable. Just like previous-generation Thunderbolt technologies, the third iteration supports daisy-chaining of up to six devices.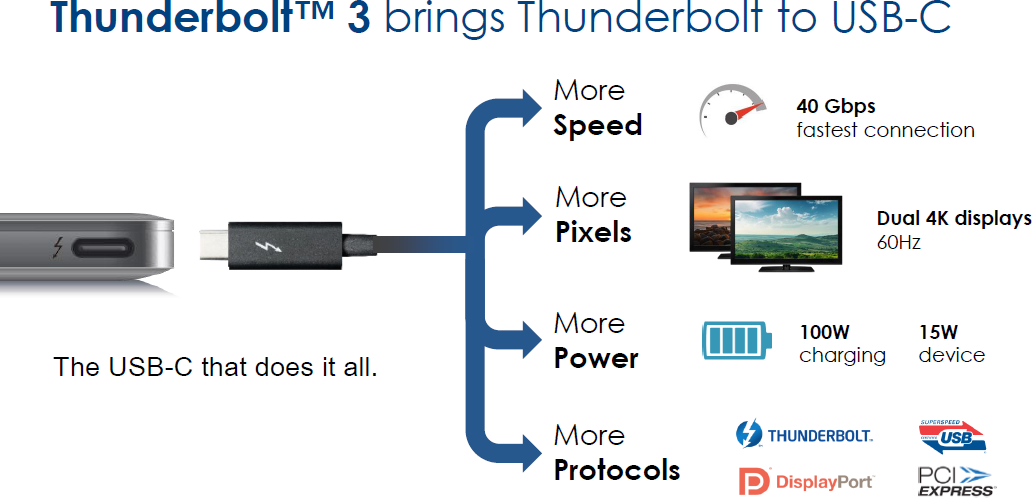 Thanks to extreme 40Gb/s (5GB/s) bandwidth provided by Thunderbolt 3.0, usage models for the new interconnection technology are very broad. It can be used to connect  a display with up to 5K resolution and 60Hz refresh rate using only one cable; it can also drive two 4K 60Hz monitors along with an external storage from a single port; it can support ultra high-performance external storage devices (with multiple SSDs in RAID 0 mode, for example); external graphics adapters; docking stations with USB 3.1, HDMI as well as other bandwidth-hungry ports and so on.
All implementations of Thunderbolt 3 technology are enabled by Intel's code-named Alpine Ridge controller, which is also Intel's only USB 3.1 chip (officially certified by the USB IF). The chip requires multi-lane PCI Express 3.0 interconnection (given maximum bandwidth of 40Gb/s, it requires at least five PCIe 3.0 lanes), so expect it to be used mostly on next-generation "Skylake" platforms with plenty of spare PCI Express 3.0 lanes.
Thunderbolt 3 will be able to use passive copper cables with up to 2 meters length to provide maximum bandwidth of up to 20Gb/s for Thunderbolt, USB 3.1 and DisplayPort. For 40Gb/s transfer rates more expensive active copper cables will be required.
The cost of Intel's Alpine Ridge controllers is unknown. If it remains too expensive, then fewer makers of mainboards and microprocessors will use them. Intel does not reveal its prices, but claims that at least 30 mobile PC designs with Thunderbolt 3 will be available within the next year, which means that virtually all premium laptops from companies like Apple, Hewlett-Packard, Dell, Lenovo and other will support Thunderbolt 3.
"We expect strong PC adoption of Thunderbolt 3 because of the inclusion of Thunderbolt with USB 3.1 and the USB-C connector, and compelling new uses such as single-cable docking and external graphics," said Anna Cheng, a representative for Intel. "We are expecting more than 30 mobile PC designs from the top PC OEMs due out within the next year."
The first products featuring Intel's "Alpine Ridge" and Thunderbolt 3 will hit the market already later this year.
"Initial products with Thunderbolt 3 are expected to start shipping before the end of this year, and ramp in 2016," said Ms. Cheng.
Discuss on our Facebook page, HERE.
KitGuru Says: At present Thunderbolt 3 looks impressively good. In general, this is the only port any mobile PC needs to connect everything. However, a lot will depend on actual price of Intel's Alpine Ridge controller. Each additional chip that costs PC markers $10 – $20 can transform into $50 – $100 for the end-user because of various reasons and thus make certain technologies less appealing. It makes a great sense for Intel and PC makers to replace numerous ports with one. But will they sacrifice their profit margins for that? Only time will tell!