Nvidia Corp. on Monday introduced two Tegra K1 system-on-chips (code-named Logan) for mobile devices that feature the company's Kepler graphics architecture as well as 32-bit or 64-bit general-purpose processing engines. As expected, the new chips not only improve graphics performance of mobile gadgets like smartphones and tablets, but also bring GPU compute capabilities to such kind of devices.
Nvidia offers two pin-to-pin compatible versions of Tegra K1: one sports ARM Cortex-A15 general-purpose cores (in four plus one configuration [four cores operate at up to 2.30GHz/2.50GHz frequencies, whereas one core works at lowered clock-rate to cut power consumption]), another features Nvidia's own custom dual-core code-named Denver processor compatible with ARMv8 instruction set. Both Tegra K1 system-on-chips (SoCs) feature Kepler architecture-based graphics processing engines that support DirectX 11, OpenGL 4.4, OpenGL ES 3.0 and tessellation technologies (presumably, in addition to other application programming interfaces) and feature 192 stream processors. Nvidia Tegra K1 SoCs support DDR3L, LPDDR2, LPDDR3 memory types, 4K video encoder/decoder, an audio processor, a security engines and other necessary controllers.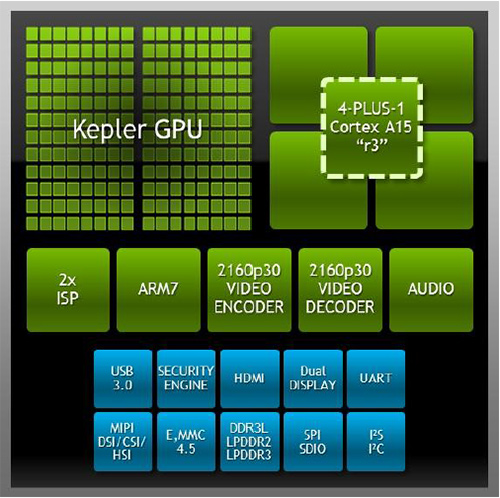 The 64-bit version of Tegra K1 is projected to be significantly more powerful compared to 32-bit version thanks to Denver's 7-way superscalar design, up to 2.50GHz clock-rate and 128KB+64K L1 cache. To take advantage of Tegra K1 64-bit processor, applications will have to use 64-bit compute technology and in many cases have to be re-designed. To look better on Tegra K1-based devices, video games also should support tessellation and other technologies featured by the chips.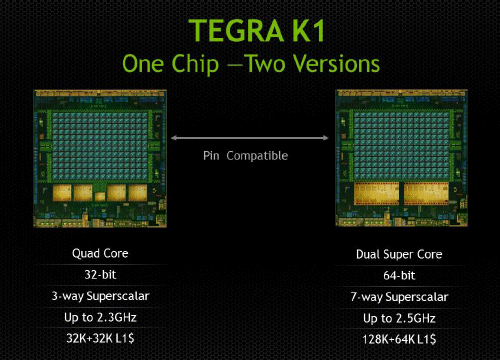 According to Nvidia, Tegra K1's graphics processing unit is more powerful than GPUs used inside Microsoft Xbox 360 and Sony PlayStation 4 video game consoles. The company also claims that Tegra K1's GPU is 1.5 times more power-efficient than competing mobile application processors, such as Qualcomm's Snapdragon 800 and Apple's A7, as measured by GFXBench 3.0 GL Gold, Manhattan.
"With the introduction of this revolutionary processor, we can take applications that run on PC or console and run it on Tegra. From here onward, I think we're going to see the performance and feature gap between mobile and PC high-end gaming continue to narrow to the point where the difference between the platforms really blurs," said Tim Sweeney, founder of Epic Games and developer of Unreal Engine.
Nvidia's Tegra K1 chip will not only power new generation mobile devices like smartphones, tablets and game consoles, but will also be used in various infotainment systems for cars. Thanks to support for up to 4K (3840*2160 resolution) video output, the SoCs can be used inside TV-sets and other types of consumer electronics as well.
"Kepler powers all 10 of the world's most energy-efficient supercomputers. By scaling this technology down, NVIDIA has set the new standard for what's possible in mobile devices," said Linley Gwennap of the Linley Group.
The 32-bit version Tegra K1 is expected in devices in the first half of 2014, while the 64-bit version of the SoC is expected in devices in the second half of the year.