Although we may not see another Apple iPhone-compatible fitness tracker from Nike, the company will continue to offer fitness applications and will keep on working with Apple, its chief executive officer said.
Many believe that after Apple releases its own smartwatch later this year, it is going to cease working with third parties who offer wireless fitness trackers that come with software for Apple iPhone. Nike has been Apple's partner for quite some time and its FuelBand/FuelBand SE smart-bands are quite popular among iPhone owners. But once Apple starts to sell its own smartwatch, it will no longer need third-party hardware in its ecosystem. Just like that, Apple stopped working with Motorola on iTunes-compatible phones once it reached the finish line with its iPhone development.


Recently it was reported that Nike split up its FuelBand and FuelBand SE development team, which means that the company does not have plans to offer similar hardware in the foreseeable future. Nonetheless, this does not mean that Nike will cease working with Apple. By contrary, the chief exec of Nike is "excited" about the future of the relationship with Apple.
"I will say the relationship between Nike and Apple will continue," said Mark Parker, chief executive of Nike, in an interview with CNBC, reports TechRadar. "I am personally, as we all are at Nike, very excited about what is to come. We have been working with [Apple] for a long time. We are excited about where that relationship will go forward."
In case Nike really fired the FuelBand team, then we will hardly see any new smart-bands from the company in the foreseeable future. However, Nike promises that it will focus on better software for fitness as well other wearable computing devices.
"We are focusing more on the software side of the experience," said Mr. Parker, reports Cnet News. "I think we will be part of wearables going forward. It will be integrated into other products that we create and that we are looking to expanding our partnerships to create more reach for the Nike Fuel and Fuel system that we have."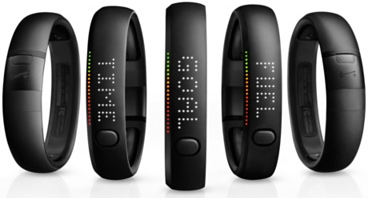 Integration of FuelBand's capabilities into footwear and sportswear sounds like a logical idea. However, from today's costs perspective it does not seem like a plan for the short-term future as such cloths will simply be too expensive.
Discuss on our Facebook page, HERE.
KitGuru Says: Since there will be loads of fitness trackers going forward, which will result into unavoidable commoditization of such devices, leaving this market early may be a wise move from Nike. It will be interesting to see what software Nike plans to offer for the iWatch as well as, potentially, for other smart-bands.