While iOS 11 didn't have the smoothest launch possible, it seems that Apple users are now happy with the update. The company has released new metrics on its App Store support page, showing that iOS 11 is now installed on 52 percent of total iPhones and iPads in use.
Prompting the user base to jump towards a new operating system is no easy task, and to get over half within two months is impressive, but this still marks a noticeable slow to Apple's adoption milestones since 2015's iOS 9.
iOS 9 set the record for the fastest downloaded software release in Apple's history, reaching over 50 percent in less than a week. The following year, iOS 10 was adopted a little slower, taking just short of a month to hit 54 percent of users. One month and three weeks into the life of iOS 11 and it still hasn't managed to reach the heights of its predecessor just yet.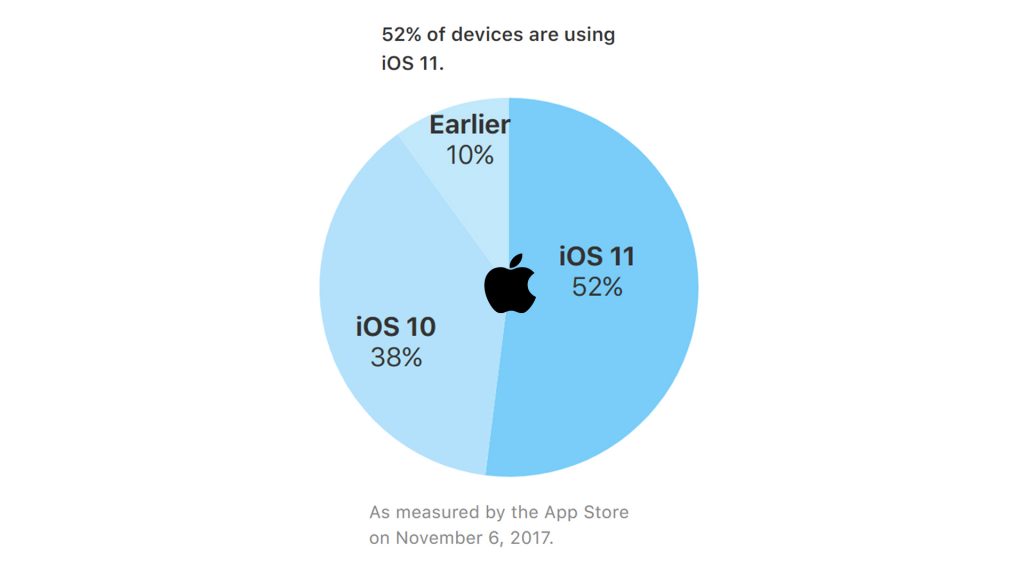 iOS 11 released on September 13th, and while Apple usually reveals its official figures on a monthly basis, the company decided to skip October to wait for the release of its new flagship iPhone X this week, or perhaps didn't want to reveal the then-poor figures.
With 52 percent of users now on iOS 11, iOS 10 has fallen by 51 percent from September's results, while less than 10 percent are still using iOS 9 or prior.
The latest iOS 11.1 update has since fixed the battery issues that plagued devices at launch, but has unfortunately introduced a plethora of other bugs in its wake. Media playback is now known to stutter, audio controls on the lock screen can spontaneously break, makes the word "I" unusable with autocorrect changing it into a strange character and slows the calculator app to an unresponsive stop.
Apple is currently working on iOS 11.2, which should be available in the coming weeks.
KitGuru Says: Despite the slow, these figures are still impressive. Most Android companies wind up taking a year or more to hit the same adoption rate. Are you currently on iOS 11? How are you finding it?