After several months of developer testing, IOS 11 is set to officially roll out to iPhones and iPads later today in a huge update that brings along Augmented Reality, improvements to Siri and more. The update was first showcased at WWDC earlier this year but is now ready to roll out to the public, just ahead the iPhone 8's shipping date.
For iPad users, iOS 11 will bring along a brand new Dock, providing quick access to frequently used apps and documents. Users will be able to easily drag and drop files, texts and images between split-view apps on the screen and the Apple Pencil will now have deeper integration, allowing for 'Instant Notes' when tapping the pencil on the iPad display from the lock screen.
The most important update comes with the all-new Files app, providing iPad users access to the file manager to store and organise files. There is built-in support for cloud backup services too, including iCloud, Dropbox and others.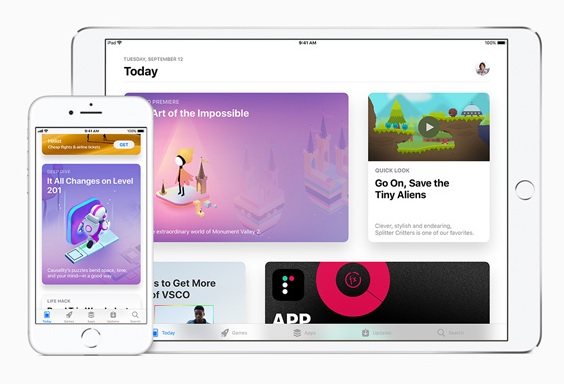 iOS 11 will ship with ARKit support, meaning developers can start releasing quality augmented reality apps for the iPhone and iPad. We saw one such project during Apple's event last week, with two developers showing off an AR strategy game in action on the iPhone 8. The game is called 'The Machines' and will be rolling out as a free app with the iOS 11 update.
The App Store is getting a redesign for the first time in years with this version of iOS. This change will make promoted/recommended apps easier to find on the front page. Apple is also going to start posting feature articles and interviews to help people learn more about developers behind certain apps.
Aside from those major changes, Siri will be getting the usual round of improvements, you will be able to send money via iMessage and Apple Music subscribers can now share music with other people.
The iOS 11 update starts rolling out today at 6PM here in the UK.
KitGuru Says: As an iPad user, I am looking forward to the new multitasking improvements coming in iOS 11. I don't see this update drastically improving my iPhone experience, though I will be checking out The Machines when I get some spare time. How many of you are currently running an iOS device? Are you looking forward to tonight's update?