As you might expect, testing a speaker accessory like this involves putting it through some very simple paces. I hooked it up to my phone and played various genres of music for several hours, trying out the cabled and bluetooth connections, as well as seeing what sort of range it can handle.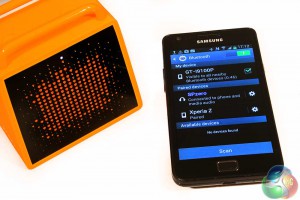 Pairing it up is incredibly easy. You hold the button you turn on Bluetooth and off you go. Of course plugging it in is also a doddle, but with the simplicity of the set up comes more regular usage and it means others with devices can easily join in the music streaming if your collection gets a bit stale.

Sound quality is of course the linchpin that this product rests on and I must say, it doesn't disappoint – if you consider that this is a mobile accessory. No it doesn't have the bass or stereo soundscape of a 2.1 (or more) set up. No it doesn't have the depth of some £100 phone speaker docks, but for what it is? It's punching above its weight.
Clarity is king on the SPZero and provides a very crisp sound considering it's being pumped out of a single driver, even if, as Antec puts it, it is a "revolutionary proprietary high-response driver." Bass wise it's less impressive and you'll certainly miss it if you're used to high quality headphones or a sub equipped entertainment set up, but for what it is, the effect isn't bad at all. You can also boost bass with your EQ settings.
Speaking of loudness, the SPZero has plenty of punch there. Easily giving you reason to turn it down if you value your ear drums. If that's not enough for you though, you can even daisy chain a pair together for improved volume and stereo sound.
In regards to the battery life, I have yet to drain the one charge I gave this when I was given it and I've had it going for hours and hours. Antec says that it'll do eight hours and while I haven't run it long enough to test that statement, it's certainly got enough that you won't need to charge it very often.
It's also pretty durable and stands up to smatterings of rain and splashed water with no problem. I wouldn't want water pouring into the audio connectors, but overall the SPZero should be able to handle a quick shower if it needed to. And on top of that, there's a built in microphone that means you can take calls without unpairing or taking out the cable – though bear in mind that you will be speaking in public, since the voice outputs and inputs through the speaker.
The SPZero is priced at $80 on the official site, which should put it around £50, though I've seen it priced at some retailers at around £40 and even on some auction sites at closer to £30, so it's worth looking around. At any of those prices this is a pretty solid buy, but at the latter it's practically a steal.
The Antec SPzero offers a punchy, crisp and well rounded sound, if a little lacking on the bass, but it's well put together, eye catching and easy to use. If you can find it at a good price, I wouldn't hesitate to recommend it.
Discuss on our Facebook page, over HERE.
Pros
Loud and punchy
Eye catching
Well rounded sound
Incredibly easy to use
Water resistant, built-in microphone
Good battery life
Cons
Bass is a little lacking, boosting it kills volume
Standard retail price isn't great, but plenty of deals out there
KitGuru says: A well priced, capable Bluetooth speaker designed to appeal to the younger audience who love custom colour schemes.