If you're a maker of applications with in-app purchases, you have the next 60 days to implement a laundry list of changes that are designed to offer the consumer more information about what they're spending their money on and to make it harder for children to 'accidentally' run up thousands of pounds on their parents' credit cards.
Initially proposed by the Office of Fair Trading (OFT) back in September last year, the changes are expected to be debuted later today with developers given until the 1st April to implement them in their apps or face litigation, especially those that use aggressive tactics to secure in-app purchases. Some of the changes include all in-game costs being detailed up-front, letting people know how 'free' the app they're downloading really is, as well as making it harder to make payments, so that only those who are the official bill payer can initiate a transaction.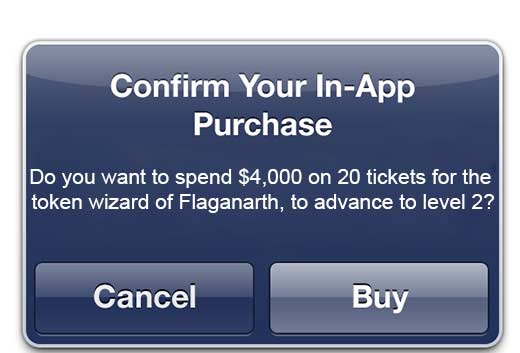 Oh you guys, you love your Flaganarth Saga Crush Candy Birds III don't you?
Not all the blame is being placed at the feet of developers though. The OFT has also unveiled plans for a parental guide, that will help them change payment settings on their devices to make it so that a password is required, as well as encouraging them to keep an eye on what their children are playing on their handset and whether there could be costs involved.
KitGuru Says: It sounds fair enough making sure that app makers don't use sneaky tactics to get you to pay out when you're not aware of it, but the OFT needs to be careful that it doesn't legislate against being an idiot, because that won't get us anywhere.
[Cheers
CVG
]