The marketing for all iOS games in the future may be set to become incredibly cutesy, as Apple is said to be rejecting games from the store if they show any sort of guns or violence. Several developers have now had to revise marketing imagery for their games to avoid even depicting a gun, otherwise they face being unable to sell their game on the marketplace.
This isn't just speculation or paranoid thinking though, as Orangepixel, the developer of Gunslugs II had an update to its game rejected by Apple. When it queried why the update had been blocked, it found out that it was because of a single screenshot depicting the pixellated characters fighting.
"The idea behind it, from what I understand, is that even though the app has a 12+ rating, they do need icons and screenshots and basically the store-page to be 4+ rated," said the developer (via Kotaku).
But OrangePixel isn't the only one to be caught out by Apple's recent rule change. Rooster Teeth vs Zombiens developer Team Chaos, recently had to change a bit of its marketing imagery too. In one picture a major character is shown holding a traditional NES blaster light gun, but Apple rejected it. Instead, the developers replaced the gun with a grey club and the game made it through without issue.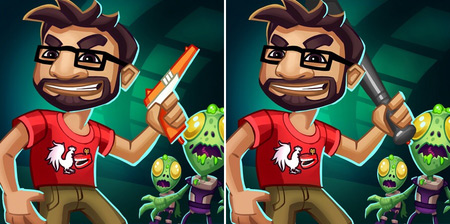 Even the fact that the gun was bright orange didn't seem to help
Other developers have been forced to pixxelate guns in their game screenshots and promotional videos, but bizarrely other developers still, seem to skate through fine with big pictures and screenshots of gun wielding protagonists.
Discuss on our Facebook page, HERE.
KitGuru Says: The rules aren't very clear and even then, they don't seem to be very consistent. It will be interesting to see if/when Apple releases a statement on this, what its official stance currently is.