It's probably no surprise to most of you that there is some measure of loyalty among iOS and Android users, with a good number of either camp not willing to switch to the other, even if someone paid them to do it. In a new study Apple owners proved the most loyal however, demanding upwards of £325 as compensation for switching to Android, vs £250 when it came to Android smartphone users switching to Apple hardware.
Not everyone was quite so unscrupulous about their mobile desire though. In the study conducted by online casino, LeoVegas, 16 per cent of iOS users said they would swap to Android without a monetary incentive, compared with 26 per cent of Android users. Obviously higher numbers still wanted money to switch though, so why were they so loyal?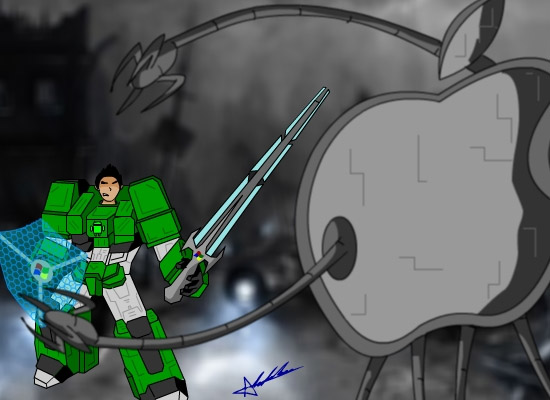 Some see it as more of a war… Source: Alex-Andernath/Deviantart
The most cited reason (17 per cent) among younger generations of the 1,000 people asked as part of the survey, was that their messaging applications wouldn't work if they switched. That became a much less worried five per cent in the 25-34 age group and just four per cent for those aged 45 and over.
Although the study concludes that the results suggest Android users are less loyal to their brand and are more likely to switch to Apple than vice versa, it could also be a symptom of Apple's more closed operating system and the way it champions its own services over third parties.
Discuss on our Facebook page, HERE.
KitGuru Says: Would someone have to pay you to switch smartphone OS?