Intel Corp. said it had begun to ship a new breed of system-on-chips for tablets. The new application processors promise to boost performance and cut-down power consumption of Intel's chips for slates thanks to a new x86 micro-architecture, a new graphics processing unit as well as 14nm fabrication process.
The new Atom "Cherry Trail" system-on-chips (code-named "Cherryview") integrate up to four x86 cores based on the Airmont micro-architecture (which is a refined version of the Silvermont micro-architecture with certain improvements) as well as all-new eight-generation Intel graphics (Gen8) with enhanced architecture and 16 execution units (EUs) that is also used inside the latest Intel Core i-series "Broadwell" processors. The new Gen8 graphics supports OpenGL 4.2, DirectX 11.1, OpenCL 1.2 and OpenGL ES 3.0 application programming interfaces, something that the previous-generation Atom for tablets did not support.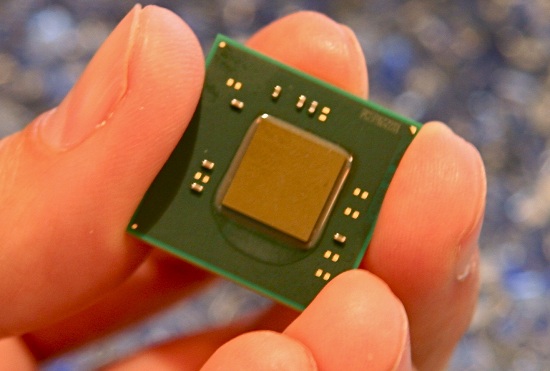 The major improvement of the Atom "Cherry Trail" over the previous-generation Atom "Bay Trail" is considerably increased graphics performance (by up to four times) and multimedia capabilities. Power consumption of the new chips should be lower compared to that of predecessors thanks to 14nm fabrication process.
The new Atom "Cherry Trail" SoCs are produced using a special version of Intel's 14nm process technology for SoCs, the P1273. Since the chips are already shipping to Intel's customers, it is clear that the manufacturing process is ready and the yields of the chips are fine. Intel expects its clients to start shipments of products based on the Atom "Cherry Trail" application processors in the first half of 2015.
Intel Atom "Cherry Trail" chips can be paired with Intel's XMM 7260-series 4G/LTE modems to provide cellular connectivity.
Discuss on our Facebook page, HERE.
KitGuru Says: It is noteworthy that Intel surprisingly decided not to make any formal statements regarding the fact that is shipping the "Cherry Trail" system-on-chips. It is completely unclear why the company decided to downplay the launch of the new application processors.