Intel's announced it's new SoC (system-on-chip) for wearable devices today at CES. Scheduled for release in the second half of 2015 this tiny all in one system will be able to fit just about anywhere, with it being around the same size as your thumbnail. Intel have also revealed plans with several companies for products containing this technology.
So what exactly is Curie and what can it be used for? The Intel Curie module is a button sized system that will include Bluetooth Low Energy,  an accelerometer and gyroscope, a charging circuit and most importantly a 32-bit Intel Quark microcontroller. Pretty neat for such a tiny device. While this won't be available publicly for you or me to buy directly it will be made available commercially so that other companies can include it in their products. Uses for it include more traditional wearables like fitness trackers and watches to some of Intel's ideas. "…rings, bags, bracelets, pendants and yes, buttons, will all be possible." according to Mike Bell, vice president and general manager of Intel's New Devices Group.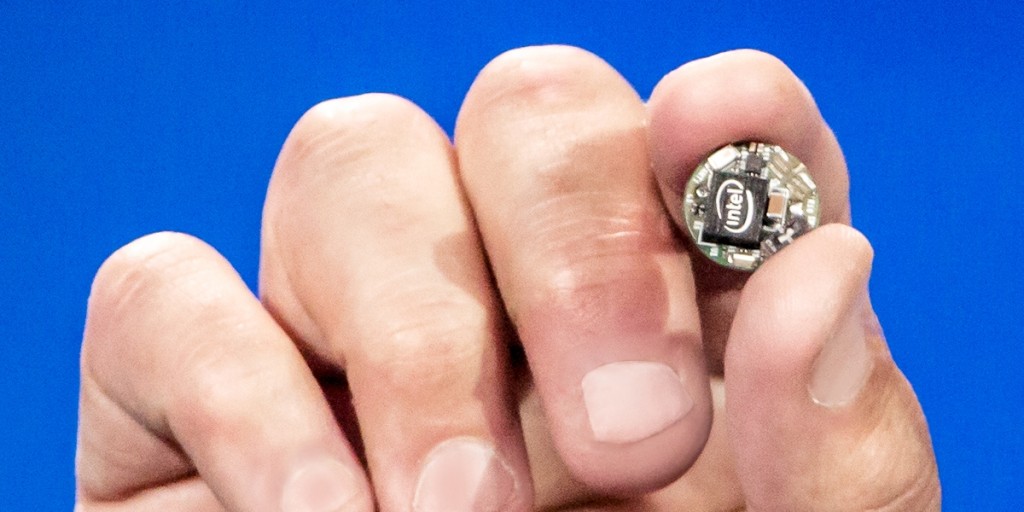 Intel will be providing any buyers of the Curie with the Intel IQ Software Kit, which will help speed development of any systems using it and allow companies using it to bring their products to market faster than they would with purpose-built SoC solutions.
Intel has also announced a collaboration with Oakley to make "an intelligent product, available later this year, designed to enhance athletes' performance". Along with this they have announced other initiatives with Luxottica Group, Oakleys parent company as well Fossil Group, a manufacturer of premium watches.
It remains to be seen how much of an impact this will have on the wearable sector as it seems to be doing just fine without Intel's Curie so far but maybe this will drive further innovation and allow companies to experiment further with some more outlandish devices and ideas.
Discuss on our Facebook page, HERE.
KitGuru Says: That thing is tiny! Sure adding a battery will add some bulk to to it, but I can still imagine this being used in a lot of places from watches to all sorts of other new wearables. Maybe just put these in everything possible with a small speaker attached so that I can find my stuff!
Source: Intel (PDF link)