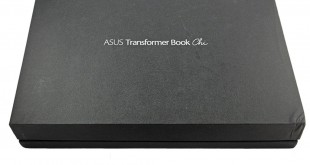 The T100 Chi is the latest in Asus' range of 2-in-1 laptop hybrids. With a 10.1-inch FHD display, it is the middle child of the Transformer Book range, as Asus have called it. With an Intel Bay Trail CPU, 2GB RAM, 64GB internal storage, a total thickness of 22mm, is it worth the £399 asking price?
Watch via our VIMEO Channel (below) or over on YOUTUBE
Specifications
Intel® Bay Trail-T Quad Core Z3775 1.46 GHz ~ 2.39 GHz Processor
Windows 8.1
2 GB RAM
10.1″ 16:10 Full HD (1920×1200) LED panel
Integrated Intel® HD Graphics
64GB eMMC
card reader (Micro SDXC )
Front: 2 MP and Rear: 5 MP camera
Integrated 802.11 a/g/n
Built-in Bluetooth™ V4.0
1 x COMBO audio jack, 1 x Micro USB, 1 x micro HDMI, 1 x SD card reader, 1x AC adapter plug, 1 x Volume up/down
Built-in Speakers And Array Microphone
30 Whrs battery
Power output: 5 V DC, 2 A, 10 W Input : 100 -240 V AC, 50/60 Hz universal
Dimensions: (Tablet) 265 x 174.5 x 7.2 mm (WxDxH), (Dock) 265 x 174.5 x 13.2 ~14.8 mm (WxDxH)
Design and product build is typically a strong area for Asus products, and the T100 Chi is no different. The first thing of note is the sleek yet sturdy construction. While the keyboard dock is plastic, the 'tablet' section of the Transformer is aluminium, and it feels both classy and durable.
The dock itself attaches to the tablet section via two magnets which slot into corresponding holes. This is a clever solution from Asus as it means there is no unsightly clasp on the back of the T100 Chi, while the magnets prove able to fully support the 0.57kg weight of the tablet itself.
Added to this is the fairly slim design. With the dock attached, the Transformer is 22mm thin, weighing 1.16kg. It is certainly not as slim as some market leading ultrabooks, but it is by no means chunky. The weight, too, means it is very portable.
One area of slight irritation is how far the screen can tilt backwards when attached to the dock. I whipped out my protractor and found that, at its furthest, the angle of the T100 Chi display is approximately 120 degrees. On my Asus N550JV laptop, that figure is closer to 165. This just means the T100 Chi is not always at a pleasant angle to look down at, particularly if you are fairly tall.
Under the hood, we find an Intel Bay Trail Z3775 CPU, with a base clock of 1.46GHz which boosts to 2.39GHz. This is alongside 2GB RAM. While this is not the latest Cherry Trail CPU, presumably Asus opted for the Bay Trail unit to keep costs down. This gives very good tablet performance, but as I stressed in the above video, it is not going to be doing any heavy tasks which some 'true' laptops could cope with.
The Bay Trail CPU is also entirely passively cooled, meaning there are no internal fans or any noisy cooling systems. Obviously this means the Transformer is silent, which is certainly a plus. However, it is the same for most tablets – noise under load has never been a problem for any serious tablet. So while it is definitely a good thing, it is not exactly a USP for the T100 Chi.
Due to the less powerful components, though, battery life is very reasonable. In the real world, we found we could do basic tasks including web browsing, word processing and video streaming for between 5-6 hours. Add an hour for more intermittent use, but also allow less time if the screen brightness is at maximum for prolonged periods of time.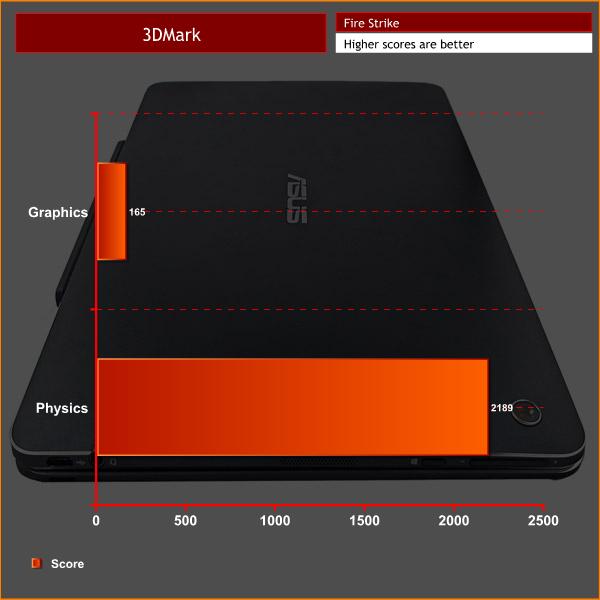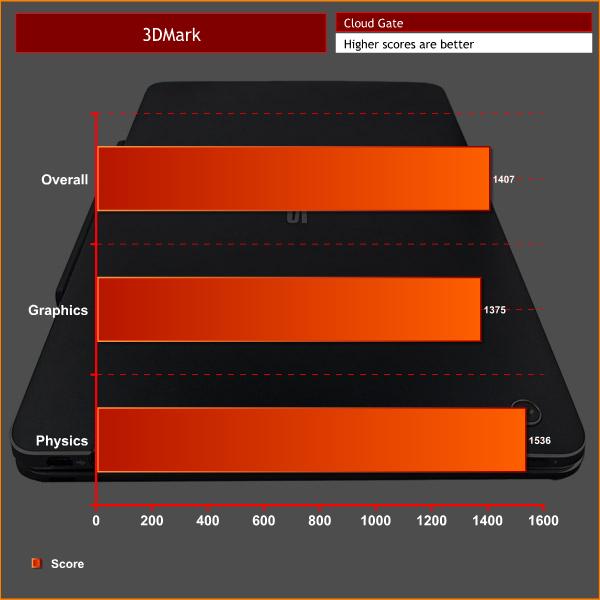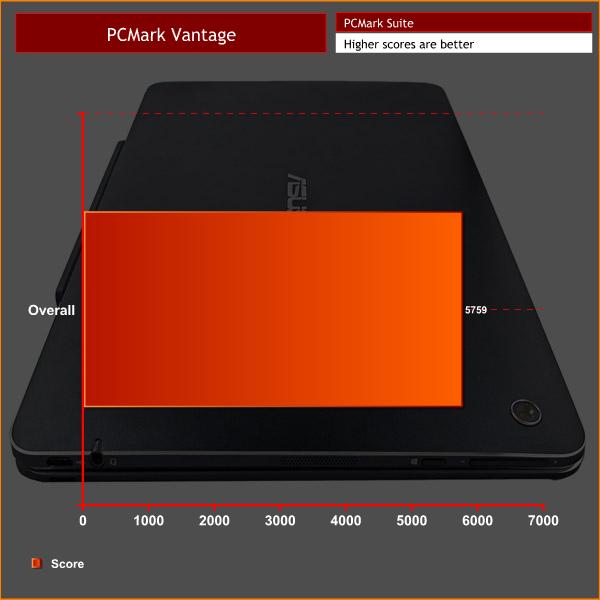 Clearly the T100 Chi will not be winning any awards for its processing and graphical power. For those who may be wondering, we could not include an 'overall' score on the Fire Strike benchmark as the programme simply would not finish on the T100 Chi, which just serves to show that this Transformer Book is not very powerful at all. However, the Transformer Book was able to run Cloud Gate – the benchmark aimed for portable notebooks and less powerful PCs, so we could at least get a full score on that test.
Closing Thoughts
For what it is, the Asus Transformer Book T100 Chi is a good little device.
A sleek and fairly slim design is a definite highlight, with the aluminium construction feeling both classy and durable. Unfortunately, the design is let down by the fact that – when the tablet is attached to the keyboard dock – the screen cannot tilt far enough back to allow comfortable viewing angles. It is bearable, just not ideal.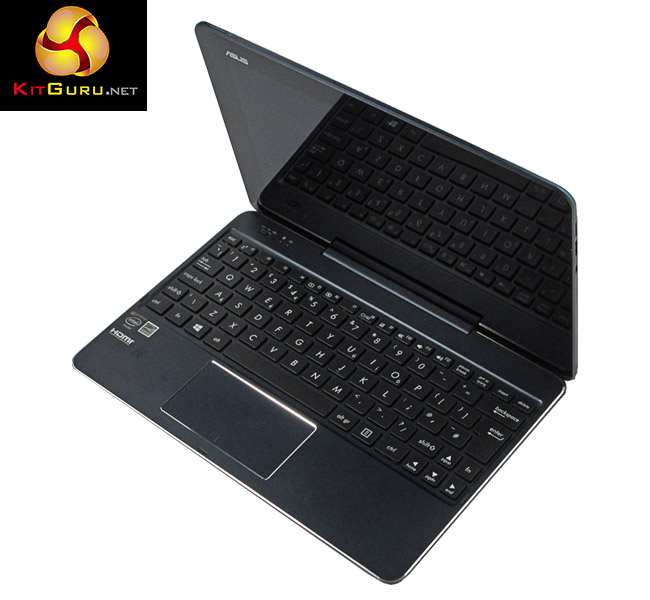 The Bay Trail CPU affords good performance for a tablet, but it is simply not capable of any heavy lifting. Ultimately, this is what the T100 Chi boils down to – it feels too much like just a Windows tablet with a Bluetooth keyboard. There is no real 'oomph' to the Transformer, certainly not enough to convince us that this could be a true laptop replacement.
With that in mind, we cannot really see why you might prefer the T100 Chi over, say, an iPad Air 2 with a separate Bluetooth keyboard. There is not really anything hugely impressive about the T100 Chi that we feel warrants the £399 price tag.
If you really want a hybrid 2-in-1 laptop, there is nothing necessarily wrong with the T100 Chi. You do get a quality keyboard dock, and the tablet section slots in well, held by two strong magnets. However, you were looking for a tablet and thought a 2-in-1 may be worth the extra cash, you would be advised to invest your money in a larger tablet like an iPad or the Nexus 9.
You can buy the T100 Chi  from Currys for £399 inc VAT, here.
Discuss on our Facebook page over HERE
Pros
Quality build
Fairly thin
Decent keyboard
Cons
Screen does not tilt far back enough
Performance is lacking for a 2-in-1
Expensive for what it is
Hard to open when the lid is shut
No full-sized ports
KitGuru says: The T100 Chi seems a decent tablet, but is really no more than that. You would probably be better off just buying an iPad and adding a bluetooth keyboard as you won't want to be using the T100 Chi as your main laptop device.