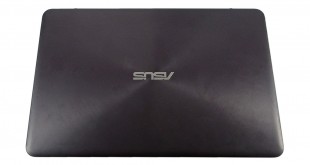 The ZenBook UX305 is the latest Ultrabook offering from Asus. When I last reviewed one of their products – the hybrid T300 Chi – it greatly impressed me. The UX305 is a similar device, with a Core M processor, 8GB RAM and another SanDisk M.2 SSD. This time, however, it is a conventional laptop, and is priced at £649.95.
Watch the video on our VIMEO Channel (below) or over on YouTube HERE
Specifications:
Operating system: Windows 8.1 (64-bit). Free Windows 10 download
Processor: Intel® Core™ M-5Y10 Processor, 0.8 GHz / 2.0 GHz with Turbo Boost
Memory (RAM): 8 GB
Storage: 128 GB SSD
Screen size: 13.3″
Screen type: LED
Resolution: 1920 x 1080
Screen features: LED backlighting
Wireless: 802.11 ac
Bluetooth: Bluetooth 4.0
USB: USB 3.0 x 3
Video interface: microHDMI x 1
Audio interface: 3.5 mm jack
Memory card reader: SD card reader
Camera: Integrated webcam
Mouse / trackpad: Multitouch trackpad
Keyboard: Island-style keyboard
Battery type: 3-cell Lithium-ion
Battery life: Up to 7 hours
Dimensions: 12 x 324 x 226 mm (H x W x D)
Weight: 1.2 kg
The standout features of the UX305 have to be its weight and thickness. Both are simply incredible, as the Ultrabook weighs just 1.2kg, and measures 12mm thick (or thin). I was amazed when I picked up the UX305 for the first time – obviously 1.2kg does not sound like much, but when you pick it up it feels almost insubstantial, but in a good way.
As for construction, you can be assured the UX305 feels very premium. It has an all-aluminium body so, despite being so thin, it feels fairly robust. I certainly would not have any problems with putting the UX305 in my rucksack and lugging it around London all day. As well as being durable, it also looks incredibly sexy – and I use this word deliberately. The smooth curved edges, impossibly thin chassis and brushed aluminium lid create a gorgeous looking laptop, and you would certainly be the envy of others.
In terms of connectivity ports we have just the one surprise – there is no Ethernet port. The right-hand edge features the power input, 1x USB 3.0, a microHDMI port and a combo audio jack. The left-hand edge has 2x USB 3.0 and a SD card reader. I can only assume that Asus have ditched the Ethernet port to keep chassis thickness to an absolute minimum. A USB-to-Ethernet adapter is supplied, but it is not ideal.
Now then, diving beneath the surface of the UX305, we find innards similar to that of the T300 Chi, but not identical. A slower Core M 5Y10 CPU is used, which is clocked at 0.8GHz and turbos to 2.0GHz. Now, that is pretty slow by modern standards but slower clockspeeds and the 14nm process technology are what allows Core M to be passively cooled – so operation is silent.
Alongside the 5Y10 processor is 8GB RAM and a 128GB SanDisk M.2 SSD – of which about 80GB is usable. This is not heaps of storage by any stretch of the imagination, but presumably the 128GB SSD is used to keep costs down (compared to a 512GB SSD, for instance) while ensuring the system is more responsive than it would be if a traditional laptop HDD been used.
And on the whole, I was quite impressed with the UX305's performance. I found the 5Y10 CPU ran at a similar pace to the 5Y71, so the lesser 0.8GHz clockspeed does not seem to adversely affect system performance. I would imagine that the general system responsiveness – which is high – is greatly aided by the SSD and 8GB RAM. Had a HDD been used, I have no doubts that this would be a very different review. As it is, Core M and a SSD make a good combination.
I said it in my review of the T300 Chi, and I will say it again here: the UX305 is not a gaming machine. Core M comes with Intel Integrated HD 5300 graphics, and they are not for gaming. This system handles movies, general computing tasks and the like perfectly. No problems. It just cannot be used for gaming – other than things like Angry Birds etc, but you know what I mean.
Benchmarks
As for the benchmarks, I was surprised to see the UX305 post a higher PCMark score than the T300 Chi. It just serves to show there is not much between the Core M processors after all. And just to reinforce what I said about gaming – you can clearly see this Ultrabook limped through Fire Strike.
Battery life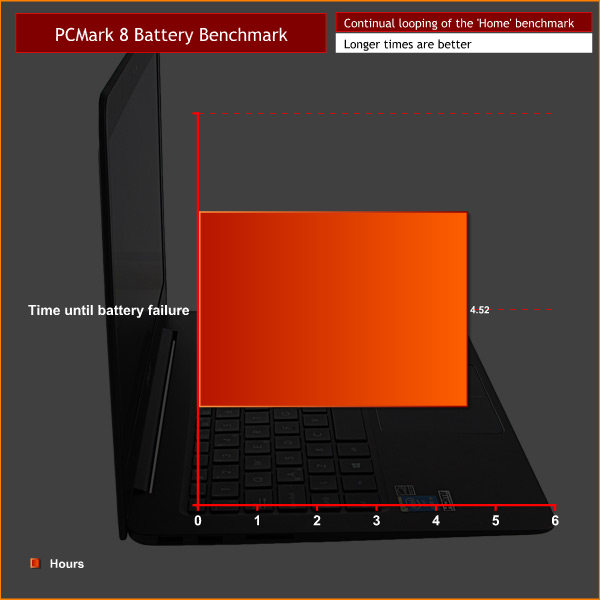 Battery life is another winner – lasting 4:52 under the intense PCMark 8 load. This is exactly 20 minutes longer than the T300 Chi, and both will give you all-day battery life if you need it.
Closing Thoughts
Taken on its own, the Asus UX305 is a superb Ultrabook. It offers fantastic build quality, with the 1.2kg weight and 12mm thickness being the clear standout aspects of the design. It is simply a gorgeous laptop. The UX305 is not just about appearances, though. Core M, paired with an SSD, proves very capable at handling your everyday computing tasks, though no more than that.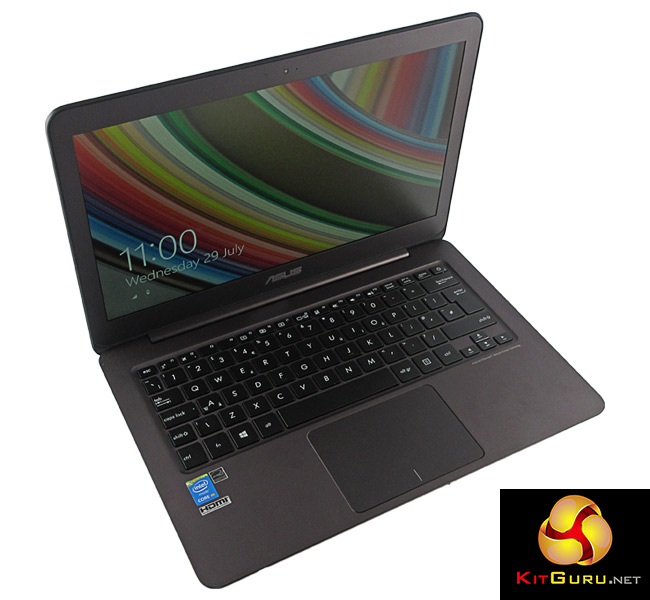 It is only when we consider a recently reviewed competitor – PCSpecialist's Lafité Ultrabook – that the UX305 seems less appealing. Lafité packs in more power thanks to a Broadwell-U i3, has more storage capacity, and is only just heavier at 1.4kg and only just thicker at 18mm. Perhaps most importantly, it is £150 cheaper.
If you absolutely must have the thinnest and lightest laptop around, then the Asus UX305 is a great option. It also has the advantage of being passively cooled, which Lafité does not. However, for £150 less, Lafité could be yours – with the extra grunt and more storage space that it brings.
You can buy Asus' UX305 from Currys for £649.95 inc VAT here.
Discuss on our Facebook page HERE.
Pros
Incredibly thin and light
Core M and an SSD work well together
Silent operation
Impressive battery life
Cons
Lafité is available for £150 less
No Ethernet port
Only 80GB SSD storage after Windows is installed
KitGuru says: The Asus ZenBook UX305 is a piece of great workmanship. It is also a capable laptop in its own right. It is only when compared to PCSpecialist's Lafité that it does not quite make the grade, as Lafité simply offers more bang for less buck.