The Acer Predator 21 X is a huge laptop that is packed with top notch gaming hardware. The headline feature is the curved IPS panel with a refresh rate of 120Hz that sports G-Sync technology. There is minor controversy about the size of the screen as the specification says 21-inches and our tape measure suggests 21.5-inches but what the heck, it's a mere detail (and measuring a curved screen is an inexact science anyway.) The rest of the specification includes a mobile Core i7, dual GTX 1080 GPUs in SLI and a bunch of DDR4 memory along with a pair of SSDs in RAID 0. It's a gaming beast of a laptop but that knowledge does not prepare you for the size and weight of the Predator 21 X.
Put it this way, catching a falling Acer Predator 21 X is a nasty shock to the system.
Watch the video via our VIMEO Channel (Below) or over on YouTube at 2160p HERE

Acer Predator 21 X Specification:
CPU: Intel Core i7-7820HK (2.9GHz-3.9GHz)
Display: Curved 21-inch 2,560×1,080 IPS, 120Hz, G-Sync
System Memory: 64GB DDR4-2400MHz
Graphics: Dual Nvidia GeForce GTX 1080 GDDR5X 8GB in SLI
Storage: 2x 512GB NVMe PCIe Toshiba XG3 SSDs in RAID 0 gives a 1TB array plus 1TB 7,200rpm HDD
I/O Ports:
1x HDMI
2x DisplayPort
4x USB 3.0 (Type A)
1x Thunderbolt 3 (Type C)
1x Gigabit Ethernet
Headset Jacks
DC Jack
Audio: Four speakers
Wireless LAN: Killer 1535 (802.11ac, a/b/g/n compatible)
Battery: Li Ion 8-cell Li-Ion 88Wh/6000mAh
Power adapters: Dual 330W
Security: Kensington Lock
Dimensions: 568mm (W) x 315mm (D) x 69mm-83mm (H)
Weight: 8.5kg
OS: Windows 10 Home
Acer tells us they will only make 300 units of the Predator 21 X worldwide, however we got the distinct impression our review sample was something of a 'reviewer's special' that fell outside of the norm, and not in a particularly good way. The memory had been cut from 64GB to 32GB and the SSD RAID array was a mere 512GB instead of the full 1TB.
We are confident these changes didn't affect performance but still, you know, it would have been good to see the full blooded Predator 21 X in action. Also, the top panel that covers the right hand cooling fan was a funky custom part and did not carry an official Acer number.
We mentioned most of the features of the Predator 21 X in our video but one slipped by which is the Tobii eye tracking software that is connected to the webcam. This software can be used in a handful of games to control your character and the way they interact with the game, for example by looking at a group of enemies to switch the aiming point of your weapon.
Truth be told your reviewer found it somewhat ominous to see the activity LED responding to movement within the room. This laptop is watching you, in much the same way your phone is listening to you, and that isn't a great feeling. If you want to see this in action then watch our full review of the Tobii 4C Eye Tracker over HERE.
In our video we ask a question (to which we do not have an answer) as to why Acer has used a mobile Core i7 processor. We have observed in the past in a number of high end laptops that a mobile CPU hurts performance and that you get more performance with a desktop CPU. Clearly a mobile CPU has a part to play in a laptop where there is limited cooling but that does not seem to apply to the Acer Predator 21 X. The chassis is so large and chunky you would think Acer could install any motherboard and CPU combination they desired.
Testing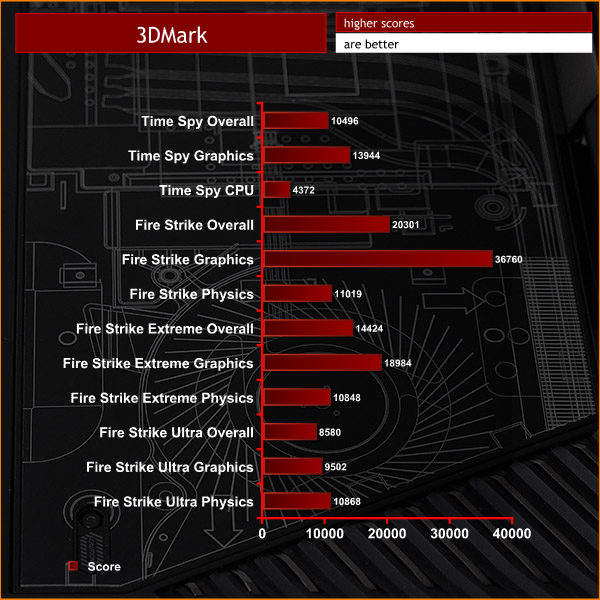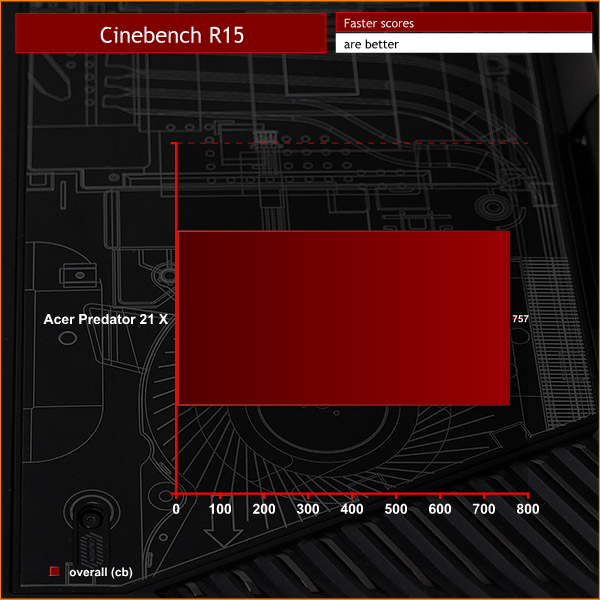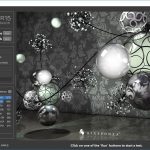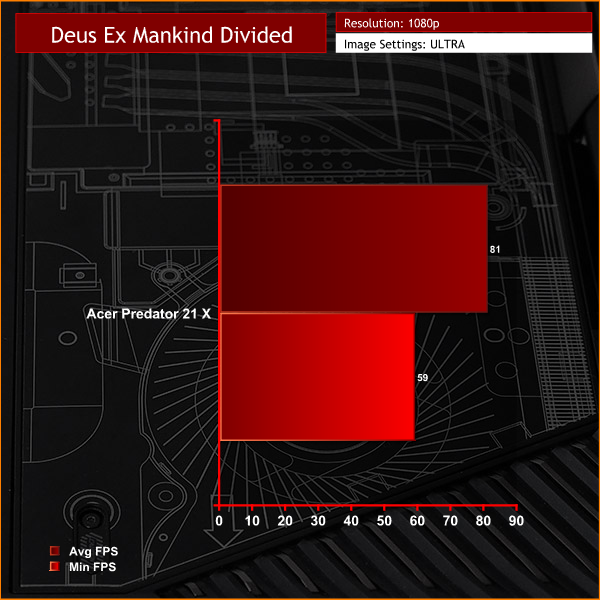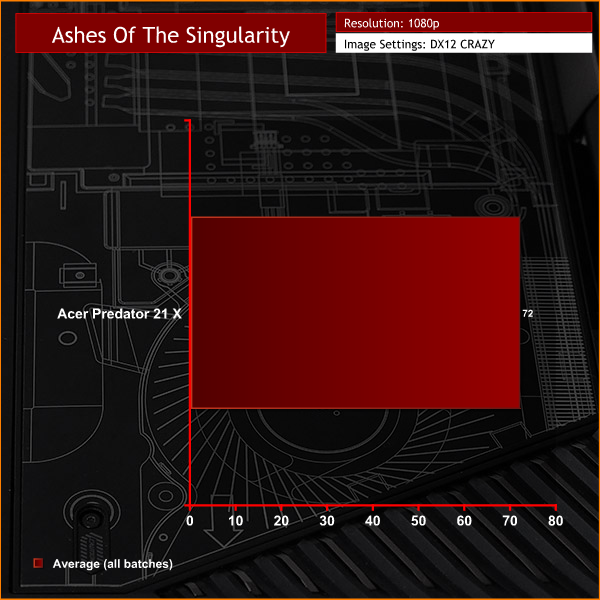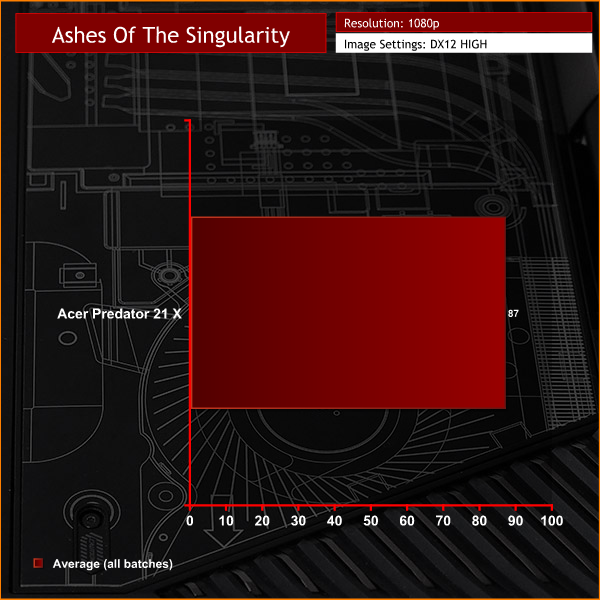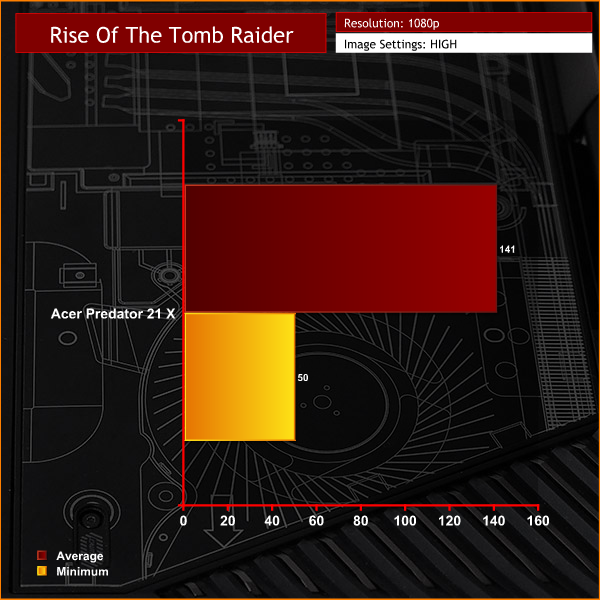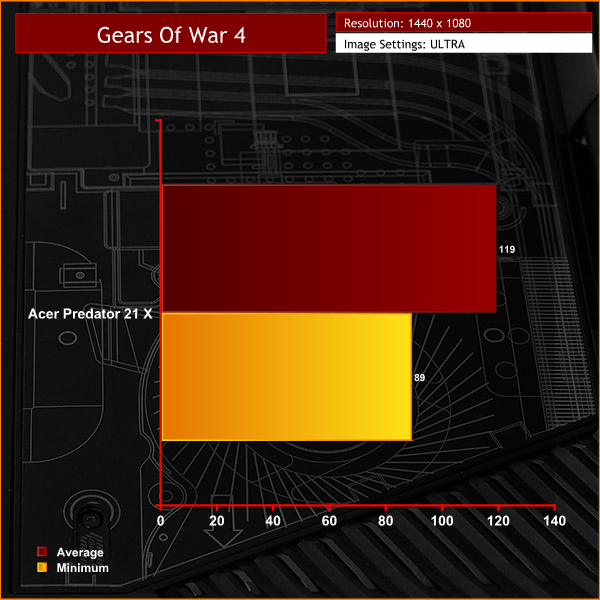 The short verion of events is that the Acer Predator 21 X powers through our tests. The only downside is that we used a screen resolution of 1,920 x 1,080 to obtain benchmark results that could be compared with previous laptops. You will appreciate the native resolution of 2,560×1,080 is completely out of the ordinary.
Cooling Performance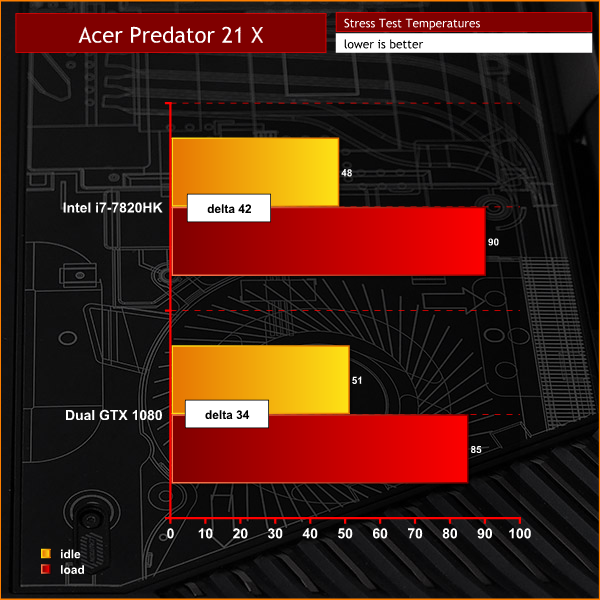 Acer has designed the Predator 21 X chassis to accommodate a massive cooling system with eight heat pipes and five cooling fans. Two of the coolers sit under the keyboard while the three large units are located at the rear of the chassis where they handle the CPU and two GPUs.
In our stress tests the CPU temperature sat at 90 degrees and the GPUs were in the mid-80s. Gaming temperatures were 5-7 degrees cooler than those stress test figures.
Acoustics performance
Those temperatures may sound a bit high but they were achieved with the fans running at very low speeds. The starting point on the fan curve is 500rpm, increasing to 1,000rpm in most circumstances. If you pull the pin and manually switch the fans to full speed they run at 4,200rpm which is exactly as noisy as you would expect.
The point here is that Acer has an enormous amount of headroom with the cooling but has selected fan speeds that control the cooling in this epic gaming laptop with the minimum of noise.
Battery life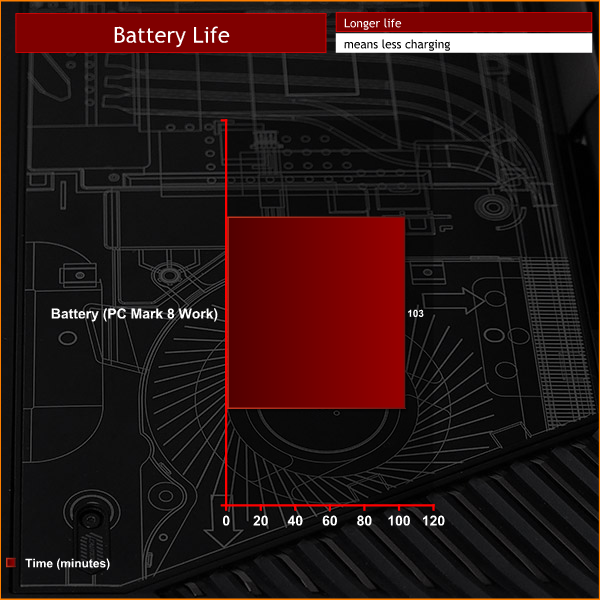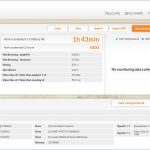 We were stunned to see the battery will keep the Acer Predator 21 X running in PC Mark 8 for one hour 43 minutes, which you can double to three and a half hours in the real world. The battery is a decent size at 88Wh/6600mAh but not massively large so this is testament to the power saving technology in Intel and Nvidia silicon.
It also highlights the way the GPUs throttle back massively on battery power, rendering game play a non-starter. Quite why Acer has bothered to provide a decent battery for the least portable laptop we have ever seen is a completely different question.
Closing Thoughts
A review is structured to guide the reader/viewer towards a buying decision. What are the strengths and weaknesses of the Acer Predator 21X, how does it compare with competing products and does it represent good value for money? The snag here is that the Acer Predator 21X is a uniquely large laptop with a massive curved screen and it weighs so much that many people would dispute it deserves to be called a laptop in the first place.
Added to that, the price is so high at £9,000 that it seems ridiculous to discuss value for money. For the same sum of cash you can buy two MSI Titans or two and a half Razer Blade Pro laptops.
If we simply look at the performance of the Acer Predator 21 X we don't move much closer to a buying decision as the combination of Core i7 and dual GTX 1080s is well known. There are considerably cheaper ways to achieve these frame rates, but again that is hardly the point.
So really it boils down to whether you want a laptop with a curved 21-inch screen and outrageous 2,560×1,080 resolution with 120Hz refresh rate. Any laptop that can accommodate such a screen would need to be very large and when you add in the grunty graphics and hefty cooling system you end up with a laptop that is both huge and heavy.
Once you work through those questions you may need to check your bank account for the necessary £9,000 and that should pretty much deliver the answer. So yes, you might like the idea of owning an Acer Predator 21 X but no, you're not very likely to make the leap and actually purchase this mighty laptop. For the 300 people who do – we can only be envious!
Price £8,999.99 inc VAT, USD $9,000 or EUR10,000 – on sale in October. More info over HERE.
Buy from the ACER STORE HERE.
Pros:
Huge 21-inch screen with ultra wide resolution.
Dual GTX 1080s in SLI power your games along.
The cooling system is superb.
PredatorSense software controls lighting, fans and overclocking.
Mechanical keyboard with Cherry Brown switches is excellent.
Cons:
Epic cost.
Massively heavy.
The chassis is huge.
By any sensible criteria this isn't really a laptop.
KitGuru says: The most bonkers laptop in the world. Superb to use but incredibly expensive.