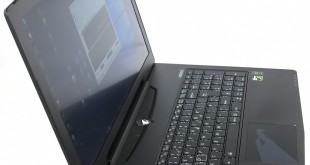 Aorus, the high-end brand created by Gigabyte, has put a lot of work into the X7 Pro-Sync and the result is an exceptionally slender laptop that packs a severe gaming punch. The chassis only measures 22.9mm thick at the widest point behind the lid hinge, near the exhaust vents. Measure the thickness in the region of the touchpad and you'll get a figure around 14.5mm which is absurdly thin.
This is a physically large laptop with a 17.3-inch G-Sync screen and Full HD 1920×1080 resolution, however the thin chassis reduces the impression of size. Nonetheless the X7 Pro-Sync weighs a solid 3.3kg (Aorus claims 3kg, presumably without battery) and the power brick adds another 1.1kg so we're not looking at an especially light laptop.
What it is, however, is a gaming powerhouse.
Watch via our VIMEO Channel (below) or over on YouTube at 1080p50 HERE
Aorus X7 Pro Sync Specification:
– Screen: 17.3″ LCD Wide Viewing Angle with NVIDIA G-SYNC. LED Backlit. 1920×1080.
– Processor: Intel Core i7-5850HQ, 2.5Ghz~3.4GHz
– Graphics Chipset: 2 x NVIDIA GTX 970M SLI GDDR5 3GB
– Chipset: Mobile Intel HM97 Express Chipset
– Hard Drive: 1000GB, 7200rpm
– SSD Drive: 2x 256GB in RAID 0
– Memory Supplied: 2x 8GB 1866MHz (max 32GB)
– Operating System: Windows 10
– Audio: 2 x Speakers, 2 x Woofers, Microphone, Aorus Acoustic+ Technology –
– LAN: Killer LAN Chip E2201
– Wireless LAN: 802.11ac
– USB 3.0 Port(s): 3
– USB 2.0 Port(s): 2
– HDMI Port(s): 1
– Mini Display Port(s): 1
– Surround Port(s): 1
– Card Reader: SD
– Microphone Jack(s): 1
– Headphone Jack(s): 1
– Battery: Li Polymer, 73.26Wh
– Dimension: 392 x 263 x 22.9mm
– Weight: 2.99kg
– Warranty: 2 Years
That slender chassis houses an Intel Intel Core i7-5850HQ (Broadwell you will note, rather than Skylake), 16GB of DDR3, dual GTX 970M in SLI, a pair of 256GB SSD in RAID 0 and a 1TB hard drive.
The specification of our Press sample didn't quite match the laptops that are on sale as we actually got four modules of DDR3 totaling 32GB and two 512GB Transcend TS512GMSA370SSD in RAID. Those changes won't affect performance in the benchmark tests we used but they are worth bearing in mind.
In other respects the specification is already looking a little old as the CPU is Broadwell rather than Skylake, there is no Type C USB 3.1 port and the laptop was supplied with Windows 8.1, which we upgraded to Windows 10.
On the plus side Aorus has added a handful of features to improve the user experience such as Nvidia G-Sync, a backlit keyboard with anti-ghost to reduce errors when you are gaming and an Aorus programmable Macro Hub that works with the keys on the left side of the keyboard.
Testing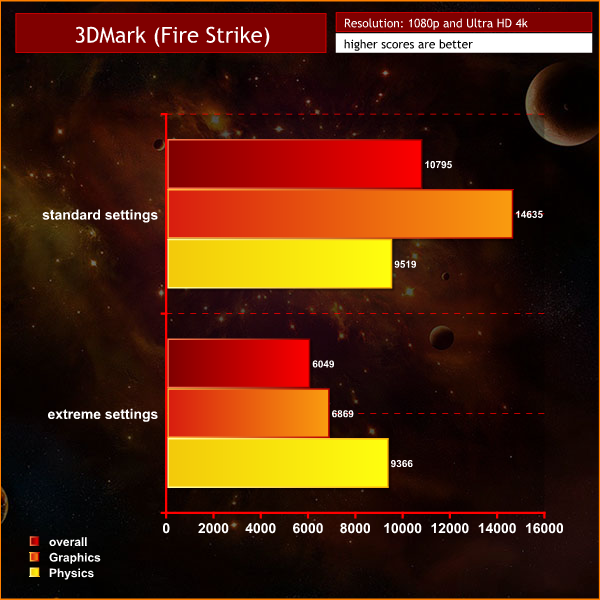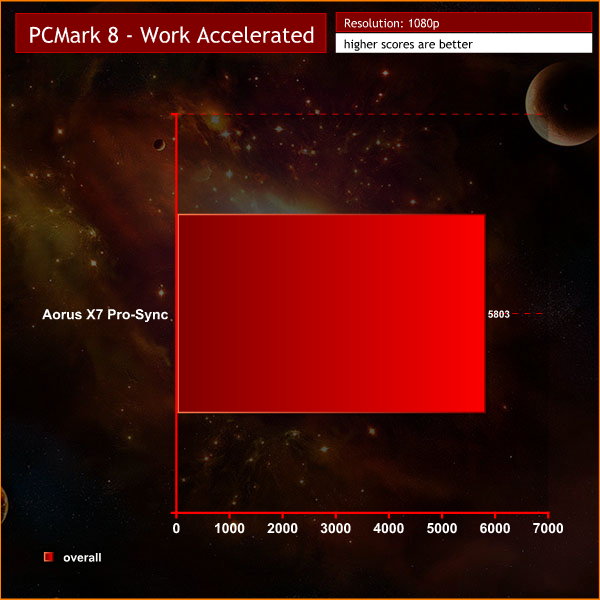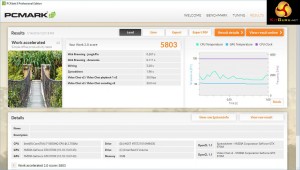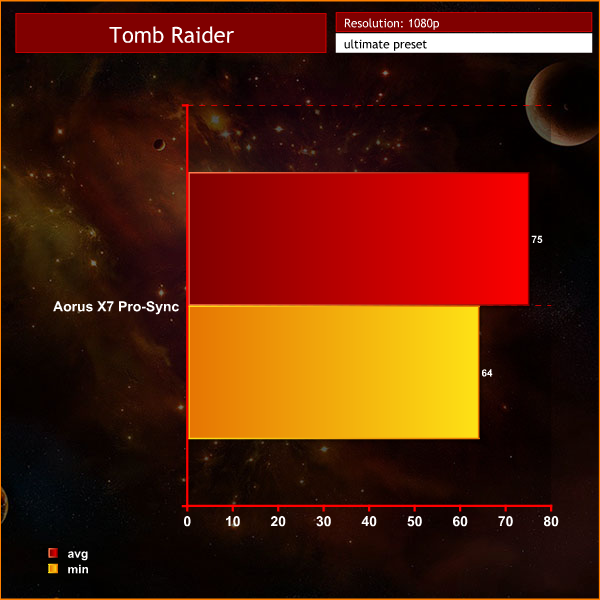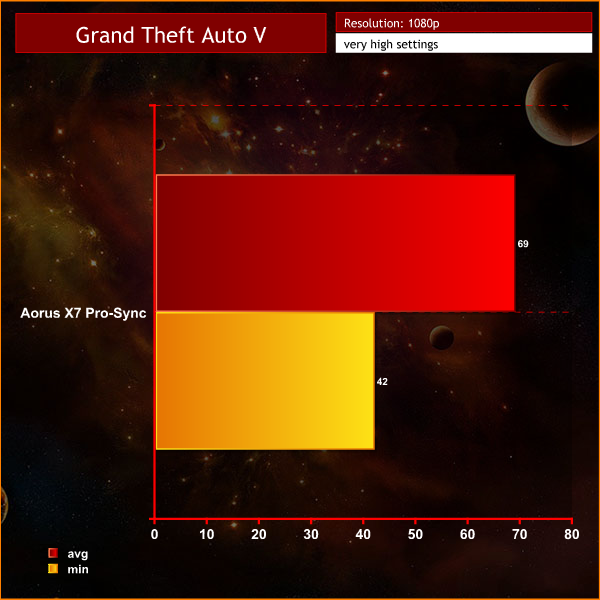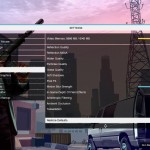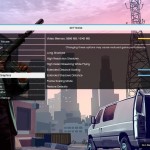 The Aorus X7 Pro-Sync stormed through our benchmark tests, although we would expect little else from a laptop that is powered by a Core i7 and pair of GTX 970M graphics chips. Everything about the laptop was impressive, and it even looked good in Grand Theft Auto V where the minimum frame rate figure on some laptops can dip alarmingly low. Not with X7 Pro-Sync.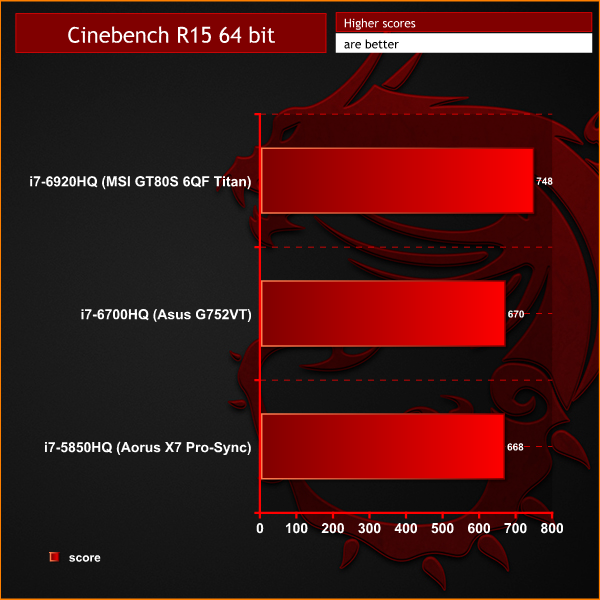 It was interesting to compare the Aorus with the Asus G752VT which uses a Core i7-6700HQ as the CPU performance in both laptops is very similar.
Aorus X7 Pro-Sync is very good indeed and allows you to crank up your image quality settings to the maximum with Full HD resolution. On past experience, if you connect a 4K display to either the HDMI or Mini DisplayPort output you will have to reduce quality settings from Very High to High to keep the frames chugging along nicely.
Thermal Dynamics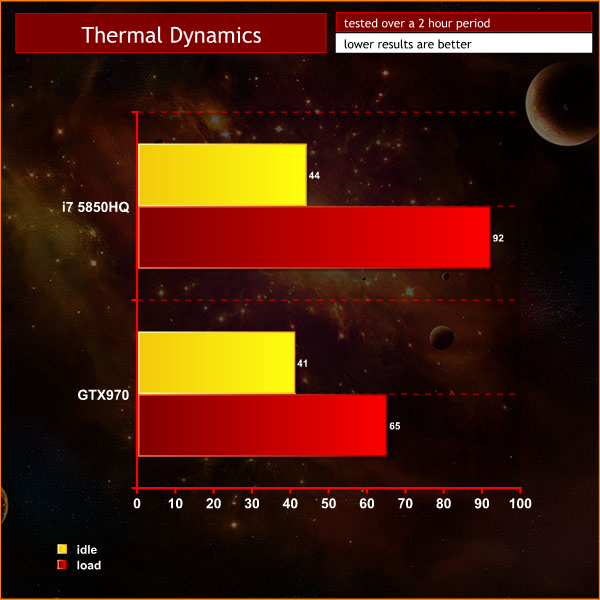 We used AIDA 64 to stress the CPU and GPU at 100 percent and the result you see in our screen grabs is that GPU temperatures rose to the mid-60s while CPU temp passed 90 degrees.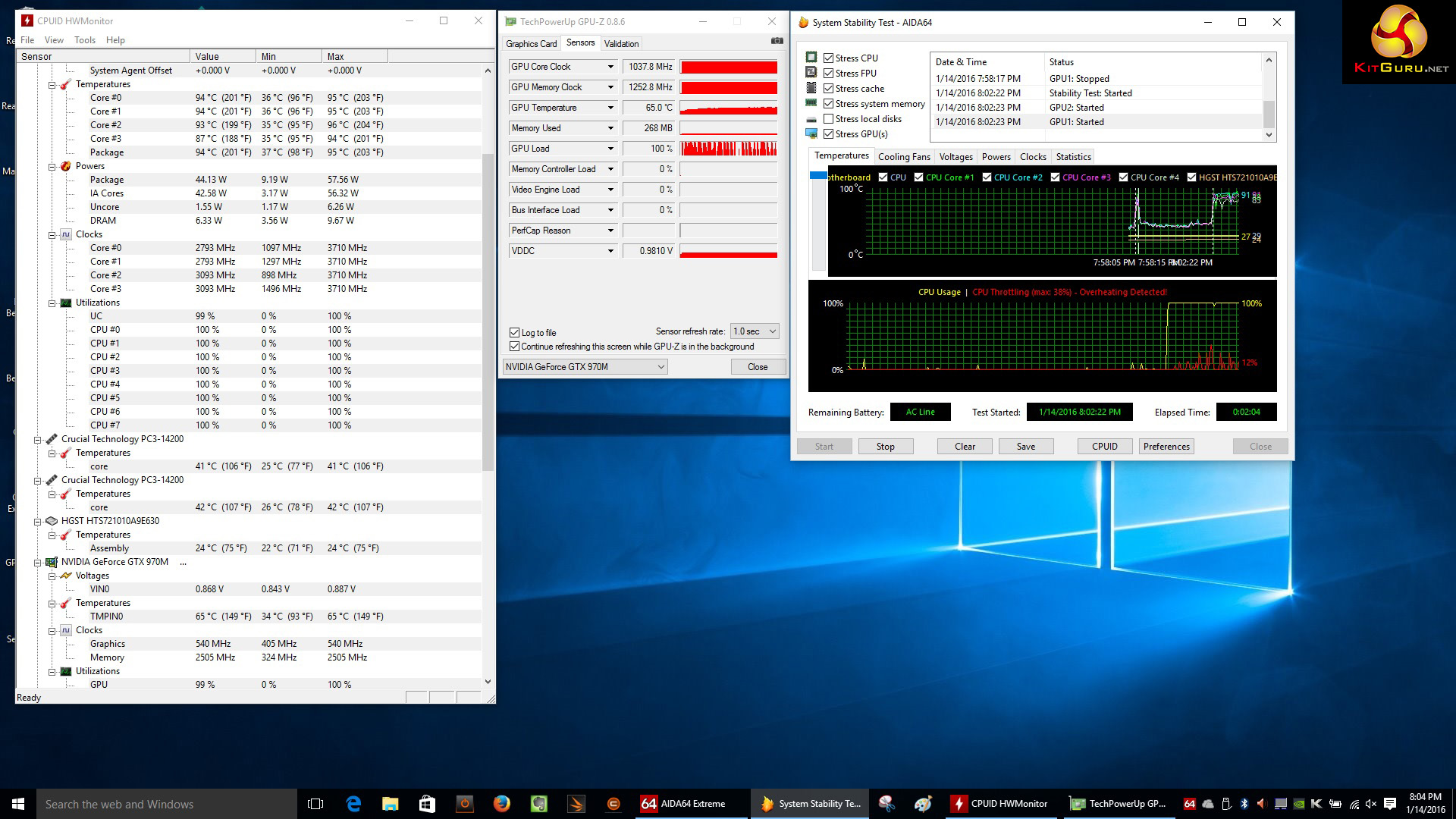 You will see evidence of throttling in the screen grab (above). This is an extreme case as AIDA 64 is a synthetic test and we felt no signs of throttling in regular tests and game play, however it is clear the cooling system is balanced on the edge of a thermal precipice.
Incidentally, it is winter here in the UK and the ambient temperature in the office is only 17 degrees so this is pretty much a best case scenario for the X7 Pro-Sync.
Acoustic Performance
There is no way of avoiding this but Aorus X7 Pro-Sync is horribly noisy. The cooling fans operate almost the whole time and even the Windows desktop puts enough of a workload on the CPU and GPU to kick up the fans above idle speeds. That first stage isn't noisy, although the increase in volume is quite sudden, but as the fans step up through each increment in speed the noise gets irritating. You can clearly hear this in our video (embedded on the page, above).
This is surely due to the combination of slender laptop chassis and hardcore gaming components. The only way that Aorus can keep temperatures under control is to increase fan speeds and the result is a laptop that is terribly noisy.
Battery life
Battery life isn't great and lasts for an hour and a half looping PC Mark 8 which equates to three hours in the real world. In the course of this review we updated the BIOS, installed Windows 10 and then updated drivers so this figure shows the Aorus X7 Pro-Sync in the best possible light.
Closing Thoughts
Aorus X7 Pro-Sync looks great and delivers fine gaming performance however the cooling in this slender laptop is marginal at best. The result is that the cooling fans are horribly noisy. It doesn't help that battery life is unimpressive but we can forgive that in a gaming laptop.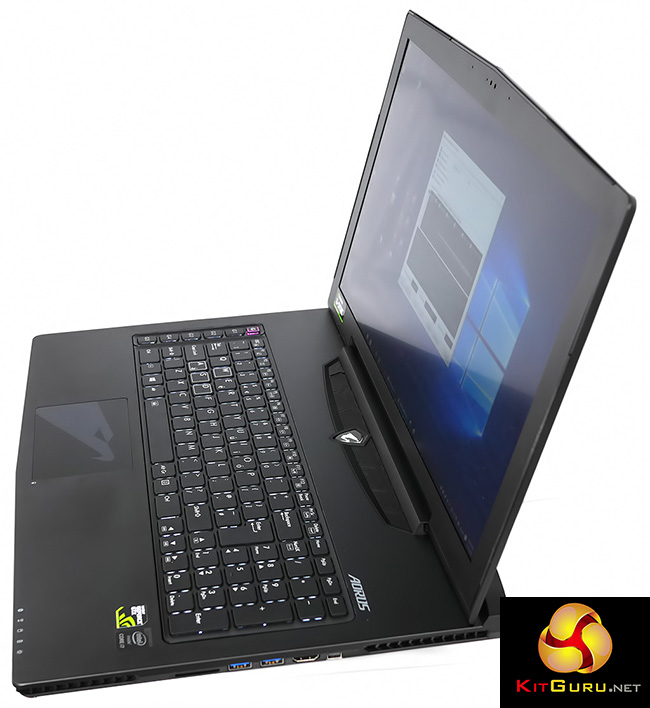 The issue here is that Aorus has put the emphasis on making the X7 Pro-Sync very thin and this has impacted on the usability and performance. When you consider the high price of this laptop it is quite a problem.
It is a crying shame that Aorus could have made the laptop a few millimeters thicker and the result would probably have turned out better for the paying customer.

You can buy direct from Overclockers UK for £2069.99 inc vat HERE
Discuss on our Facebook page, over HERE.
Pros:
GTX 970M SLI is great for Full HD gaming.
G-Sync LED display.
Broadwell Core i7 performs almost as well as Skylake.
Dual SSD in RAID with 1TB hard drive for extra storage.
Very fast and responsive.
Smart styling.
Slender chassis makes X7 Pro-Sync feel smaller than its real size.
Backlit keyboard
Cons:
Under load X7 Pro-Sync is far too noisy.
The cooling is hamstrung by the thin chassis.
Price is the wrong side of £2000
Questionable battery life.
No USB 3.1 type C port.
KitGuru says: While we admire Aorus X7 Pro-Sync for its performance and styling we cannot forgive the excessive noise from the cooling system. In extreme cases too, the CPU may throttle.