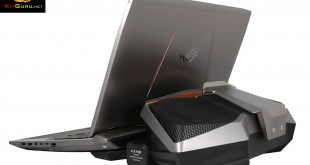 The Asus Republic Of Gamers GX700 is the world's first liquid cooled production laptop. We're only using the word 'production' as you know there will be a modder out there saying 'Nope, I liquid cooled mine years ago.' So, ROG GX700 is a gaming laptop with Skylake Core i7 CPU and GTX 980 GPU that comes with an external water cooling dock and is actually available for purchase.
The laptop at the heart of the set-up is similar to ROG G752VY (except that it has GTX 980 graphics rather than GTX 980M) which costs £2,000 (HERE). So we can clearly see that adding water cooling to the laptop costs around £1500. This sounds like witchcraft as it is self-evident that water and laptops do not mix, or at least that is what we thought. Watch our video and look at our photos to get a clear idea of the way the hardware works and how simple it is to engage the laptop in the dock and connect the cooling without any risk, mess or fuss.
Watch via our VIMEO Channel (Below) or over on YouTube at 1080p60 HERE.
Asus ROG GX700VO Specification:
Processor: Intel Core i7-6820HK Processor quad core 2.7GHz/3.6GHz
Operating System: Windows 10 Home
Memory: 32GB DDR4-2800MHz (O.C.)/2133MHz MHz SDRAM (supports up to 64GB)
Screen: 17.3″ 16:9 Full HD (1920×1200) IPS with G-Sync
GPU: NVIDIA GeForce GTX 980 with 8GB GDDR5 VRAM
Storage: RAID 0 Support PCIE x4 256GB
Card reader: 2 -in-1 card reader ( SD/ MMC)
Camera: HD Web Camera
Networking Intel Wireless-AC 7265, Realtek Gigabit
Ports: 1 x Microphone-in jack, 1 x Headphone-out jack
1 x USB 3.1 Type C port, 3 x USB 3.0 port, 1 x HDMI, 1 x mini DisplayPort, 1 x Thunderbolt port
Battery: 6 Cells 93 Whrs
Dimensions: 429mm x 309mm x 33 ~35mm (WxDxH)
Dock: (Thermal Dock) 417mm x 368mm x 114mm (WxDxH)
Weight: 3.6kg with battery, 4.8kg thermal dock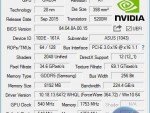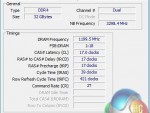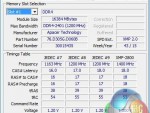 At its heart this is a solid gaming laptop. It is also big, heavy, imposing and about as over-the-top as it is possible for a laptop to get. The 17.3-inch Full HD IPS panel looks good and is driven along by the desktop GTX 980 graphics at a fierce pace.
You can argue the UltraHD model with 4K screen, 64GB DDR4 and 2x512GB SSD makes more sense than this FullHD model with 1080p screen, 32GB DDR4 and 2x256GB SSD, however that is a matter of personal preference. And wealth. If you want to drive a 4K display you can get away with a single GTX 980 but are better served by a pair of GPUs to power the pixels.
The list of features you get with the Asus ROG GX700 is as long as you could wish but it is worth mentioning the array of ports and connectors. There are three conventional USB 3.0 ports, one USB 3.1 Type C and one Thunderbolt port. You also get HDMI and mini DisplayPort so while it is a mug's game to claim a PC or laptop is future-proof it is certainly fair to say that Asus has supplied all the hardware you might reasonably expect.
As you will see in our video the Asus ROG Gaming Centre is a crucial piece of software as it manages the overclocking function. On the downside Asus has got a bit carried away with software and there is a certain amount of bloat. Asus web storage software, Asus Gift Box, McAfee, an office suite called WPS and a number of other bits and pieces all caused annoyance.
Balanced against that Asus ROG Game First III, ROG Gaming Centre and ROG Macro Key are all fine.
Testing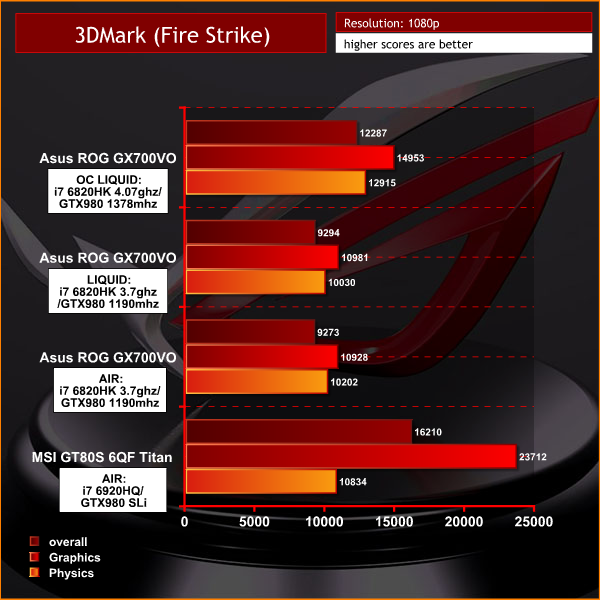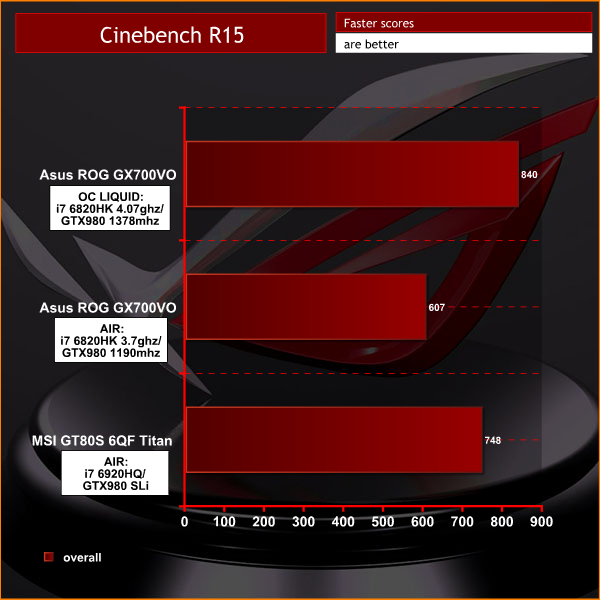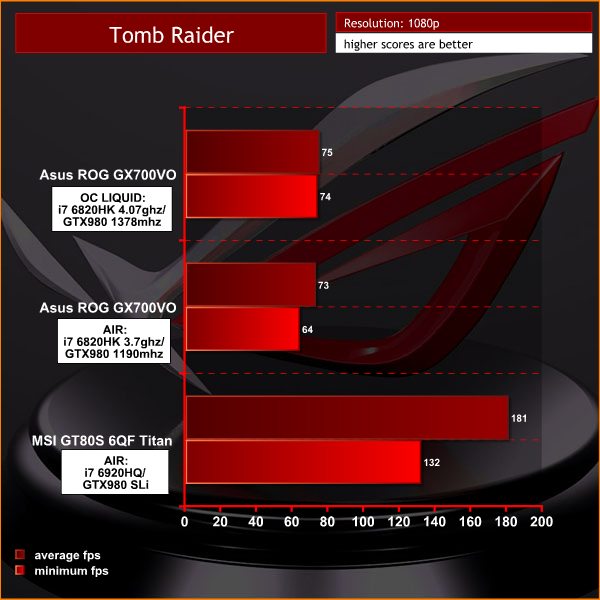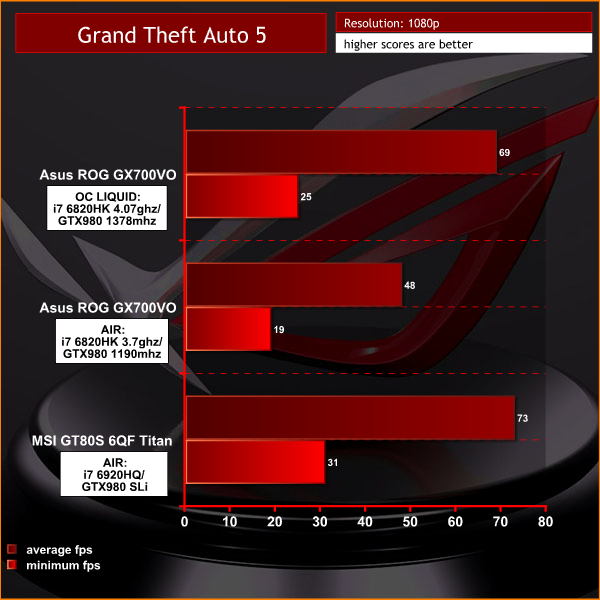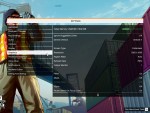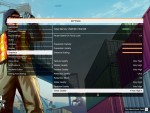 We tested the Asus ROG GX700 with an array of games, PC Mark 8, 3D Mark and Cinebench R15. The first set of test runs were performed with the laptop running on air cooling and there were absolutely no surprises. The combination of Core i7 and Desktop GTX 980 is a proven winner and powers along superbly well. We had the game settings cranked to maximum quality and the average frame rate figures reflect that fact. Grand Theft Auto V in particular was borderline with an average of 48fps however it was entirely playable and looked superb.
Plugging the laptop into the cooling dock reduced the temperatures of the CPU and GPU but had no effect on performance as the clock speeds remained the same so it was time to use ROG Gaming Centre to overclock. We took the easy option and raised the CPU base clock by ten percent (the options are +5 percent and +10 percent) and also raised the GPU speed by 150MHz. You can select any figure you like up to +250MHz, working in steps of 1MHz. Asus recommends +150MHz but says that 200MHz may well be possible.
The impact these changes had on performance was truly remarkable and quite unexpected. Obviously higher clock speeds help performance but the boost here transformed the GX700 into a gaming powerhouse.
Cooling Performance.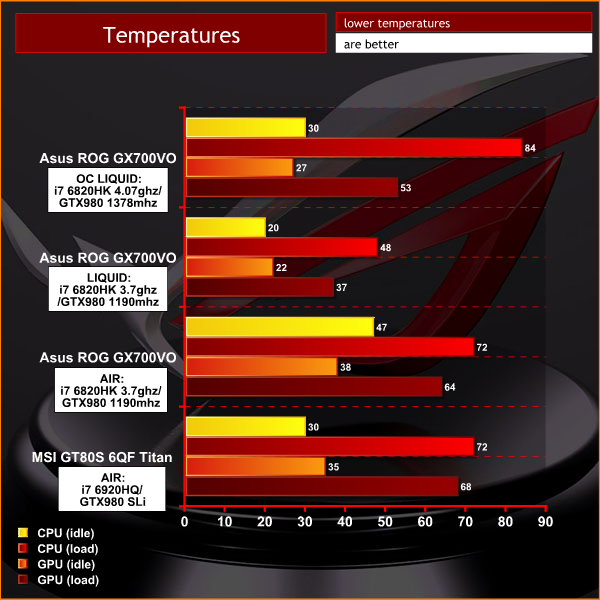 In air cooled mode the ROG GX700 performs as you would expect. Using AIDA 64 to stress the hardware we saw a CPU temp of 72 degrees and a GPU temp of 64 degrees.
Switching over to liquid cooling at stock clocks reduced these temps to 48 degrees and 37 degrees respectively which is pretty remarkable.
Overclocking the hardware raised the temperatures to 84 degrees and 53 degrees, so it may be healthier to overclock the CPU by +5 percent rather than the full +10 percent.
It is clear from our tests the graphics responded very well to liquid cooling and delivered extra performance at a lower temperature.
Acoustics performance.
In air cooled mode the ROG GX700 is effectively silent and the same is true when you first engage the liquid cooling. When you overclock and start to push the cooling the fans are clearly audible, however the dock is behind the laptop screen and most of the noise is directed away from your ears.
As you can hear in our video the noise levels are not intrusive despite the fact that the fans are a very short distance from the microphone.
Closing Thoughts.
We had our doubts that a liquid cooled laptop made much sense and we have been proven wrong by the Asus ROG GX700. By any standard it is a good gaming laptop, even though it is big and heavy. It looks good, feels great and has a huge array of ports and connectors. The keyboard and touchpad both work well and it even has a decent battery life of two hours 19 minutes looping PC Mark 8. Call it four hours in the real world. That was completely unexpected.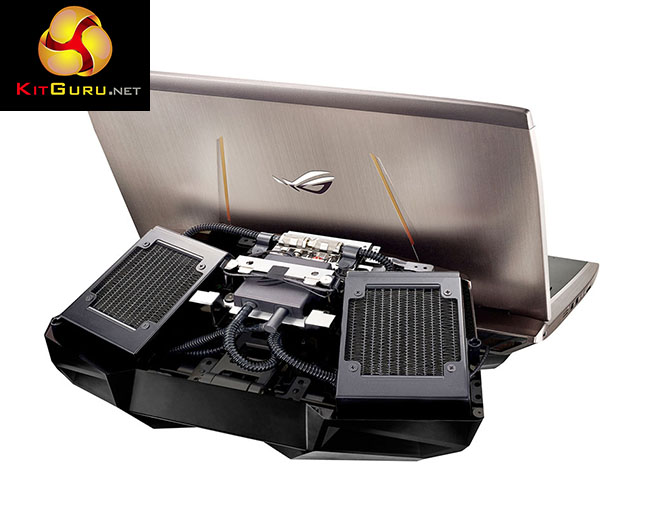 Connecting the liquid cooling dock was initially disappointing as it doesn't affect performance. Yes the reduced temperatures are impressive but we want more than that for our money. And you get plenty more when you use ROG Gaming Centre to overclock the CPU and GPU and performance steps up to epic levels.
Good Lord this laptop is fast. Very fast. So fast you completely forget it is a laptop and instead think of it as a top line LAN machine. On the downside it is big and heavy and the cooling dock is even bigger and heavier. Asus supplies a wheeled carry case and we suggest you make full use when you are on your travels.
In particular we were impressed by the engineering of the cooling system as it looks good, works well and feels as though it is built to last. It inspires a sense of confidence which is pretty important when you are piping coolant through your laptop.
We were going to complain that the £3500 cost is high, but on second thoughts it is entirely justified.
Discuss on our Facebook page over HERE.

You can buy the Asus Republic Of Gamers GX700VO Watercooled Gaming Laptop from Overclockers UK for £3499.99 inc vat HERE.
Pros:
Epic gaming performance from Core i7 and desktop GTX 980.
Superb engineering in the cooling dock.
SSD RAID and loads of DDR4 for high performance.
ROG styling, ROG keyboard and the titanium/copper casing all look great.
ROG Gaming Centre software makes overclocking easy.
Cons:
Ideally the laptop would overclock automatically when the dock is engaged.
The laptop/dock combo is very large and heavy.
Bloatware is annoying.
KitGuru says:  Asus ROG GX700 tears up the rule book and sets a new standard for gaming laptops.