Asus is rolling out the big guns with its new Republic Of Gamers G752 gaming laptop and KitGuru has an exclusive preview to show you the hardware in action. The headline features are Intel Skylake Core i7, Nvidia Maxwell graphics and a Full HD 17.3-inch IPS screen with G-Sync technology, which sounds like the basis of a fine gaming laptop.G752 is divided into three families, depending on which graphics chip is used to power the pixels. G752VL uses Nvidia GTX965M (not coming to the UK), G752VT has Nvidia GTX970M and G752VY is the Full Monty with Nvidia GTX980M.
Asus has given us details of three specific models that will be coming to the United Kingdom at some point in December. Common features include the 17.3-inch G-Sync screen, a 1TB 5,400rpm mechanical HDD to back up the M.2 Samsung NVMe SSD, 802.11ac Wi-Fi, Bluetooth 4.0, a Blu-ray reader and 64-bit Windows 10.
Watch via our VIMEO Channel (below) or over on YouTube at 1080p50 HERE
Asus ROG G752VT Specification:
Display: 17.3″ FHD IPS LED (1920×1080) with G-Sync
Processor Type: Intel Core i7-6700HQ, 4 (8 Threads), Speed: 2.60GHz (3.50GHz Turbo Mode)
Hard Drive Supplied: 1x 1TB
Solid State Drive: Samsung SM951 128GB NVMe M.2
Memory Size: up to 64GB DDR4 2133mhz
Graphics Chipset: NVIDIA GeForce GTX 970M 3GB GDDR5
Chipset: Intel CM236
Optical Drive: Blu-ray Combo
LAN: Realtek Gigabit
Wireless: Intel Dual Band Wireless-AC 7265
Bluetooth: v4.0
USB 3.0 Port(s): 4
Thunderbolt USB 3.1 type C
Graphics outputs: HDMI, Mini DisplayPort
Microphone Jack(s): 1. Headphone Jack(s): 1. LAN Port(s): 1
Card Reader: SD
Dimension: 428mm (W) x 334mm (D) x 43mm (H)
Operating System: 64-bit Windows 10 Pro
Product Weight: 4.06kg with 6-cell battery, 4.36kg with 8-cell.
You can see from those bare facts that the G752VT we were sent to preview is similar to the G752VT-T7022T that will go on sale, except that our sample had a massive 64GB of DDR4-2133MHz memory (and a Blu-ray burner) and would cost about £2500. Filling four SODIMM slots with 64GB of DDR4 RAM is an expensive pastime.
As you will see in the video the G752 is an impressive laptop and while we may mock the 'Armour Titanium and Plasma Copper' description, the colours look really good when you have the laptop in front of you.
The list of features that make the G752 stand out include a keyboard with 2.5mm key travel which is a long way short of mechanical but considerably better than most thin and light models on the market. We like the illumination and WASD markings, but there are other features that are less obvious that help the laptop to power along.
The cooling system has one heat sink on the CPU and another on the GPU, just as you would expect, and makes use of copper to transfer heat away to the two cooling fans that exhaust to the rear of the chassis. The novel feature is that the cooling fans force nasty yucky dust and hair through a bypass channel so this foulness goes around the heat sink, instead of causing a blockage and reduced efficiency.
While the GTX970M model uses conventional cooling hardware the two GTX 980M models use vapour chamber technology and heatpipes. Asus claims this is a first for a gaming laptop and the benefit is a claimed eight degree reduction in temperature.
We are incredibly excited about the inclusion of Intel Thunderbolt technology and the use of a type C connector along with four conventional USB 3.0 ports.
Testing
Unfortunately Asus had told us we were not allowed to benchmark the G752VT, not so much because the hardware differed from the three models that will go on sale here, but instead because the software on the laptop hasn't yet been finished. To that end it is worth mentioning that we had absolutely no problems with the G752VT and the performance in Grand Theft Auto V looked absolutely fine however we honoured Asus' wishes and have kept the figures hush hush.
Software
Asus has included a certain amount of annoying software such as Asus Web Storage and McAfee which can get a bit aggravating but it has also packed in a number of more interesting utilities that grabbed our attention. The centre piece is the Gaming Centre dashboard which displays system information and gaming profiles and also helps you kill unwanted processes to free up memory. We are not sure how necessary that might be with 24GB or 32GB of RAM and can categorically state that it is irrelevant with 64GB.
If your laptop supports overclocking the Gaming Centre will present you with a Turbo Gear option for overclocking, which sounds like the sort of thing we will play close attention to in our full review of G752.
Launch Utility is the home for a number of pieces of software including GameFirst, XSplit game casting, Sonic radar and Sonic Studio. Add in Nahimic audio and G-Sync and it starts to feel strangely reminiscent of certain MSI laptops we have seen in recent times.
Closing Thoughts
Asus G752 looks like a beast of a gaming laptop. The combination of Skylake Core i7 and Nvidia GTX 970M or GTX 980M is hugely appealing. Sticking with a Full HD screen may sound like a backwards step but in the real world you don't really need a 4K panel so this choice makes perfect sense. The IPS screen is high quality and the inclusion of G-Sync is a useful feature when you're cranking up Image Quality settings and wish to avoid dropped frames.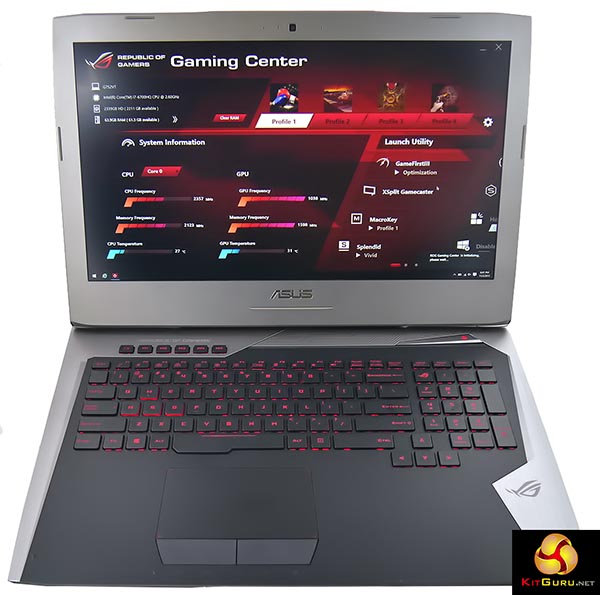 The hardware is undeniably top notch and Asus tops off the whole package with a collection of software that adds to your gaming experience. MSI will need to keep a close eye on Asus ROG G752 as the gaming laptop market is hotting up nicely for Christmas 2015.
You can get further information at this landing page https://www.asus.com/Notebooks/G752VL
Three models will be available priced at £1399.99, £1799.99 and £2099.99.
G752VT-T7022T – SRP £1399.99
Core i7-6700HQ, GeForce GTX970M, 16GB DDR4, 128GB SSD, 6-cell battery
G752VY-T7048T – SRP £1799.99
Core i7-6700HQ, GeForce GTX980M, 24GB DDR4, 256GB SSD, 8-cell battery
G752VY-T7049T – SRP £2099.99
Core i7-6820HK, GeForce GTX980M, 32GB DDR4, 512GB SSD, 6-cell battery
Discuss on our Facebook page, over HERE.
Pros:
Intel Skylake Core i7
Nvidia Maxwell GTX 970M or 980M
Full HD IPS screen with G-Sync
Plenty of DDR4
M.2 Samsung NVMe SSD
Useful suite of Asus hardware
Clever cooling system for CPU and GPU
Funky metallic styling
Cons:
These are big, heavy laptops
You pay a high price to get your hands on a top notch laptop
KitGuru says: This preview has whetted our appetite for the finished G752 and a full review.