When KitGuru ran a reader survey about laptops before Christmas the number one response was a request for a laptop powered by an AMD CPU with AMD graphics. So imagine our delight when we saw the Asus ROG GL702ZC runs on an AMD Ryzen 7 CPU and packs a Radeon RX 580 GPU, which is just what the Doctor ordered.
Naturally this means the Asus ROG GL702ZC has eight CPU cores with 16 threads, which puts it in a different league to other laptops that typically have a dual or quad core CPU with Hyper Threading. As we discuss in our video, it seems peculiar to see Asus ROG (Republic Of Gamers) branding on a laptop that has a specification that is more at home in a workstation. The answer is quite simple; Asus has a number of ranges of laptops but brands such as ZenBook or VivoBook describe a laptop that is thin and light. The GL702ZC is neither thin nor light and as a consequence is is classed as a ROG product.
Watch the video via our VIMEO Channel (Below) or over on YouTube at 2160p HERE
Key features:
Processor: AMD Ryzen 7 1700 (Base 3.0GHz/Boost 3.70GHz with 16MB Cache)
Graphics AMD Radeon RX580 4GB
Panel: 17.3-inch 1,920×1,080 IPS 60Hz with FreeSync Technology
Memory: 16GB DDR4-2400MHz Single Channel
SSD: 256GB M.2 SATA3
HDD: 1TB 5,400rpm 2.5″
Connections:
HDMI 2.0
802.11ac + Bluetooth 4.2 (dual band) 2*2 LAN 10/100/1000 Mbps
3x USB3.0
1x USB3.1 Type C (Gen1)
1x Headphone-out Audio-in
1x RJ45 LAN
1x HDMI
1x mini-Display Port
Built-in Sonic Master speakers
Weight 3.2kg with battery
Illuminated Chiclet Keyboard
Battery: 76WHrs, 4S1P, 4-cell Li-ion
Dimensions: 415mm Wide x 280, Deep x 32-34mm Thick
OS: Windows 10 Home
Warranty: 2yr
Full specification here:
The specification of the Asus ROG GL702ZC stumbles at a couple of points. For one thing the DDR4 memory is only single channel, although we feel that is likely down to the fact that Ryzen can run single channel memory at higher clock speeds than dual channel. The other thing that caught our eye is that the boot SSD is only 256GB in capacity, hence the 1TB HDD that provides some bulk storage.
This is a tried and true formula but even so we would prefer to see a larger boot SSD, although that would inevitably hurt the price a little. The thing is the Asus ROG GL702ZC is fairly expensive (although we see that Overclockers UK is discounting the laptop fairly heavily) and that means our expectations are higher than they might otherwise have been.
Time and again we found ourselves comparing the Asus to the Razer Blade as the performance of the two laptop is fairly similar and the prices are in the same ballpark, but the fact of the matter is that the two laptops have very little in common.
The appeal of the Asus ROG GL702ZC depends on that eight core processor and the resultant epic performance when using software such as Cinebench or Blender. The downside is that Ryzen 7 CPU doesn't have a graphics core so the RX580 GPU is working away at all times and that is bad news for a laptop that relies on battery power. It continues to be true that very few games are multi-threaded with the result that the workload is pushed on to the GPU, so we shall have to see whether the RX580 GPU in this laptop can compete with GTX 1060 or even with GTX 1070.
It is a large laptop that measures 17.3-inches on the diagonal and has a chassis that measures 32-34mm in thickness, so it comes as no surprise to see the weight is a fairly hefty 3.2kg. Our photos inside the Asus ROG GL702ZC clearly show the layout with a convoluted cooling system on the CPU and GPU with fans at either side near the laptop hinges. You can see the single module of memory and the unused second slot, as well as the M.2 SSD and 2.5-inch hard drive. While the battery looks quite large it is rated at a middling 76Wh, despite there being plenty of space inside the chassis for a battery with higher capacity.
The choice of panel is interesting as Asus has chosen a Full HD display that uses 60Hz IPS technology and supports FreeSync. This seems like a sensible choice as the RX580 GPU is no speed king, so instead of aiming for huge frame rates you can instead expect up to 60fps that arrive in perfect condition without tearing or distortion.
Testing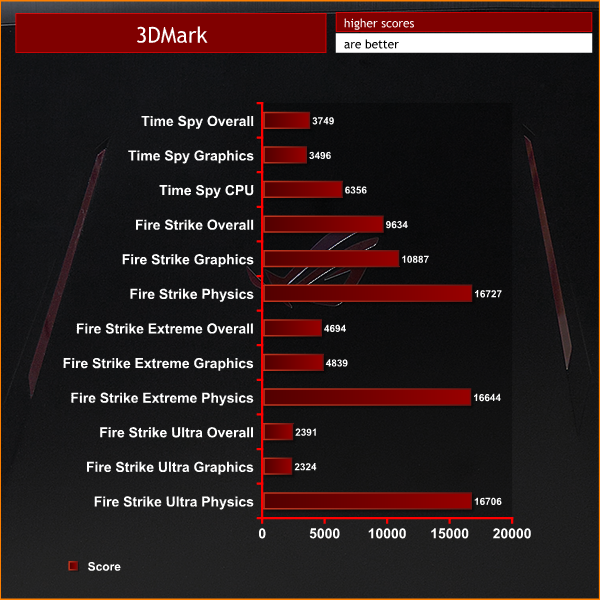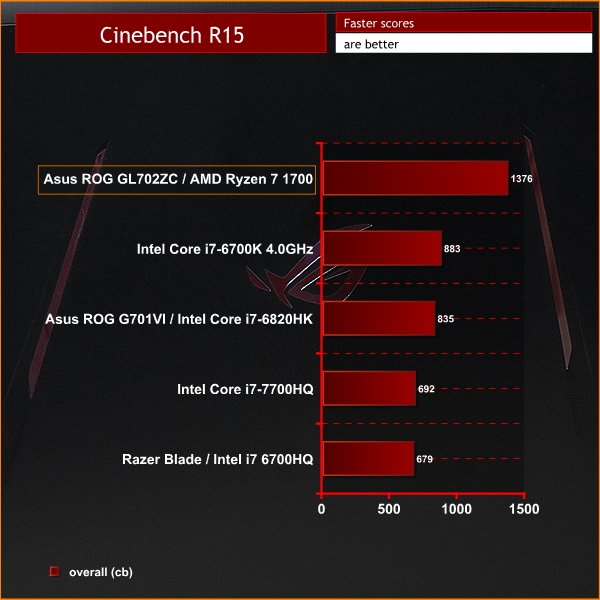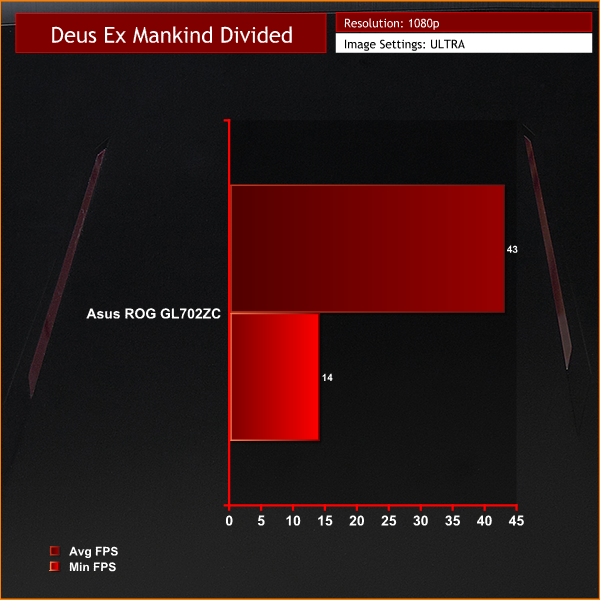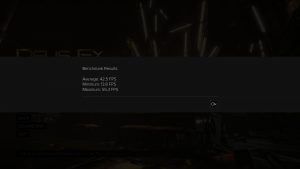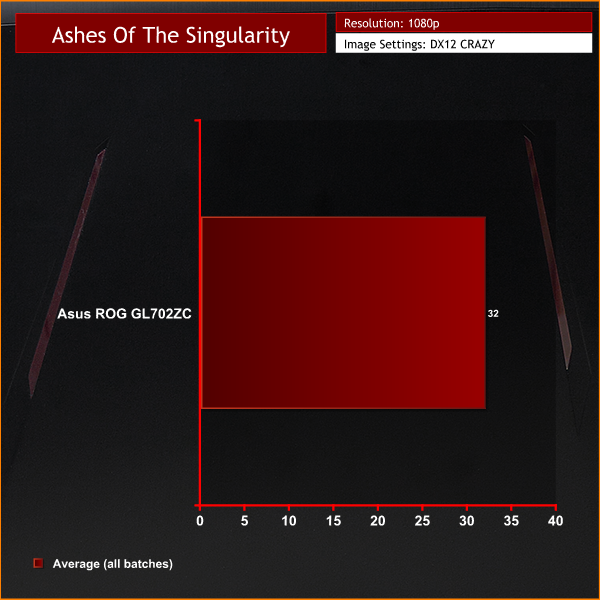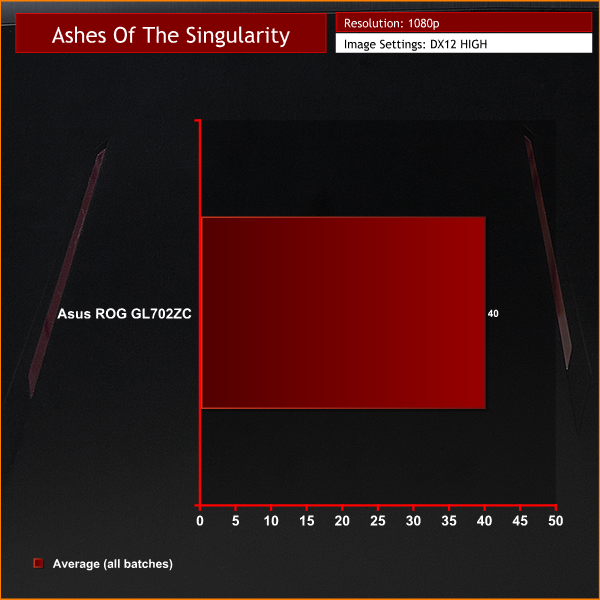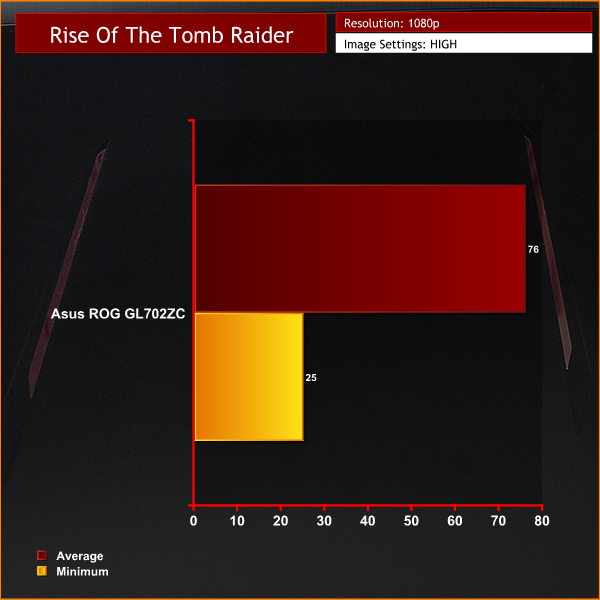 Testing Summary
In our video we were probably a touch dismissive of the gaming abilities of the ROG GL702ZC. In general terms the combination of Ryzen 7 and RX580 gives a similar experience to the Razer Blade with its Core i7 and GTX 1060, however there are swings and roundabouts. In 3D Mark we can clearly see the Ryzen 7 demolishes Core i7 while RX580 delivers similar performance to GTX 1060.
In Deus Ex the GL702ZC has an advantage over Razer Blade, in Rise of the Tomb Raider they are very similar and in Ashes of the Singularity the Razer Blade is the winner.
Battery Performance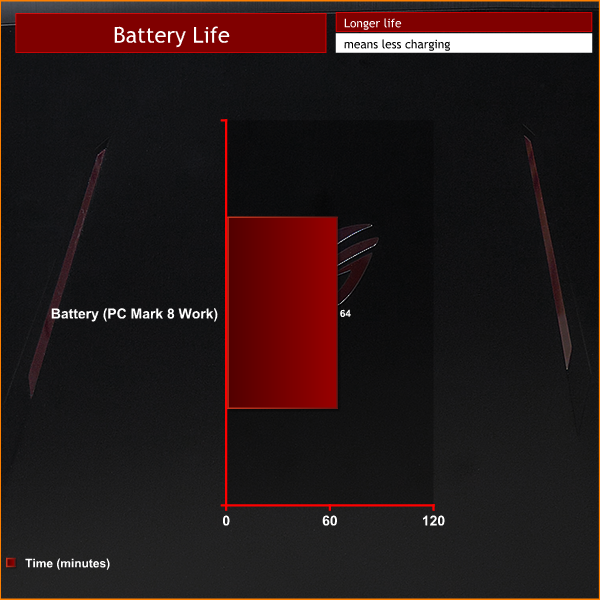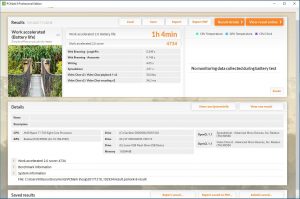 Battery life is unimpressive and only just passes one hour of continual looping in PC Mark 8. You can double that for real world usage but no matter how you look at it, two hours or so is fairly useless for a laptop. There is no doubt in our mind that Asus ROG GL702ZC will spend most of its working life connected to a power socket.
Cooling Performance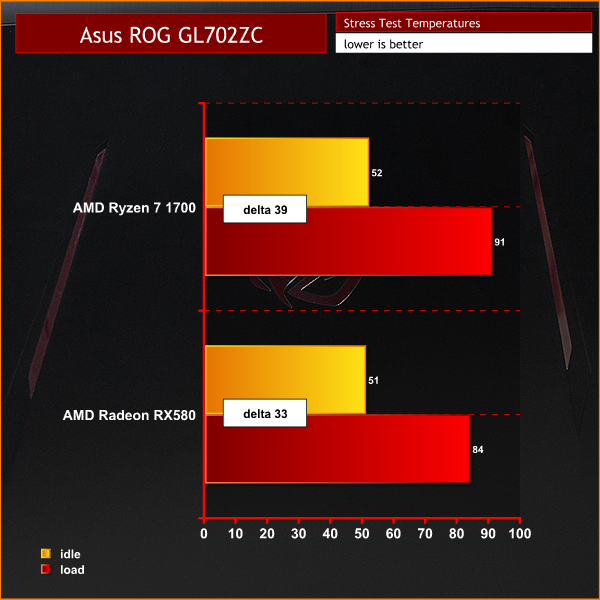 The Ryzen 7 produces a fair amount of heat at all times. When the laptop is idling the CPU sits at a warm 52 degrees C and when it is under 100 percent load with the cores at 3.2GHz the temperature tops 90 degrees. Simply put, that is the consequence of using a 65W CPU in a laptop with conventional cooling. We have seen similar loaded temperatures with Core i7 and so long as the CPU avoids throttling we remain happy with the situation.
Acoustics performance
There is no denying the ROG GL702ZC is noisy under full load, and we really wouldn't want to be in a room with the laptop while it was rendering video for an hour or two. Noise levels are a fairly subjective matter so we suggest you watch our video and decide for yourself whether the GL702ZC is beyond the pale or something you could live with on a daily basis.
Closing Thoughts
We have had the chance to step back from the Asus ROG GL702ZC since we made the video and our opinion has mellowed. Initially we were disappointed by the graphics, unhappy with the price and wondered who wants an eight-core CPU in a laptop. Once you switch that round the other way and accept that most people neither want or need an eight-core CPU with 65W TDP you can see the ROG GL702ZC answers a very specific question 'Does your work require a laptop with the most grunty CPU on the market?'
If you need to step up from a quad-core Kaby Lake Core i7 and cannot wait for the inevitable six-core Coffee Lake then AMD Ryzen 7 is the answer. It was fairly inevitable that Asus would choose RX580 as the discrete AMD graphics core to go with Ryzen 7, and the fact it is under clocked to 1077MHz for mobile use puts its performance in the same ballpark as GTX 1060.
With the main parts of the hardware sorted Asus had to add a cooling system that could cope with the CPU and GPU, keep the cost down with single channel DDR4 and a small 256GB SSD and the result was that we ended up with the laptop we see here today. There are a few quirks such as the red backlighting on the keyboard, which isn't as easy to use as plain white light, but in the main it is a decent enough laptop.
Perhaps the biggest problem is the noise from the exhaust vents at the rear of the chassis when the laptop is working hard. We were fairly unimpressed by the short battery life but that reinforces our view that the Asus ROG GL702ZC is more of a portable workstation (think desktop replacement) than a traditional laptop.
Ignore the Republic Of Gamers name, focus on the mighty CPU and you will likely be a happy customer.
More at the Asus website HERE

Buy from Overclockers UK for Price £1499.99 inc VAT HERE
Discuss on our Facebook page, over HERE.
Pros:
8-core CPU.
Full HD IPS panel looks good.
Good speakers.
Games look good although frame rates may be low.
Cons:
Rather noisy under load.
Poor battery life.
Single channel memory.
High power draw of CPU and GPU results in plenty of heat.
KitGuru says: This ROG laptop is ideally suited for Professionals who will benefit from those eight cores of Ryzen 7 CPU.
Be sure to check out our sponsors store EKWB here