ASUS ROG Zephyrus Duo 15 is an unusual laptop, however we find the unique ScreenPad Plus touch screen located above the keyboard to be rather peculiar. In an ideal world ASUS would have sent us a review sample with a 1080p resolution and a mighty refresh rate which would doubtless power along in games thanks to the Core i9-10980HK CPU and RTX 2080 Super Max-Q graphics, and then we would have had no need to moan about 4K.
Even then we would have been in the dark about the point of having a second screen that desperately tries to grab the focus whenever you touch the blessed thing. Clearly you can use ScreenPad Plus to monitor chat or keep an eye on temperatures or perhaps look out for updates about the delivery of your pizza.
There are times we like the idea of a laptop with extra screen space, but those times are events such as Computex and CES when we are editing videos in a hotel room. That calls for a nice large rectangle positioned next to your main screen, rather than a letterbox below the main screen and that means the layout of Zephyrus Duo 15 leaves us cold.

If ASUS had decided to use the ScreenPad Plus as a simple vent to help cooling we would at least have avoided the problem of the way Windows handles dual screens. Presumably this would reduce costs and help battery life but no doubt we would still complain about the position of the keyboard and the touchpad.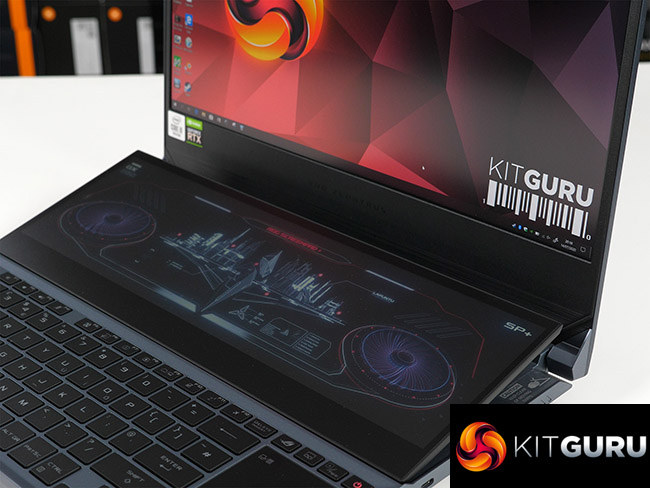 We fully expected to ignore the Armoury Crate software as utilities generally deliver little value and potentially cause problems. In the event we were happy with Armoury Crate and were fairly impressed by the way the laptop switches between Silent, Performance and Turbo Modes on the fly. We think you will agree after watching our video that Silent Mode is not completely accurate and might better be named 'Quiet'. Performance and Turbo Modes are well named but might perhaps come with a warning notice that you will need headphones to keep the noise at bay.
Overall this is a laptop that is technically impressive but the end result does leave us scratching our heads somewhat.

You can buy the ASUS ROG Zephyrus Duo 15 GX550LXS from Overclockers UK for £3,999.99 HERE.
Discuss on our Facebook page HERE.
Pros:
High end CPU and GPU give great gaming results.
Smart styling.
Good build quality.
ScreenPad Plus is a novel feature that might have its uses.
Cons:
Price is very high.
60Hz panel doesn't cut it for gamers.
4K panel is overkill for a 15.6-inch gaming laptop.
The noise of the cooling fans can get intrusive.
2TB SSD is 2x1TB in RAID 0
Poor battery life.
The missing webcam is a problem in these Covid days of Zoom and Skype.
KitGuru says: The ASUS ROG Zephyrus Duo 15 is certainly trying something different, but we're not sure it is entirely successful.