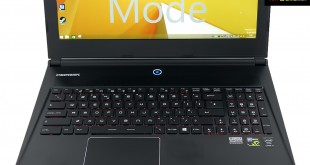 The killer feature with the Cyberpower Fangbook Edge 4K, as the name suggests, is the inclusion of a 4K display with a mighty resolution of 3,840×2,160 pixels. Adding a 4K display to a regular Fangbook Edge laptop bumps up the price by £90 from £1175 to £1265 inc VAT and delivery. The rest of the specification is high end with a Core i7-4870HQ quad core processor, Nvidia GTX 970M graphics, 32GB of DDR3L RAM, three USB 3.0 ports and Intel 802.11ac WI-Fi.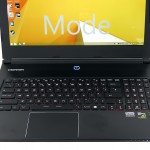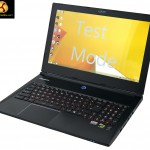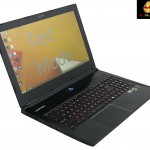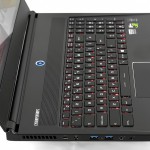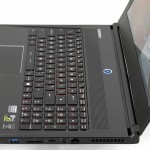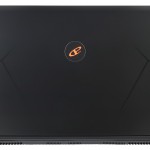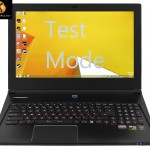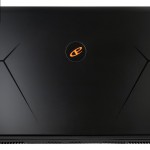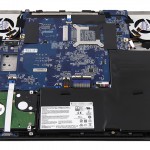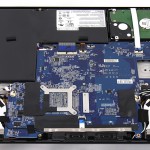 Cyberpower Fangbook Edge 4K Specification:
Screen Size: 15.6″ LCD/LED Backlit – 3840×2160
Processor Type: Intel Core i7-4870HQ 2.50GHz (3.70GHz Turbo Mode)
Hard Drive Supplied: 1 x 1TB Seagate
Hard Drive Speed: 5,400rpm
Memory Size: 16GB DDR3 1600MHZ (2x8GB)
Operating System: Windows 8
Graphics Chipset: NVIDIA GeForce GTX 970M (6GB) + Iris Pro 5200
Audio: Creative Sound Blaster Cinema 2
Microphone: Built-in
LAN Card: Intel GigaLan
LAN Speed: 10/100/1000
Wireless NIC: Intel Dual Band Wireless-AC 7260HWM (a/b/g/n)
USB 3.0 Port(s): 3
HDMI Port(s): 1
Mini Display Port(s): 1; Microphone Jack(s): 1; Headphone Jack(s): 1
LAN Port(s): 1
Battery Life: 4hrs
Card Reader: SDXC/HC
Web Camera: HD type ( [email protected])
Only 19mm thick
Warranty: 1 year labour, 1 year parts
That sort of hardware requires a fair amount of power and the 150W power brick rates as beefy, but less than half the size of the monster required by the MSI Titan.
One oddity of the specification is the inclusion of a 1TB 5,400rpm hard drive. This is disappointing as there are sockets for two M.2 SSD however Cyberpower tells us the buying public isn't keen on M.2 and the inclusion of a high capacity 2.5-inch SSD is an expensive option.
Your reviewer strongly suggests you pay an extra £100 for a 240GB Kingston SSDNow M.2 SATA drive for Windows and games while using the 1TB HDD as a data drive.
In terms of appearance the Cyberpower Fangbook Edge 4K looks superb. The closed clamshell is black plastic but when it is open it looks like brushed black aluminium. The red illuminated keyboard is a nice touch and although it flexes under heavy pressure, if you type sensibly it works just fine.
The two numbers to focus on are the 19mm thickness and 1.9kg weight. Truly it is thin and light.
You get an impression of how little chassis there is between your fingers and the Core i7 and GTX 970M when it is working hard as the fans spin up aggressively. See our photos for a proper look at the innards. The aggressive fan speed is necessary to keep the hardware cool and it works effectively as the vented section of the underside of the chassis in the centre rises to 40 Celsius or so while the rest of the chassis remains cool.
So what about the 4K display? It looks good and 4K gaming is an absolute delight. Technically this is not a Retina display (that would require is 477+dpi (dots per inch) whereas this laptop is 282dpi) however that is a mere detail. Look really, really close and you won't see the individual pixels.
On the downside you will find that many games that drive the laptop hard are very playable at 1080p but may struggle at 4K unless you reduce image quality settings.
One curiosity with the 4K display is the 48Hz refresh rate, apparently due to the connector inside the laptop. This has no impact when you use the laptop and the mouse and cursor action are completely smooth and lovely. On the other hand if you disable V-Sync in certain games you may hit problems.
For example, Tomb Raider wouldn't start at 4K and kept crashing. It was fine at 1080p and some experimentation made it clear that 4K worked fine provided V-Sync was enabled but as soon as V-Sync was disabled at 4K the game would crash.
Performance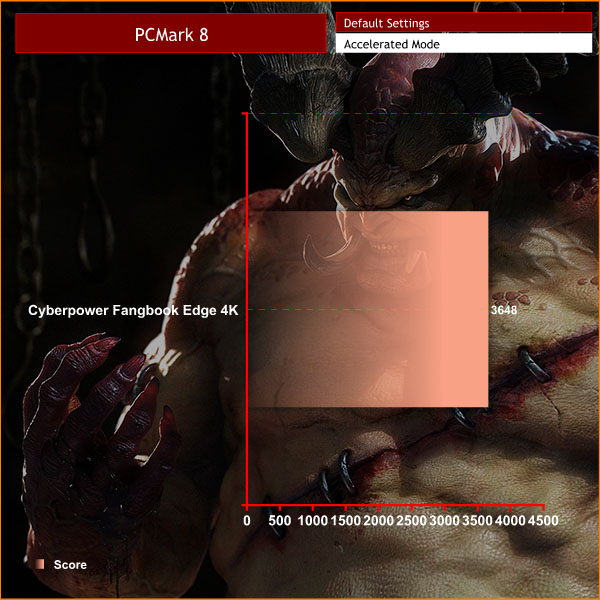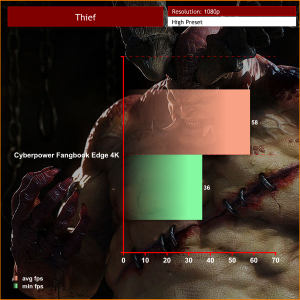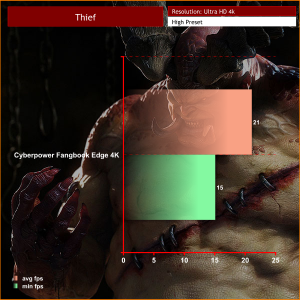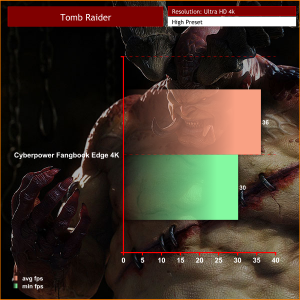 Game play at 1080p delivers the 60-120fps you would expect in modern games. Cranking up the resolution to 4K drags the frame rate down to 21fps in Thief and 36fps in Tomb Raider
Battery life
Battery life isn't great. Looping PC Mark 8 killed the battery after one hour 19 minutes which equates to two hours and 40 minutes of real world work. If you are doing lightweight tasks such as surfing the web you can expect upwards of four hours of battery life.
Closing Thoughts
We like the Cyberpower Fangbook Edge 4K gaming laptop. There are few surprises in the specification (apart from the inclusion of a hard drive) and it performs exactly as you would expect. The chassis is thin and light and you have to consider the 4K display as an upgrade from a regular Fangbook. It works well and there are no problems with any aspect of this laptop.
The only question is whether you need 4K at the moment. Having said that the only downside to buying this upgrade as a spot of future proofing is the relatively low £90 premium. Go on, treat yourself.
Buy direct from Cyberpower, over HERE.
Discuss on our Facebook page, over HERE.
Pros:
Sleek looks.
Low weight.
High performance from the CPU and GPU.
4K display looks excellent with Ultra HD media and holds its own with Full HD.
Cons:
Shame it comes with a hard drive – spring the extra for SSD.
The price is uncomfortably high. Understandable, just a bit high.
Battery life isn't great.
KitGuru says: If you're buying a new laptop that you expect to keep for a couple of years you should strongly consider an upgrade to 4K.