Lenovo offers its YOGA 15 Ultrabook in a number of different versions (we count at least five SKUs) however the fundamentals remain the same. This convertible laptop is built around a magnesium-alloy frame and boasts a heavy-duty Dragontrail display with a Full HD resolution IPS touch screen panel.
The most eye-catching feature is the convertible flip design with four modes – laptop, stand, tablet and tent – but in many respects that is just a question of Lenovo using the correct hinges on the chassis. Of course Lenovo has also installed a switch that disables the keyboard when the lid is swung back to convert the laptop to tablet mode but the clever part is the Lift 'n Lock keyboard. This refers to the keyboard surround that lifts up as the screen moves to present a smooth surface on what is now the underside of the tablet.
Watch via our VIMEO Channel (below) or over on YouTube HERE.
The hardware is based on an Intel Core i5-5200U CPU and this particular YOGA 15 doesn't have the add-in GeForce 840M graphics chip found in other models so gamers can raise the obvious objections to the integrated Intel HD 5500 graphics. Anyone who cares more about battery life than the ability to play games should be perfectly happy with the situation.
Wi-Fi is provided by an Intel Wireless-AC 7265 M.2 card, which is as good as wireless technology gets, but on the downside the slender 21mm chassis does not provide an Ethernet port. Neither do you get a USB-to-Ethernet dongle in the package so it's Wi-Fi all the way – much like a Macbook Air.
One other noteworthy point on the communication front is that Lenovo has included a slot on the left hand side for a SIM card but when you look into the details you will find there is no LTE modem included in the specification. This seems like a cruel trick to play.
Lenovo YOGA 15 Specification
Mechanical Design 360 degree flip design
Operating System Windows 8.1 Pro 64-bit Edition
CPU Intel Core i5 5200U 2.2 GHz/2.7 GHz
DDR3 1600mhz RAM 8 GB (1x 8 GB). Max RAM Supported 16 GB
Main Storage 256GB SSD – TCG Opal Encryption 2
Interface SATA 6Gbps
SSD Cache Optional (M.2)
Display 15.6″ – IPS
LCD LED back light
Touch screen enabled (10-point multi-touch) – 1920×1080 resolution
Graphics Processor Intel HD Graphics 5500
Camera Integrated 720p web cam
Sound Stereo speakers, two microphones
Codec Realtek ALC283
Audio Features High Definition Audio, Dolby Advanced Audio v4
Input Track Point, Ultraviolet, backlit keyboard
Built-in numeric keyboard, spill-resistant, multi-touch touchpad
Wireless Bluetooth 4.0, Intel Dual Band Wireless-AC 7265 M.2 card
Battery 4-cell lithium polymer, 66Wh
AC Adapter 45 Watt
Connectors 2 x USB 3.0, HDMI, Headphone/microphone combo jack, USB 2.0, OneLink connector
4-in-1 Card Reader SD, MMC, SDHC, SDXC
Dockable
Security lock slot (cable lock sold separately), administrator password, hard drive password, power-on password, digital compass, Accelerometer, magnetometer, gyroscope, 1 USB 3.0 (Always On), 3D inclinometer
Dimensions 38.3cm wide x 25.6cm deep x 2.1cm height
Weight 2.3 kg
Support 1 year warranty (pick-up and return)
Software Included
ThinkVantage System Update, Norton Internet Security (30 days subscription), EverNote, Lenovo Solution Centre, Lenovo Companion, Norton Studio, PC Device Stage, SHAREit, Bing Translator, Weather Channel, Maxthon Cloud Browser
Testing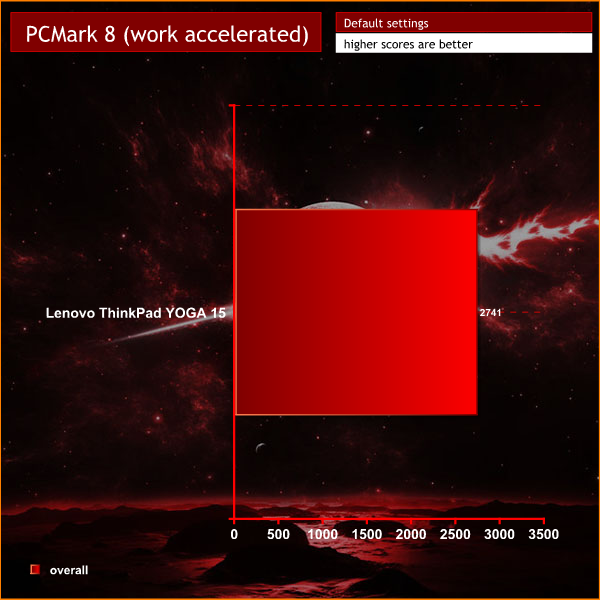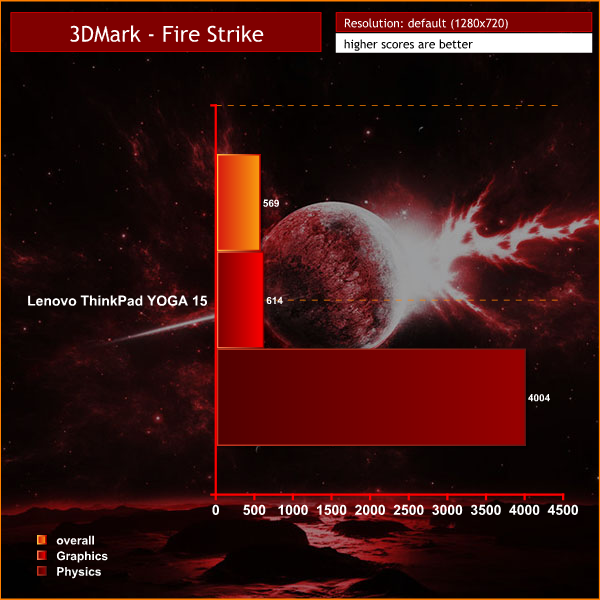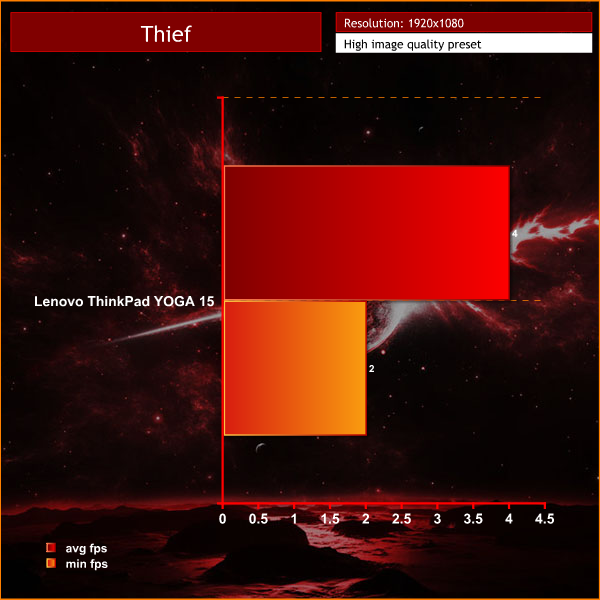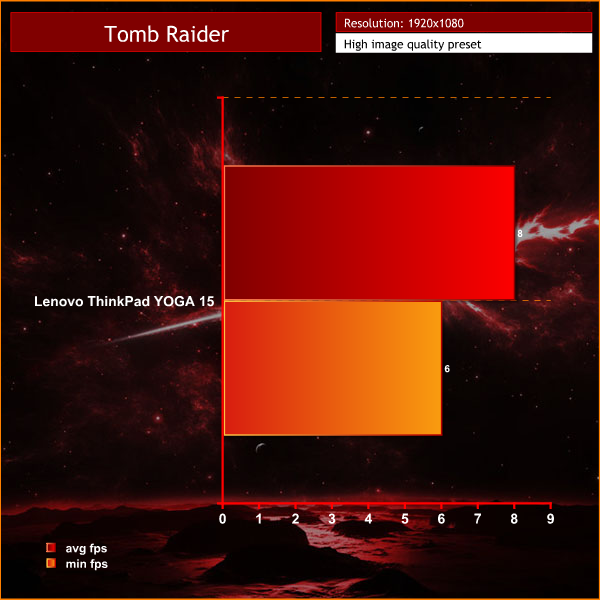 The combination of Core i5 processor, 8GB of DDR3 memory, latest Intel graphics and Samsung SSD behaved pretty much as we expected although it is worth noting the performance wasn't quite up to the mark set by the Asus TP300L. The Asus uses 4th Gen CPU and graphics with lower clock speeds but only has a 1,366 x 768 display to power so we're talking about half the pixels.
If we put that to one side the YOGA 15 did a fine job and looked great in action.
It is worth reiterating the graphics are hopeless for gaming – Thief and Tomb raider play at less than 10fps at High Quality settings. This is not a model you want if you are interersted at all in gaming.
Thermal Dynamics
The benefit of using the latest Intel hardware becomes apparent when you see how little power is required to drive the laptop. Under heavy load the CPU reports a temperature of 62 degrees although the chassis remains cool to the touch. The ambient temperature of the chassis during testing was 24 degrees and in the immediate vicinity of the exhaust vent it was 30 degrees but to all intents and purposes the chassis was completely cool.
Acoustic Performance
The downside of using a slender 21mm chassis is that the cooling fan spins up whenever there is any sort of workload. The fan isn't noisy however it is audible and during even simple tasks such as Windows Updates the fan can be heard whirring away with an insistent high pitched noise.
Battery life
The first battery run with the YOGA 15 appeared to be heading for 12 hours, however the expected life rapidly dropped and delivered just over three hours. After this first conditioning run the life leveled out at seven hours of continuous PC Mark 8 looping, which equates to 14 hours in the real world. That's impressive and effectively means the YOGA 15 will last all day on battery.
Closing Thoughts
There is always the risk that a laptop built around a Core i5 with Intel graphics and Intel ac Wi-Fi will end up being a generic slab that is indistinguishable from the competition. Thankfully Lenovo takes things a step further and the look and feel of a ThinkPad are quite distinct.
You get the traditional TrackPoint in the middle of the keyboard, separate mouse buttons, a OneLink connector for a Lenovo dock and a host of Lenovo utilities to keep your laptop in perfect working order.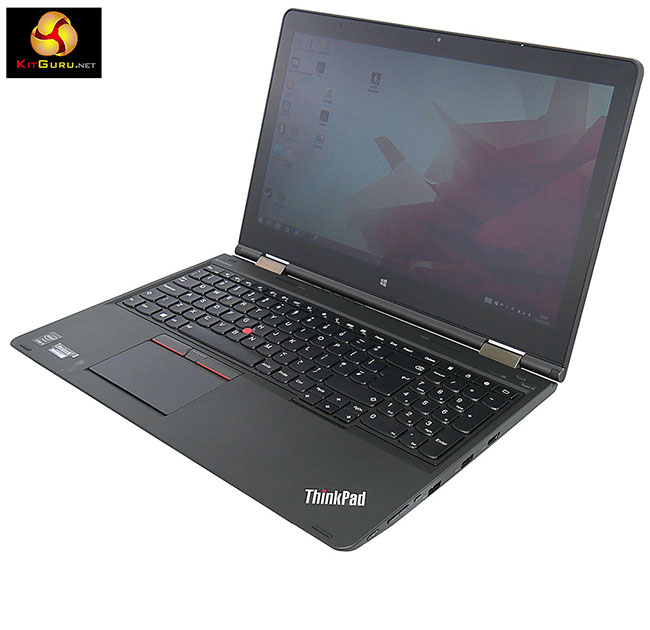 The conversion from laptop to tablet is smooth and works effortlessly and the Lift 'n Lock mechanism is a nice touch. On the subject of 'touch' the Full HD IPS panel is a good screen in its own right and works very well with touch control. When you use the YOGA 15 in tablet mode it is undeniably heavy but works effectively. Prop it up on a stand or in tent mode and it is a pleasant experience.
There is one area where the perception departs from the reality, and that is the build quality. There is an underlying assumption that a ThinkPad is as solid as a rock and built to last forever. Not 'for a long time' but 'forever' and the fact is the YOGA 15 uses plastic covers on the bottom of the chassis and the lid. They look good and feel fine but don't have the timeless appearance of a traditional rubberised matt black ThinkPad.
At the time of writing, this product was available from Dabs for £888.
Having said that you get a lot of laptop for a reasonable price, and that's refreshingly good news for a ThinkPad.
Discuss on our Facebook page, over HERE.
Pros:
Very good battery life.
21mm slender chassis.
2.3kg weight and a tiny power brick.
Impressive Full HD IPS panel.
Sensible price.
Four modes ranging from laptop to tablet.
802.11/ac Wi-Fi.
Lift 'n lock keyboard mechanism.
Core i5 operates at low temperature.
Decent performance, nice and responsive.
Cons:
Intel HD 5500 graphics are no good for gamers.
No Ethernet port.
Cooling fan makes a certain amount of noise under almost any load.
There is a SIM card slot but no LTE modem.
No fingerprint reader or TPM security will dissuade many business users.
Plastic top and bottom covers don't feel especially substantial.
KitGuru says: This particular YOGA 15 is a fine example of an Ultrabook at a sensible price.