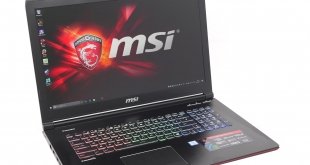 You may find the model name of the MSI GE72 7RE Apache Pro looks familiar however the devil lies in the detail. It's the 7RE suffix you need to focus on as the previous MSI GE72VR 6RF has been updated from Intel Skylake CPU and GTX 1060 graphics to Kaby Lake and GTX 1050Ti graphics.
Clearly we like newer technology but those graphics sound like a step backwards, so what, exactly, is going on here?
The common feature with the GE72 Apache Pro is the 17.3-inch chassis with Full HD screen that weighs in a little under 3kg. You can expect a low capacity SSD that handles Windows and a few applications, along with a larger HDD for bulk storage of games, and those features are all present and correct.
It's the combination of CPU and GPU that intrigues us. MSI has chosen a Core i7-7700HQ which is a proper Kaby Lake CPU with quad core, eight threads and reasonable clocks speeds (2.8GHz base, 3.4GHz boost). This is the slowest of the four mobile Core i7 CPUs that have a 45W TDP, and probably offers the best value for money.
On the graphics side of things GTX 1050 Ti is certainly slower than GTX 1060, and obviously cheaper, however it still allows MSI to slap VR stickers and logos all over the GE72 7RE Apache Pro marketing material. Nvidia has certified GTX 1050 Ti as the slowest GPU in its portfolio that qualifies as 'VR ready'.
So once again the theme is value for money.
Watch via our VIMEO Channel (Below) or over on YouTube at 2160p HERE
Specifications:
MSI GE72 7RE Specification:
Screen Size: 17.3-inch
Screen Type:  Anti-Glare eDP 120Hz
Screen Resolution: 1,920×1,080 (2K)
Processor: Intel Core i7-7700HQ
Processor Clock Speed: 2.8GHz-3.4GHz
Graphics Chipset: Nvidia GeForce GTX 1050 Ti
Graphics Memory: 4GB
SSD Drive: 1x 128GB Toshiba THNSNJ128G8NYM.2 NVMe PCIe
Hard drive: 1x 1TB 7,200rpm HGST SATA
Memory Supplied: 2x 8GB DDR4-2,400MHz
Memory Size: 16GB (2 x8GB)
Max. Memory Support: 32GB
LAN: Killer Gigabit LAN
Wireless LAN: Intel Wireless-AC 3168
Bluetooth Version: v4.0
Webcam: HD 30fps @720p
USB 3.1 Gen2 Type-C x1 port
USB 3.0 Type-A x2 ports
USB 2.0 Type-A x1 ports
HDMI Port x1 4K @ 30fps
Mini Display Port: 1
Card Reader: SD/SDHC/SDXC
Microphone Jack(s): 1
Headphone Jack(s): 1
Security: Kensington Lock
Battery: 6-cell 51Wh
Power adapter: 150W
Dimension: 420mm (W) x 288mm (D) x 29.8-32mm (T)
Weight: 2.7kg
Warranty: 2 Years
Operating System: Windows 10 Home
It takes a few minutes to work out the precise specification of the laptop as, for example, this model is available with three different display panels. These are Full HD 120Hz, Full HD IPS level and 4K IPS level. It was clear we had Full HD rather than 4K and that we had 120Hz rather than G-Sync but we were none too clear about the exact panel technology. It seems likely this particular panel is a Chi Mei N173HHE-G32 which means it uses a form of TN technology. In many respects the precise technology is neither here nor there so long as the picture looks good but this particular screen seems to have a relatively tight viewing angle and as you move your head the whites become distinctly pink.
That's not good and didn't seem very 'IPS level' hence our extended research. It took a few more minutes to realise the culprit was MSI's True Colour utility which was set by default to 'Designer' mode and it only took a simple click to change to 'Gamer' mode and all was well. In fact the colour looks superb and much better than you would expect from TN technology.
The initial set-up is a bit of a trial as the laptop comes with 60-day Norton security and a number of MSI utilities for registration and on-line back-up that demand an Internet connection. The snag is they don't give you the chance to tell the Wi-Fi how to connect to your router but once you get beyond that and clear the pop-ups things become much better.
Sure the casing is plastic with a brushed aluminium finish but it looks OK and with the laptop in front of you things seem just fine. The fundamental question is just how well that GTX 1050 Ti drives things along and whether or not the MSI GE72 7RE Apache Pro plays games sufficiently well to get the KitGuru thumbs up.
Testing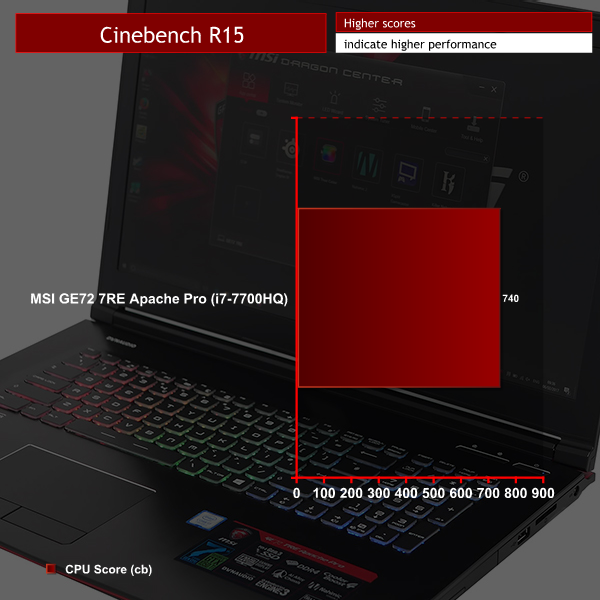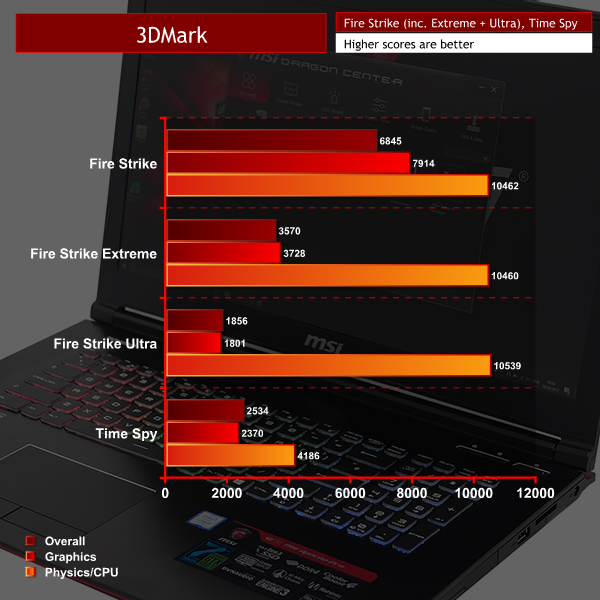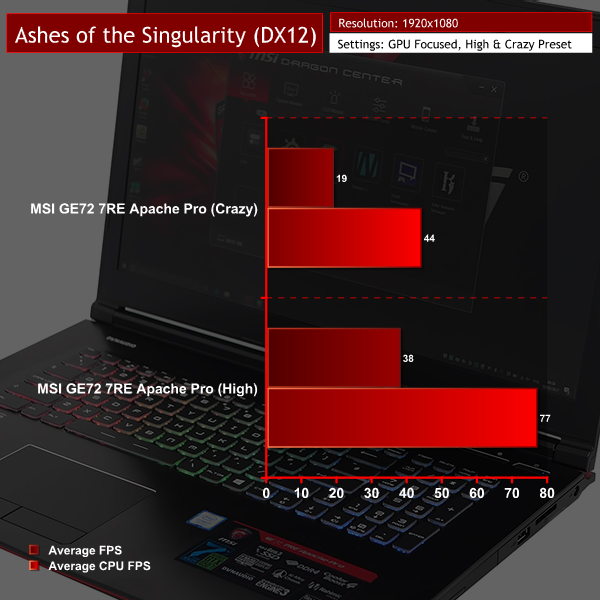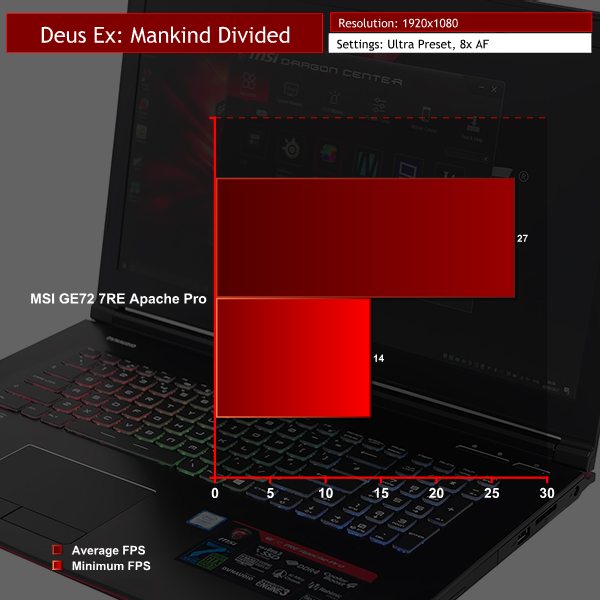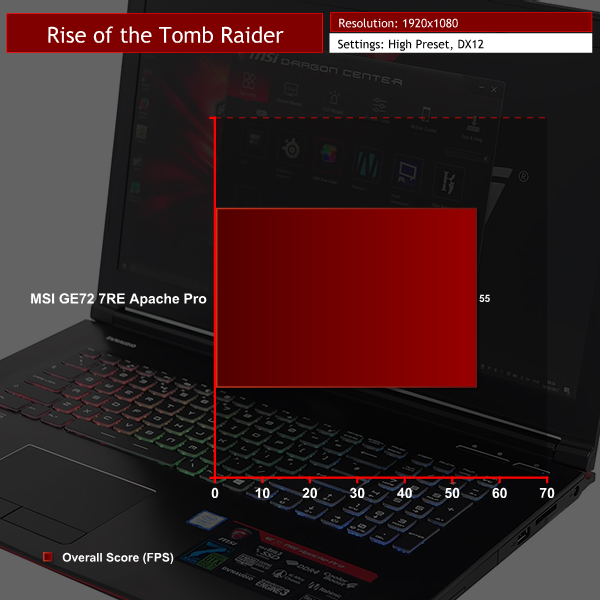 Performance depends almost entirely on the games you play. Deus Ex on Ultra quality is too much for the MSI and drags the average frame rate down to 27fps. The image quality looks lovely but the frame rate is far too low so you will either have to drop the resolution below 1,920×1,080 (unlikely) or you'll have to drop IQ until you hit the sweet spot.
Ashes of the Singularity plays at 19fps on Crazy Quality or 38fps on High Quality which shows you how hard the GTX 1050 Ti chip is working.
On the other hand Rise of the Tomb Raider plays at 55fps on High Quality which is perfectly acceptable.
Cooling Performance.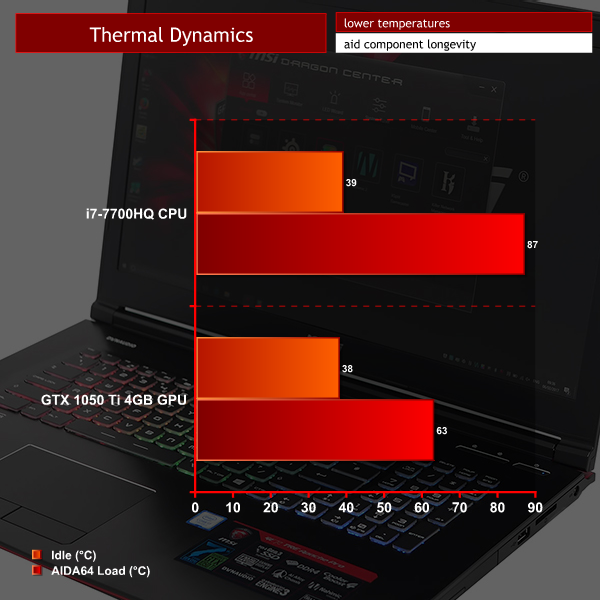 CPU temperature follows the usual Intel form, idling at 39 degrees and hitting 87 degrees under extreme load. Every Intel laptop CPU we have seen in living memory runs just below 90 degrees when it is working hard. The GTX 1050 Ti GPU is a cool customer and tops out at 63 degrees which shows that it doesn't work especially hard compared to faster GPUs.
It was interesting to note that the power draw was 135W during both a gaming session and also during stress tests, even though the laptop was clearly working harder in the stress tests as the temperatures and cooling noise levels were slightly higher. Battery life was not great at 1 hour and 18 minutes in the PCMark 8 test.
Acoustics performance.
You can clearly hear the cooling fans when gaming however the sound is not especially intrusive. When you use synthetic tests to stress the CPU and GPU the fans are slightly louder although the noise is still not excessive.
Closing Thoughts.
If you're looking for a new gaming laptop with a 17.3-inch screen then MSI has plenty to offer you in the MSI GE72 7RE Apache Pro. It packs a Kaby Lake Core i7 CPU along with an Nvidia GPU and the Full HD screen looks far better than you would expect from a TN panel. Added to that, you get a decent number of features that you find in other MSI laptops such as SteelSeries Engine software for the keyboard, the Dragon Centre software that monitors and controls the laptop, XSplit Gamecaster software and Killer Ethernet LAN.
Balanced against that, the specification shows clear signs of cost cutting. The most obvious feature is the choice of GTX 1050 Ti graphics which are just about up to the task of Full HD gaming. GTX 1060 would be significantly better but GTX 1050 Ti just about does the job.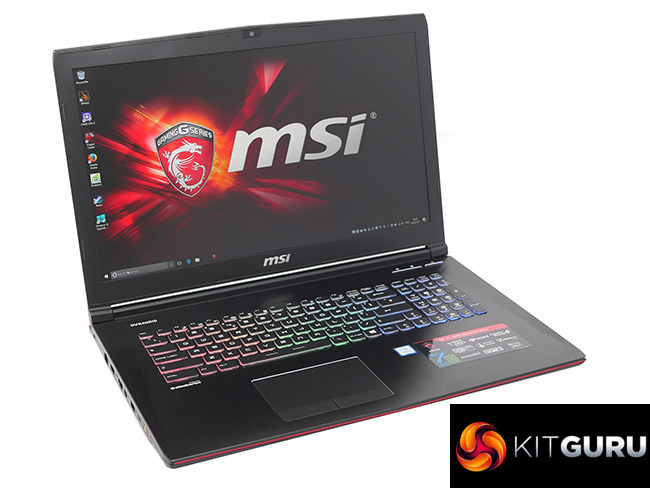 The main storage is a 128GB SSD which is barely large enough to contain Windows and Steam so you can be sure most (if not all) of your games will be stored on the 1TB hard drive.
Then there is the Wi-Fi which is powered by Intel Wireless-AC 3168 rather than Killer AC. The Intel Wi-Fi works perfectly well but was presumably slightly cheaper than faster 2×2 802.11 ac hardware.
This makes it tricky to come up with a definitive opinion about the MSI GE72 7RE Apache Pro as it offers decent value for money whilst the performance is held back by the relatively limp graphics. Yes we know that Nvidia has certified GTX 1050 Ti as VR Ready but still we want more.

The MSI GE72 7RE Apache Pro is available to buy at Overclockers UK for £1349.99.
Discuss on our Facebook page HERE.
Pros:
Low price
Impressive Full HD screen packs 120Hz.
Kaby Lake Core i7 processor.
Reasonably light and portable.
Brushed aluminium appearance on the chassis looks good.
Cons:
GTX 1050 Ti graphics struggle with Full HD gaming.
The boot SSD is only 128GB.
Battery life is poor.
Initial set-up is laborious.
The Windows key is absent from the bottom left of the keyboard.
KtGuru says: Nice screen, but we want more than GTX 1050 Ti graphics.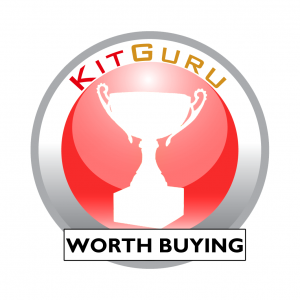 Be sure to check out our sponsors store EKWB here