KitGuru has reviewed a handful of high end gaming laptops that fail to deliver the level of performance you might expect to see from one or two GTX 1080 graphics chips. Our working theory is that 45W mobile Intel CPUs such as Core i7-6820HK and 6920HQ simply do not have the grunt to keep the GPUs humming along at full speed. Today we have a chance to test that theory as PC Specialist has delivered its Vortex VI laptop which combines dual GTX 1080s with a desktop Core i7-6700K, which is slightly faster than the mobile chips at 4.0GHz/4.2GHz and has double the TDP at 91W.
The form factor of Vortex VI is pretty much exactly what you would expect from a gaming laptop. It is big and chunky, with a 17.3-inch 4K IPS panel, weighing in at 5.7kg for the bare laptop and an additional 1.1kg for each of the two 330W power adapters.
If you select a lower specification with dual GTX 1070 GPUs you can instead have a pair of 230W power adapters. With Vortex VI the link between power, performance, heat, cooling and noise is absolutely clear and completely unavoidable.
Watch via our VIMEO Channel (below) or over on YouTube at 2160p HERE
PC Specialist Vortex VI Specification:
Chassis & Display Vortex Series: 17.3″ Matte 4K IPS LED Wide screen (3840×2160)
Processor (CPU) Intel Core i7 Quad Core Processor i7-6700k (4.0GHz) 8MB Cache
Memory (RAM) 32GB HyperX Impact 2133MHz SODIMM DDR4 (2 x 16GB)
Graphics Card 2 x NVIDIA GeForce GTX 1080, 8.0GB GDDR5 Video RAM, DX12.1
Free Watch Dogs 2 with select GTX 10 Series GPUs
M.2 SSD Drive 512GB Intel 600p M.2 NVMe PCIe SSD (up to 1775MB/s Read 560MB/s Write)
Hard Disk 1TB WD Black 2.5″ WD10JPLX, SATA 6 Gb/s, 32MB CACHE (7200 rpm)
Card Reader Integrated 6 in 1 Card Reader (SD /Mini SD/ SDHC / SDXC / MMC / RSMMC)
AC Adapter 2 x Vortex Series 330W AC Adaptor
Power Cable 2 x 1 Metre UK Power Cable (Kettle Lead)
Sound Card Intel 2 Channel High Definition Audio + MIC/Headphone Jack
Bluetooth & Wireless Gigabit LAN & Killer Wireless-AC 1535 M.2 Gaming 802.11AC + Bluetooth 4.1
USB Options 5 x USB 3.0 ports + 1 x USB 3.1 port
Battery Vortex Elite 8 Cell Lithium Ion Battery (5,800 mAh/89.21Wh)
Keyboard Vortex Elite Series backlit UK keyboard with number pad
Operating System Windows 10 Home 64 Bit – inc DVD & Licence
Anti-Virus BullGuard Internet Security – Free 90 Day License inc. Gamer Mode
Notebook Mouse integrated 2 button touchpad mouse
Webcam integrated 2.0 MP Full HD Webcam
Warranty 3 Year Standard Warranty (1 Month Collect & Return, 1 Year Parts, 3 Year Labour)
As we show in our video the chassis is well laid out with a mass of modern ports and connectors. There is no optical drive.
Left side: 2x USB 3.0, 1x USB 3.1, headset jacks, dual Ethernet.
Right side: 1x USB 3.0, 2x Mini DisplayPort, 2x USB 3.1 ThunderBolt 3 type C, card reader.
One USB 3.0 and HDMI on the rear along with power connectors.
Inside the chassis there is scope for adding storage as there are two hard drive slots and two M.2 slots however our main interest lays in the cooling system. The air intakes are on the bottom of the chassis and they feed air to the triple coolers, one each for the CPU and two GPUs. Each heat sink employs two flat, wide heatpipes to shift the heat to the exhausts at the rear of the chassis.
Testing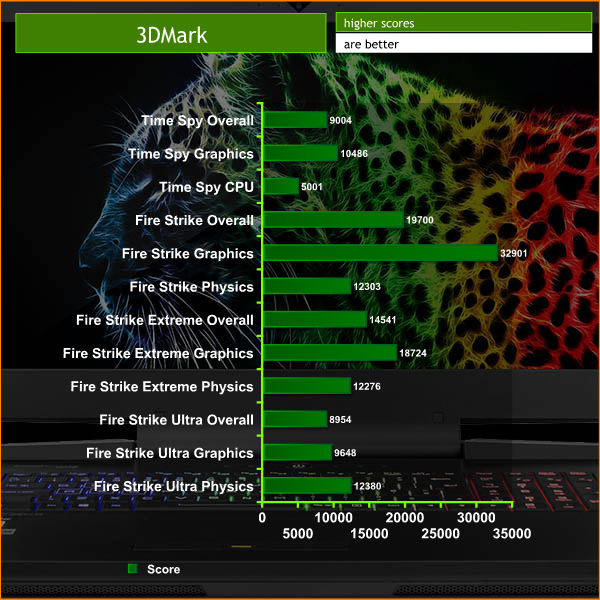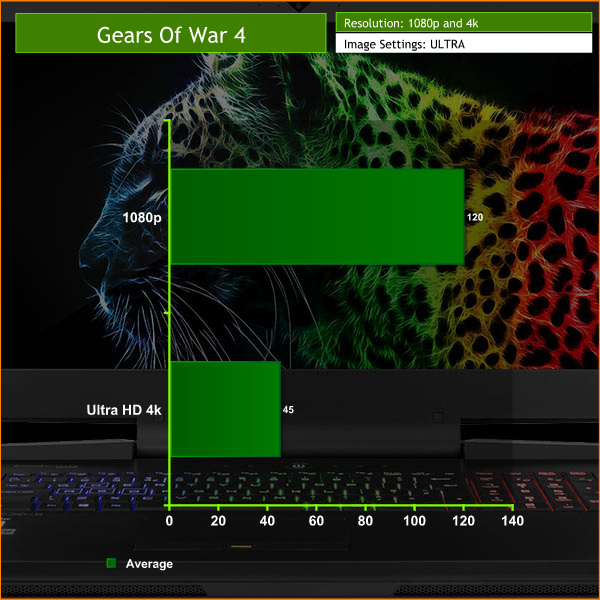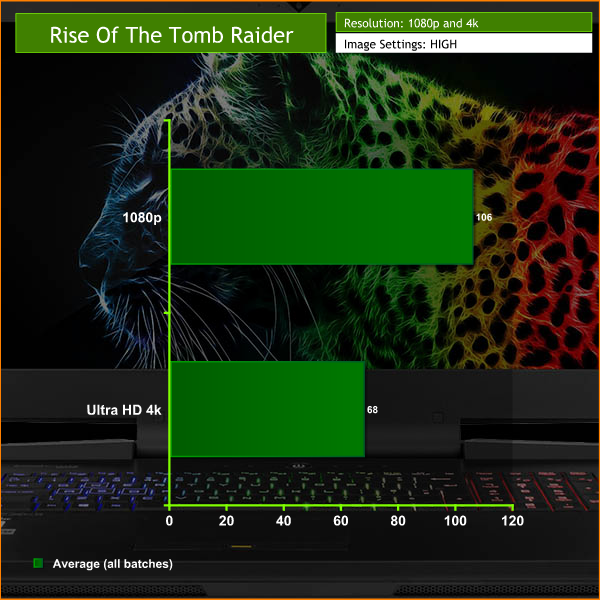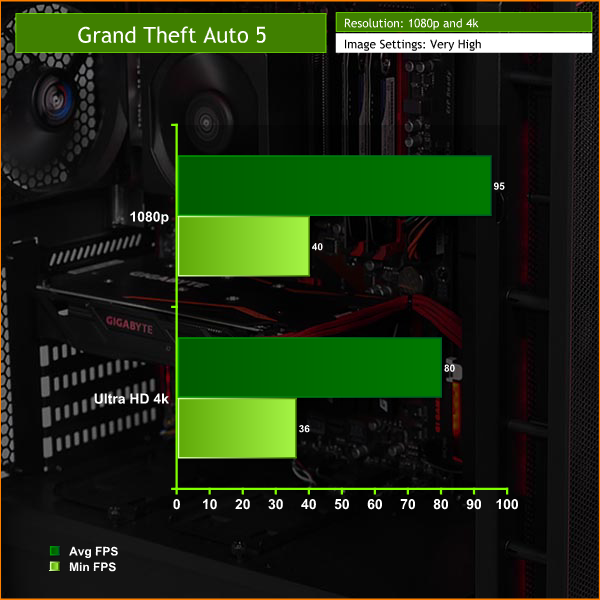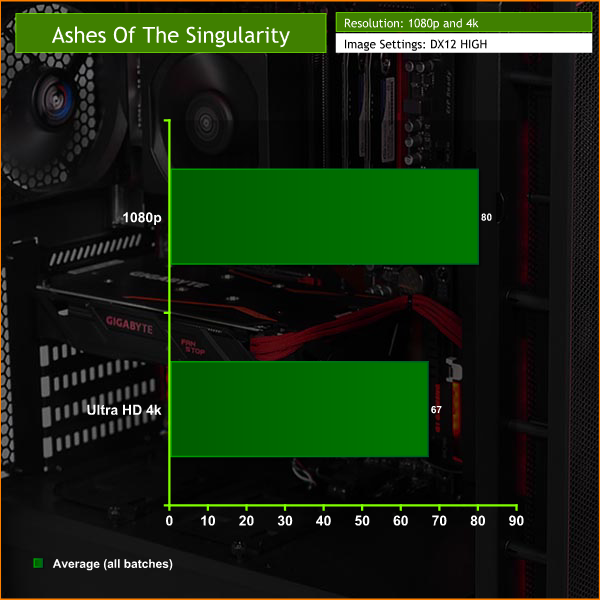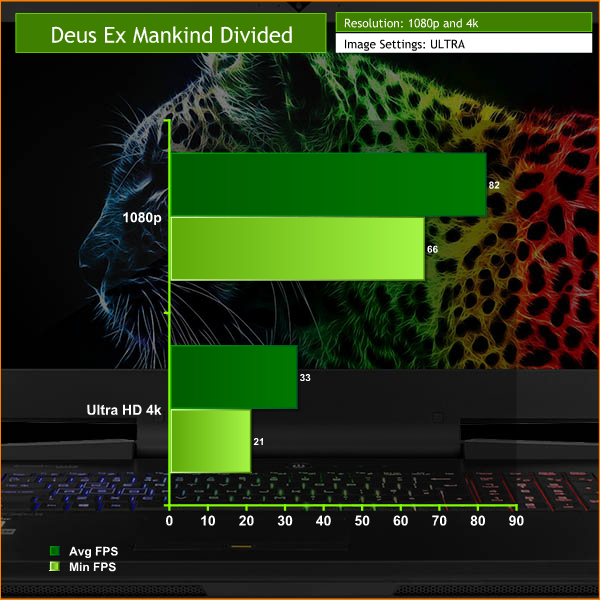 When we started testing the Vortex VI we ran into a snag in Gears of War 4 as the game warned us that graphics driver 372.54 has 'compatibility problems with Gears of War 4'. We tried to install driver 376.09 however it threw up a message that we had to use a driver from the vendor i.e. Clevo where the most recent driver is 368.83. After a certain amount of conversation we installed a previous Nvidia driver 375.95 which worked just fine.
We later discovered the problem lay with Nvidia driver 376.09 and has now been fixed. We like to share this sort of detail with KitGuru readers.
Take a look at our graphs and you will see the Vortex VI stomps through games in an indecent fashion. If you leave G-Sync enabled the frame rate will be capped at 60fps and the image quality is excellent, but it has to be said during our testing without G-Sync there was absolutely no sign of tearing.
Frame rates at 1080p are excellent however the gaming experience at 4K is better and that would be our recommendation.
The two GTX 1080s have a base clock of 1,582MHz and boost to 1,771MHz and while pure graphics performance is a little lower than MSI GT80S Titan and Asus GX800VH, the overall performance is greatly assisted by the use of a fully fledged desktop Core i7-6700K. The key point is that the Vortex VI has only five percent lower performance than Asus GX800VH when it is using its liquid cooling dock and the GPUs are boosted to 1,898MHz (which is 120MHz higher than the Vortex VI).
That is stellar performance from an air cooled laptop that uses modest clock speeds to drive the graphics along and it proves that a desktop CPU can make a significant difference.
Cooling Performance.
Temperatures: Synthetic Worst Case Scenario (below)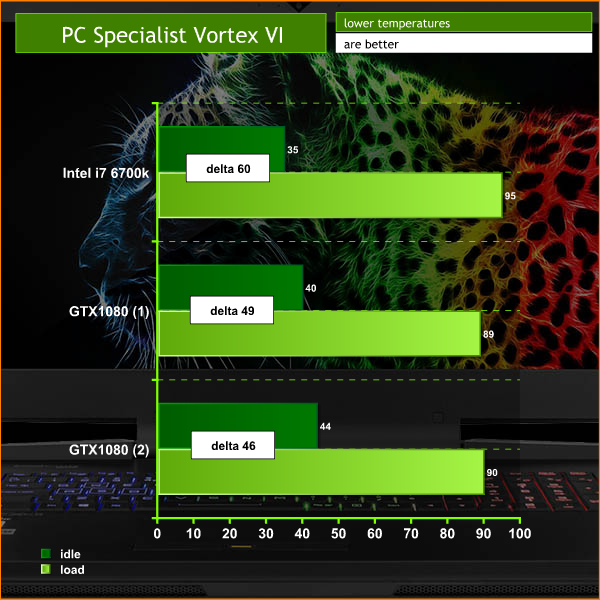 Temperatures: Real world General Gaming Scenario (below)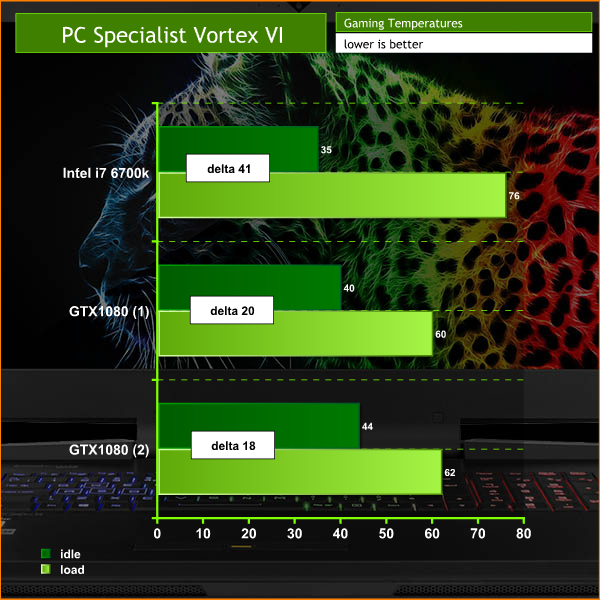 Stressing the Vortex VI with AIDA 64 pushed the CPU to 95 degrees and the two GPUs to 89 and 90 degrees, which was clearly less than ideal.
Stressing the CPU alone gave a temperature of 67 degrees, so CPU cooling is clearly fine in isolation. Stressing the two graphics cards when gaming increased the CPU temperatures to 76 degrees, even though it was doing very little work.
On the face of it this is quite some problem but in the real world we found that during a Grand Theft Auto V gaming session the maximum CPU temp was 75 degrees while the GPUs ran at 60 and 62. The takeaway here is that synthetic tests are far harsher than actual game play and that Clevo has balanced the cooling in this chassis to a fine degree.
When you consider the laptop draws 460W in 3D Mark that is no mean feat and we were suitably impressed.
Acoustics performance.
The Vortex VI is rather noisy. The fans spin up once the temperatures pass 50 degrees, which is any time the laptop is working the least bit hard, and then ramp up harder above 60 degrees. When you start to play a game this takes about half a second.
After a gaming session the system cools down and the fans slowly, slowly, slowly spin back down over a period of five to ten minutes. Once the GPU temperature drops below 50 degrees the laptop is effectively silent.
The noise is unwelcome but the fan curve is elegant and well thought out by those clever people at Clevo.
Closing Thoughts.
The PC Specialist Vortex VI is big, heavy and hardly a thing of beauty however it packs performance by the bucketload. The engineering sophistication of Asus GX800VH blew us away, but the end result is a truly massive piece of hardware. By contrast the Vortex VI seems a little crude with its three air coolers and black plastic chassis but it can be slipped in a sturdy bag and delivers the same level of performance.
The CPU, GPUs, storage, memory and massive array of USB 3.0 and 3.1 ports are all top notch. The 4K IPS panel with its matte coating is stunningly good.
Our sole complaint, apart from the noise levels from the cooling system, is the touch pad which was hyper sensitive on our particular review sample.
This is a superb gaming laptop that delivers the goods. We have little doubt Vortex VI will be updated to use Kaby Lake in the near future but we doubt that will impact performance or price in any meaningful way.
You can custom configure a PCSpecialist Vortex VI HERE
You can buy the PCSpecialist review specification system HERE (£3,599 inc vat)
Pros:
Epic CPU performance.
Dual GTX 1080s power 4K game play.
Matte IPS panel with G-Sync looks terrific.
Heaps us USB 3.0/3.1 connections.
Surprisingly good battery life.
Backlit keyboard is good.
Cons:
Cooling system is rather noisy.
Weighs 8kg in total.
Touchpad is too sensitive.
KitGuru says: The most powerful laptop we have reviewed, and its actually more practical than the flagship behemoths we recently reviewed from MSI and ASUS.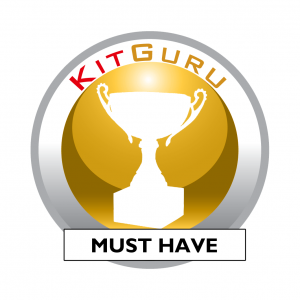 Be sure to check out our sponsors store EKWB here