In the past, if you wanted one of Razer's laptops you either had to go with the smaller 14in Blade, or shell out the cash on the 17in Blade Pro. That has all changed, however, as Razer has now launched its new Blade 15 with – you guessed it – a 15.6in panel. Boasting the latest 6-core CPUs from Intel, a super-sleek body and a 144Hz IPS display, it sounds very impressive – and from my initial time with it, I can say the first impressions are very promising.
The first thing to note is that there are a few different configurations of the laptop, but the core design is the same. Users can opt for GTX 1060 or GTX 1070 graphics, while there is also the choice of FHD 60Hz, FHD 144Hz or 4K touch panels. For storage, the laptop will either have 256GB or 512GB of NVMe goodness.
Interestingly, all models of the new Blade will feature Nvidia Max-Q graphics chips – be it GTX 1060 or 1070s – which could mean gaming performance might actually be worse than the previous-gen 14in Blades which had full-fat GTX 1060 cards. We'll have to wait and see about that one, though, as Intel's latest 6-core i7-8750H CPU may well help matters for the 15in Blade.
In terms of the design, Razer claims the new 15in Blade is actually the world's smallest 15.6in gaming laptop. Having got some hands-on time before the release, I can say it is certainly a beautifully slender piece of kit – GTX 1060 models measure a mere 16.8mm thin, while going for a GTX 1070 only adds an extra 0.5mm thickness.
Razer has also made a conscious effort to reduce the bezels around the display, with these now measuring just 4.9mm. This means the new Blade is actually exactly the same depth (235mm) as the previous 14in Blade, despite the newer model have a larger screen. It looks really good in person, while the slightly squarer corners also gives a more professional feel to the laptop.
One of my favourite changes, though, is the large trackpad. This is something that has become increasingly common over the last year, with the newest MacBooks and the Huawei MateBook X Pro incorporating huge trackpads. Razer has followed the trend with its Microsoft Precision trackpad, and it felt great to use during my time with the laptop.
Elsewhere, there's a generous helping of I/O connectivity, including Thunderbolt 3 and 3x USB 3.1 Gen2 ports, while the keyboard of course supports Chroma lighting. In terms of networking, Razer has moved on from Killer hardware in favour of Intel's Wireless-AC 9260 chip, but there is no Ethernet port. Lastly, the battery is 80Wh, and model depending, the power brick is rated for either 200W or 230W.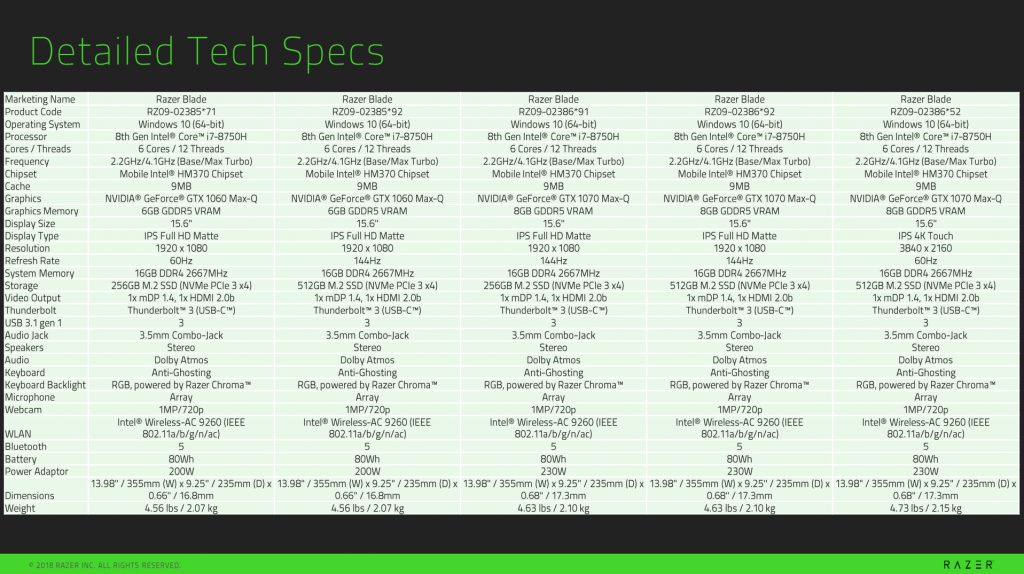 For full specifications, including the breakdown of the different configurations available, see the above graphic – click to enlarge. We have been told to expect availability of UK configurations by mid-June.
KitGuru says: The new Blade certainly looks like a tasty bit of kit, and I'll be very interested to see how it performs given the choice of Nvidia Max-Q graphics chips over the previous generation's full-fat GTX 1060 chip. Stay tuned for our full review.