Adding to speculation that arose two weeks ago, the next handset from OnePlus could be right around the corner. If true, the new image that's circulating the web states that the OnePlus 5T is set to go on sale next month, shortly after its launch date set for mid-November.
The image was reported by GizChina.it, which shows the OnePlus 5T off in the same fashion as its predecessor. Both handsets are presented as an Amazon Exclusive in specific markets, lending credibility to the new post, which, if true, means we will get a showcase of the smartphone on November 16th.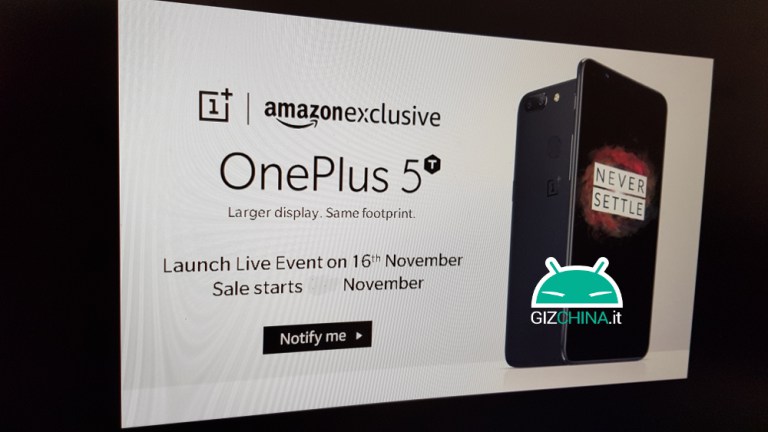 It is also suggested that the phone is to hit shelves in the same month, however the exact date has been omitted from the image. This could point to EvLeaks' previously claimed release date of November 20th, which would mean like the previous 5, the OnePlus 5T would release just a week after its launch event.
So far, no leak or rumour has been confirmed, with the OnePlus 5T expected to minimise its bezels in the official-looking render and follow in the footsteps of the Samsung Galaxy S8 in terms of specifications. This means the possibility of a Qualcomm Snapdragon 835 processor and up to 8GB of RAM, just like we reported for the OnePlus 5 leaks and rumours.
KitGuru Says: So far, the render is looking like a nice follow up to an already highly in-demand smartphone, if accurate. Do you plan on grabbing yourself a OnePlus 5T if the launch isn't met with the same criticisms as its predecessor?