Desks, as most of us know them today, are things that don't change height to accommodate changes in posture or how we use them. You have your desk and it is forever stuck at the height it was when you bought it, or if it's a flat pack, then whatever height you first set it at when you built it. The Stir Kinetic Desk M1 aims to change that with an intelligent motorised desk that rises and lowers at your command.
The previous model, the Stir Kinetic Desk F1 was launched towards the end of 2013 and this is still their flagship, but the new M1 is over $1000 cheaper while retaining much of the same functionality and looking significantly more curvy. The F1 has a very square design in comparison to the M1, but does have some more room on top and a slightly tidier cable management system.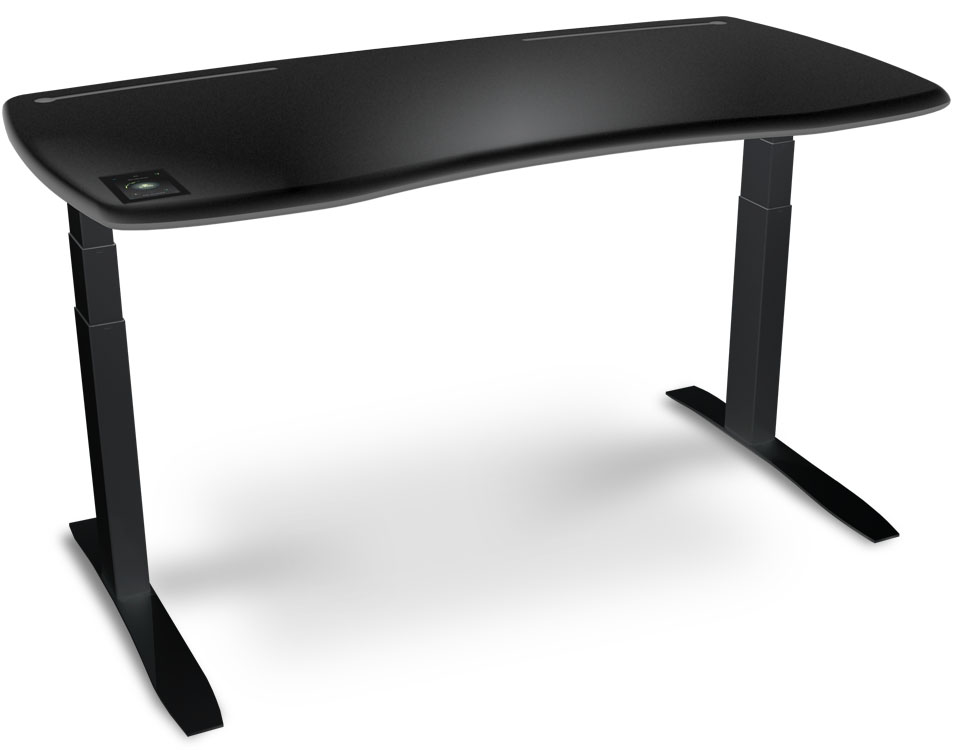 The built in 5 inch screen is powered by an ARMv7 processor and the desk itself is both WiFi and Bluetooth enabled, so that it can get updates from Stir and sense when you are near by communicating with your bluetooth devices, such as Fitbit fitness trackers. The desk surface is made of wood that is CNC-machined and finished with a powder coating in white or black.
[yframe url='https://www.youtube.com/watch?v=ZgG2YdkfCak']
It is capable of holding up to 300 lb, can lift 150 lb up and down and with built-in cable management it should have no problems accommodating most users. Having said that there are two issues that might stop you from buying one right now. Firstly Stir only ship the desks to the US at this time and have not announced any plans for an international release, plus shipping these from the US would be very expensive. That brings us on to the second issue, the price. At $2,990 (almost £2000) this may be cheaper than the first model, but it's still a lot to pay for a desk that goes up and down by 25 inches.
Discuss on our Facebook page, HERE.
KitGuru Says: I love the thought of a rising desk, as I know some friends who have worked on them and they really like being able to stand up for a few hours while working during the day. Having said that, my IKEA desk was only around £120, so paying £2000 for this would mean it would have to be a life changer! Anyone else work with a rising desk at the moment?
Source: Stirworks