The Cooler Master MK730 is undoubtedly a very solid keyboard from the Taiwanese manufacturer. Having used a MasterKeys Pro S on a personal level for the last couple of years, the MK730 is a definite upgrade across the board.
A lot of this comes from the re-designed keyboard body, which benefits from both a sandblasted aluminium section of the casing, as well as a brushed aluminium top plate. Both of these parts look great in an understated kind of way, yet also add to the impressive build quality and overall sturdiness of the MK730.
The move to a 1.8m USB-C cable is also welcome, while the MK730 also ships with a cushioned wrist rest in the box – something that was entirely lacking from the MasterKeys Pro S series.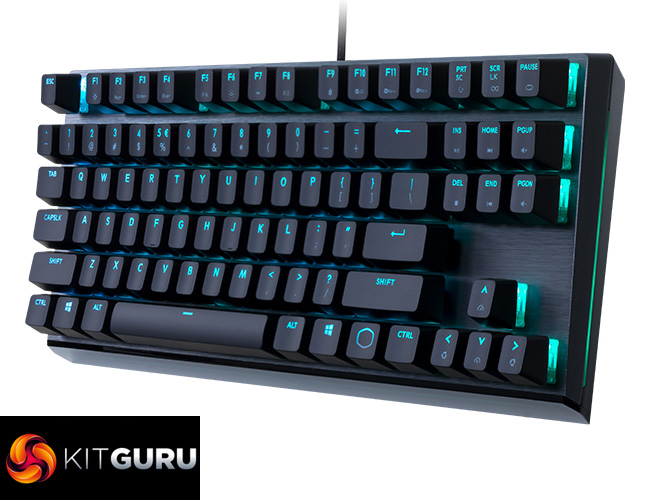 Cooler Master's software has continued to improve, and while it's not exactly mind blowing, it does offer good levels of customisation in an easy to use package. The on-board controls, however, are also very in-depth so you could forgo the software entirely if you didn't want the hassle of downloading and installing another peripheral suite.
The keyboard itself continues to use Cherry MX switches which is definitely a good thing – however, the MK730 is only available in the UK with MX Brown switches, which definitely limits the appeal of the board. I myself prefer MX Blues, but a lot of gamers like MX Reds or Speed switches – none of which are catered for by the MK730.
Other minor gripes include the lack of master brightness control for the LEDs, while the new light bars at the front and side of the board are also quite underwhelming. Neither are major issues, but they are a little annoying.
Overall though, the Cooler Master MK730 is a very good keyboard. It does limit itself by only being made available to the UK market with MX Brown switches – but if you don't mind that, it is a well built, good-looking and feature-rich TKL mechanical keyboard. With a couple of minor tweaks, I think it would be perfect.
You can buy the MK730 for £115.99 from Box HERE.
Pros
Looks great.
Small footprint.
Impressive build quality.
RGB lighting looks good across the keys.
Lots on on-board controls.
Included cushioned wrist rest.
USB-C connector.
Cons
No switch variety – only available with MX Browns.
No master brightness control for the LEDs.
Included ABS keycaps aren't the best.
KitGuru says: The MK730 is another impressive addition to Cooler Master's peripheral family. The keyboard itself is excellent, but it is just held back by the lack of switch variety in the UK.