To test the MK730, I used it as my daily driver for about two weeks – using it for both general typing as well as some gaming.
We break our testing up into four sections: software, lighting, build quality, and performance.
Software


If you read my recent SK630 review, you will be familiar with the control offered by Cooler Master's Portal software as it is essentially the same for the MK730.
That means the control is split into four tabs, and each is pretty much self-explanatory. The first tab is for the LED lighting where you can choose from various preset effects or pick a single static colour. Next up is the macro tab where you can record custom macros and decide if they are single-use macros or if you want them to loop. There is also a Key Map tab to remap any of the keys should you feel so inclined, and lastly Profiles lets you save, import or export up to four different profiles.
Cooler Master's software has never really amazed me, but then it's not bad either. I mainly use it to fine-tune the lighting just how I like it, but there is extra functionality there if you want it. I think one of the main things about the software is also that you actually don't need to install it in the first place, too, as so much can be done via the on-board controls. Cooler Master's own website says 'you don't need it, but we have it.' In any case, it works fine and I had no problems with it, so I can't really complain.
Lighting
The RGB lighting on the MK730 is split across four main zones. You have the regular per-key illumination from each of the individual switches, and then one LED strip across the bottom of the keyboard, with two more smaller strips on both the left and right-hand edges.
The per-key switch illumination looks best. The lighting gets decently bright and each colour of the spectrum is well represented. There are also plenty of effects to choose from, with my favourites including 'rainbow wave', 'reactive tornado', and 'fireball'.
Unfortunately, the LED strips along the front and sides of the board are quite lacklustre as they are just very dim. The side light bars are a little bit brighter than the front strip – which is likely a lot dimmer due to the near-black plastic frame at the front of the board. Either way, though, I have to say I think the MK730 would actually look better without these strips as their lack of brightness makes them look like more of an afterthought. I'm not opposed to strips like this in general – Corsair's K95 RGB Platinum does it very well – but the effect here is quite underwhelming.
Build quality
As has become a staple feature of Cooler Master's keyboards, the MK730 is very well built for a gaming board of its class. This is primarily thanks to both the sandblasted aluminium section of the casing, as well as the brushed aluminium top plate – not only do both parts looks very classy, but they also add some heft and rigidity to the board. Picking it up and twisting it, for instance, results in minimal flex to the body of the keyboard – it's certainly impressive.
I am less keen on the basic ABS keycaps, though. These are pretty standard for almost all of the 'gaming oriented' mechanical keyboards on the market, but to me they just feel a bit cheap – the plastic feels quite thin and even brittle, like it wouldn't take much to snap them. Considering Cooler Master has, in the past, shipped its MasterKeys S and L boards with thick-walled doubleshot PBT keycaps installed by default, I think doing that with its high-end gaming boards is only going to increase their appeal.
In fairness, you do get some spare PBT caps in the box, but there are only 9 of these – for the WASD, arrow and ESC keys. These might be good for playing FPS games with, but when typing you get a slightly inconsistent feel across the different keys. So keycaps could definitely be one area to be improved for the next generation of this board.
Performance
How well a mechanical keyboard feels and performs really comes down to the choice of switch – mine uses MX Brown switches, with a 45cN actuation force and 2mm actuation distance. It is also a tactile switch, but is not clicky. I get on reasonably well with MX Browns, but I do prefer MX Blues as they are heavier and I quite enjoy the noise produced.
Considering that Cooler Master only brings the MK730 to the UK retail market with MX Brown switches, then, I think is a definite shame, and it's something I've been saying for a while. Limiting the MK730 to just MX Browns can only reduce the overall appeal of the product – regardless of how good the board is otherwise, if you want MX Reds, Blues, or even Speeds, then you won't want to buy the MK730.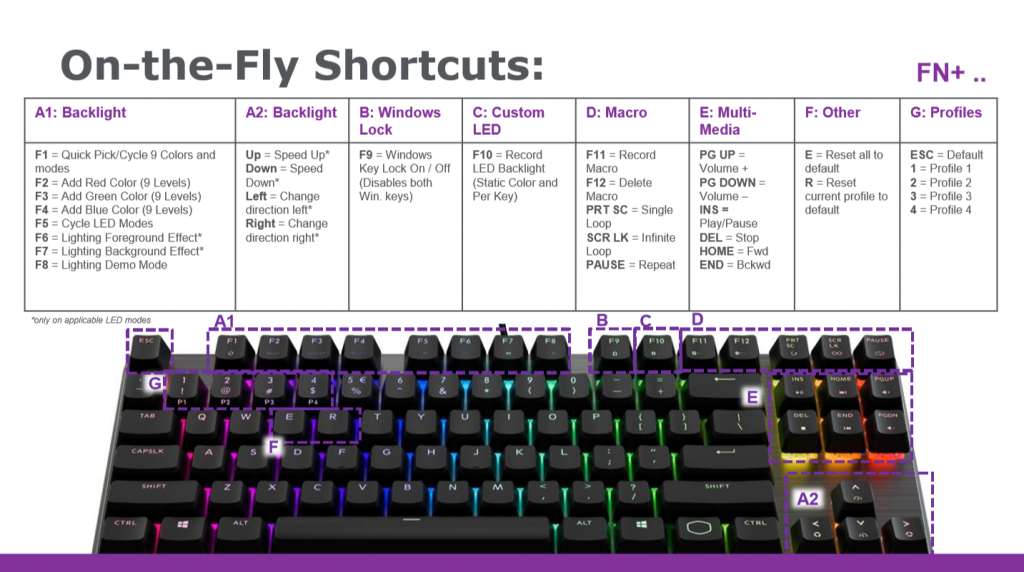 Moving on, a big part of the MK730 is its on-board controls. Essentially Cooler Master has baked pretty much all of the functionality you get from the software, into secondary controls on the keyboard itself. For instance, FN+F1 lets you cycle between a few lighting presets and effects, while you can even manually pick a single colour using F2, F3 and F4 – each of which controls the red, green and blue channels respectively.
On top of that, media functionality – like play, pause and skip, is housed on the INS/HOME/PGUP keys, while users can also change between the four different on-board profiles using the 1-4 number keys.
It's overall a very handy way of doing things that I have liked for a long time. Yes, there is a lot going on so having a guide of what does what is useful – the little secondary icons printed on certain keys aren't always that helpful! But just by taking pretty much all the control you'd get from software, and letting you do it all from the keyboard itself, is certainly impressive and overall it is arguably the best on-board control system from any keyboard I've used.
One thing I have been saying for what feels like ages, however, is the lack of master brightness control. As it stands, you can only adjust the LED brightness levels via software. You can manually adjust the different red, green and blue brightness levels, thus creating your own custom colour as we mentioned above. But once you have found a colour you are happy with, there is just no way to turn the brightness down. Thus, if you want to turn down the brightness, you are forced to use software, or go back and manually adjust each of the red, green and blue channels to get a lower brightness.
It may not sound like much, but it is very annoying, and I can't say I've ever used other mechanical keyboards from the likes of Razer or Corsair which don't give you a quick and easy way of turning the brightness down.