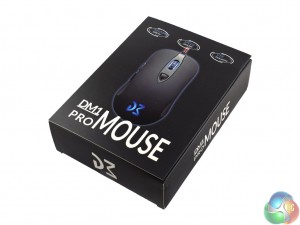 The Dream Machines DM1 Pro ships in a fairly plain box. There is not much on the front other than branding and a large picture of the mouse.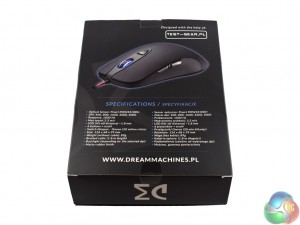 On the back we have specifications of the device as well as another picture of the mouse itself.
Inside, there is a very small booklet included (which is basically pictures of the two DM mice and a website URL), as well as replacement mouse feet. This last feature will be greatly appreciated by many gamers – I know I personally have had a mouse's feet lose their grip and eventually fall off.
Turning to the mouse itself, then. The DM1 Pro sports an ambidextrous design, though there are just two navigation buttons which are on the left side – something which may frustrate left-handers.
The mouse also has a rubberised, matte finish, which should help grip.
The DM logo at the bottom of the mouse illuminates one of five colours. We assess this on the next page.
The base of the mouse reveals the Pixart optical sensor – which Dream Machines call the 'best in class.' We will certainly test this out. Here you can also get a good look at the 3 Teflon feet, which are replaceable should the worst happen.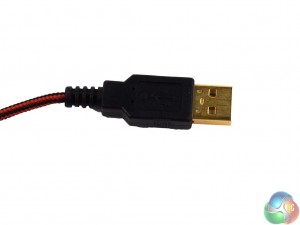 Finally, the USB cable is braided in red and black, while the USB port itself is gold-plated. The cable measures 1.8m long, too.
Be sure to check out our sponsors store EKWB here