As is fairly standard for cheaper headsets, there is no accompanying software with the Renga. This means you cannot adjust the EQ, for example, but is not a huge deal.
First, then, I will talk about the comfort of the Renga. I certainly appreciate its lightweight construction, as during sessions of extended usage the Renga is easy to forget about. However, despite the ventilated earcup design, I still find my ears heating up when using the headset. I do find my ears are particularly sensitive to heat, though, so you may not have this problem.
Despite this, the leather cups themselves are very comfortable and they fit very neatly over my ears. If you can deal with the heat – or do not find it a problem – the Renga is a good headset in terms of comfort.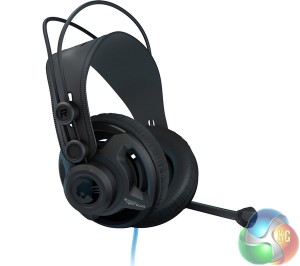 Before talking about sound quality, I just want to mention one negative aspect of the design – the microphone. Simply put, I find with the mic rotated down to its lowest position, it is still slightly too high – meaning it is always on the edge of your peripheral vision.
In games this is particularly frustrating, as it can easily obscure an enemy for that split second – and then it is too late. While it is good that the mic can rotate in the first place, meaning it can be stored out-of-sight when not in use, this area of the design needs improving.
On to sound quality, then. I must say I find the sound slightly disappointing. Roccat made a big deal about the 50mm drivers and 'studio grade' quality, but bass is somewhat lacking from the mix. Dance music lacks any real 'punch', and gunfire in games sounds slightly tinny, which is a let down.
The weak bass helps the mid-range and treble remain clear, though. For instance, dialogue is nice and crisp – which is probably why Roccat have reduced the bass. After all, this is a gaming headset and you want to be able to hear your teammates clearly. This just comes at the cost of fairly weak bass production.
Finally, the microphone quality. To gauge the mic quality I used the Renga with both my PC and with my phone – using the supplied y-splitter cable. It is certainly a good mic. It is crisp and your team-mates will be able to hear you loud and clear. There is just a hint of background noise which can be slightly distracting at times, but at any decent volume it is not really noticeable.