The SpeedLink Quinox ships in a colourful box. A large image of the gamepad itself dominates the front of box, while on the back we find multilingual specifications.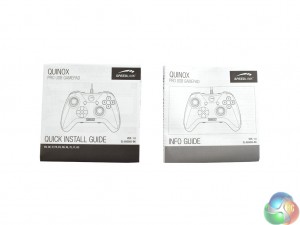 Inside, there are two manuals – one is a quick-install guide, while the other is an 'info guide' which includes all the necessary warranty details.
From the front, the Quinox does not look so different from a typical gamepad. There are some red accents, but it features the standard 2x analog sticks, a 4-way D-pad, as well as the ABXY buttons to the right of the controller.
However, the Quinox offers more elsewhere. On the back we find 4 additional buttons, ergonomically positioned so your fingers rest on top of them when gripping the controller.
Just below these 4 buttons we also find 2 switches – one is an on/off switch for the gamepad's vibrate function, while the other lets you switch between XInput and DirectInput modes.
At the front of the controller there is also some extra functionality. Two small flick switches (pictured above, left) are used to customise the gamepad to your liking – something we look at in more detail on the next page.
There is also an OLED display positioned centrally on the Quinox. This acts as an OSD when configuring settings such as analog sensitivity, which will hopefully make adjusting things easier if you are in-game.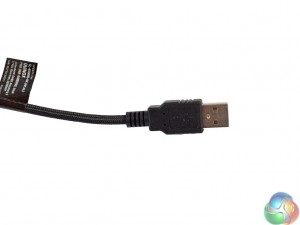 Lastly, the Quinox comes with a 2.4m braided USB cable, which is also detachable – something I also like to see.