When testing the Challenger Prime, the first thing to look at is the software suite. This has to be downloaded from TT eSports' website as there is no driver disc included.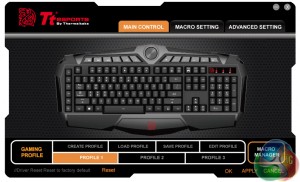 As you may expect, the software is functional but basic. There are only 3 'pages' where you can change things, the first being the 'main control' page which simply allows you to re-map keys to your preference. As the Challenger Prime was shipped to me in the standard UK keyboard layout, I was happy to leave everything be.
There is then the ability to assign macro keys. There are 6 macro keys, but the ability to set up to 3 gaming profiles, so essentially users can map 18 additional functions via the macro keys.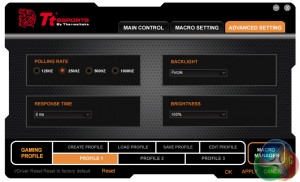 Finally, there is the advanced page which gives users control over the polling rate of the keyboard, as well as backlight colour. It is important to note this is not an RGB keyboard, and users can choose between red, purple and blue backlight options. Backlight brightness can be adjusted via the software, but there is also a physical brightness dial on the keyboard itself.
Overall, then, the Challenger Prime software suite does what you would expect it to and no more. There is the functionality to play with macro keys and gaming profiles, but nothing really out of the ordinary. The software is not particularly attractive either, but it gets the job done – which is the most important thing at this price point. For a more expensive keyboard, I would expect more expansive software.
On to the actual performance of the Challenger Prime, then. Obviously as it is a rubber dome, membrane keyboard we would not expect the same sort of functionality from a mechanical keyboard so it is important to bear that in mind.
That being said, I was surprised by how soft the keys are on the Challenger Prime. Typing is near-silent, which cannot be said for all rubber dome keyboards. There is of course no 'click' when using the Challenger Prime, which I initially found disconcerting but I soon adjusted to it. I actually found using the Challenger Prime to be quite soothing as hammering away on a 'clicky' mechanical keyboard – one that uses Cherry MX Blue switches, for example – can create a cacophony of noise. Not so with the Challenger Prime.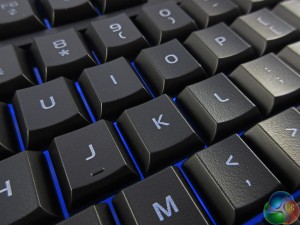 It is also worth mentioning there is not a huge amount of key travel – obviously more than a laptop (as most laptops use scissor-switch keyboards these days) but many readers may be used to having 'deeper' keys. I did find this off-putting while typing, particularly as the keys also felt somewhat 'mushy' after sustained usage. However, I have been using a mechanical keyboard for a while now so those of you moving from a different rubber dome keyboard to the Challenger Prime may not find you have the same problem.
The actual layout of the keyboard is very standard, but due to the macro keys (which I do not have on my own keyboard) and the bulky design of the Challenger Prime, the keyboard itself is quite wide. This meant there was just a small adjustment period where I found myself pressing the key next to what I intended – as my keyboard is much more compact. For most users, though I am sure this will not be a problem, especially if you are already coming from a gaming keyboard of a similar style.
Finally, as this is a gaming keyboard we must discuss what it is like gaming with the Challenger Prime. Overall, I must say the Challenger Prime did well. The backlighting actually looks very good in a darkened room, and I found no problems with ghosting during gaming. The TT eSports website claims the Challenger Prime can handle 6-8 key anti-ghosting, and I did not notice anything to suggest otherwise. The only potential issue – though it varies since peripherals are highly subjective – is lack of tactile feedback. For some serious gamers, this can be important as it can mean decreased reaction speed, but for casual gamers such as myself, I did not find it to be a problem.