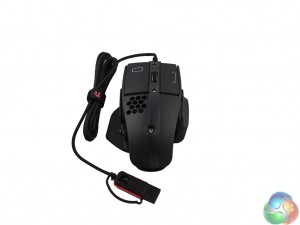 While the Tt eSports Level 10M Advanced may look identical to its predecessor at first glance, a few changes have been made.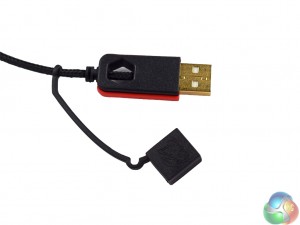 The first thing to note is the braided cable – which measures 1.8m. The USB port is gold-plated and has a protective cap to keep it safe when travelling.
The mouse itself is certainly an elegant piece of kit. My sample is entirely black (though it looks more like a dark grey/charcoal to me) and is very sleek and attractive. You can clearly see the 'open' nature of the design, too – done deliberately to keep your hand cooler than a typical 'closed' mouse would.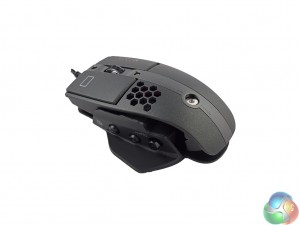 One new addition is the base plate, which protrudes out onto the left-hand side to act as a thumb-rest. On the same side are three buttons – A, B and Z. By default both the A and B buttons perform simple browser-navigation duties.
The Z button is more interesting as it is actually a '5 axis' button. By default, you can click it and the lighting profile will change, while it can also be flicked left and right – which changes the DPI setting. It can be flicked up or down, too – but you need to programme the action you want performed as it is empty by default.
This is a very cool feature, if you ask me.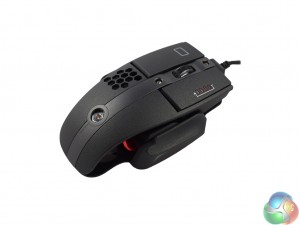 The right-hand side of the Level 10M Advanced has also changed – with a new, shaped ridge for your fourth-finger to lie while you use the mouse. This feels a lot more ergonomic than a completely flat side, but it does mean there are no programmable buttons on the right-hand side.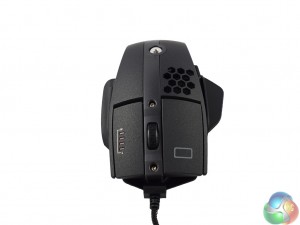 At the top of the mouse one can find the mouse wheel and left/right buttons. The scroll wheel is textured for extra grip and has a lovely click action – while scrolling is also very smooth. Both the left and right buttons have an excellent matte coating which improves your grip on the mouse.
While we are here, a small rectangle is visible on the left mouse button. This is one of 3 RGB lighting zones, while the mouse wheel acts as another. The right mouse button also features four smaller LED indicators which tell you the DPI stage you are currently using.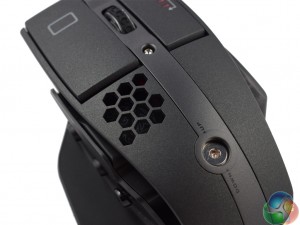 Below the left button is a honeycomb mesh – underneath which the Tt eSports logo is visible. This is the third of the 3 RGB lighting zones.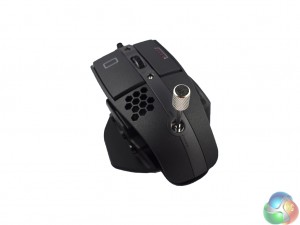 My favourite thing about the design of the Level 10M Advanced, though, is the adjustable height. Using the supplied key, you can crank the height of the mouse up or down, depending on your preference. This takes customisation to a whole new level.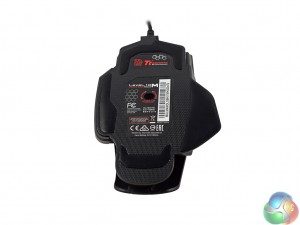 Finally, the base of the mouse. The Level 10M Advanced actually uses four Teflon feet – which glide very smoothly. You can also see the Avago 9800 sensor used here.