As with any gaming peripheral, the first thing to do is take a look at the accompanying software side of things. Interestingly, Tt eSports have made a new piece of software called the 'Command Center.' This works in a similar manner to Corsair's CUE software or Razer's Synapse, meaning it is one software suite for all of Tt eSports' future peripherals.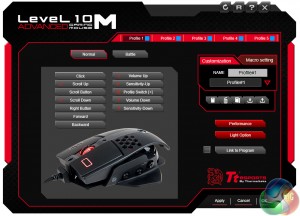 The opening page features the standard button assignment options, as well as the ability to choose, save or delete your profiles.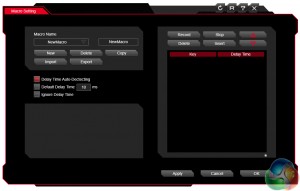 The macro sub-tab lets you record, import and export macros as you like. I don't personally use macros but many gamers do, so the option is there.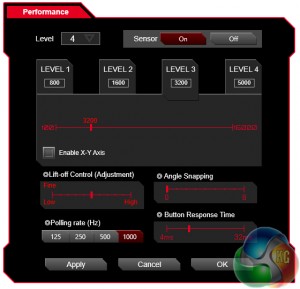 There is also a performance section, where you can set DPI stages, with a top setting of up to 16000. You can also adjust polling rate and lift-off control here, too.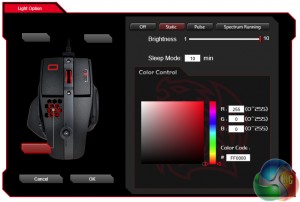 Finally, my favourite section – the RGB lighting control. Here, Tt eSports give you good control over the 3 zones of lighting, with the option for static, pulse or 'spectrum' lighting effects. You could argue that, compared with Corsair's CUE utility, there are not so many visual effects. However, Tt eSports do include a 'battle' mode, where the lighting intensity changes depending on the frequency of your clicking – the faster you click, the brighter the lights. In practice this works really well and adds an extra level of excitement to an already frenetic gaming session.
As I'm sure you will agree, the lighting looks great. I prefer static colours, and they are reproduced very well. As my PC is a black/white build I set all 3 lighting zones to white and it looks very smart. Some RGB LEDs don't deal so well with pure white and look blueish, but the Level 10M Advanced does not fall down here. All in all, I am very happy with the RGB lighting.
Software aside, we must move on to testing the hardware side of things. And in the real world, the Level 10M Advanced mouse is a joy to use.
To start with, the adjustable height option is a really nifty feature which just lets you choose how you would like the mouse to sit in your palm. I cranked the height up nearly to the maximum to provide a nice arc for my hand, but of course some users may prefer a flatter mouse – and that is possible too.
The Z button – which acts like a joystick – is a great addition, too. When flicking it left or right, the DPI goes up or down, saving you having to cycle through all the different stages as with a typical DPI button. The options for flicking up or down are left for each user to configure, and I set them to act as volume controls – which is really, really cool.
As you can see, the Level 10M Advanced is packed full of features – but it does not stop there. The 'open' design of the mouse, along with the honeycomb section on the top, allows for a great deal more ventilation than with a typical mouse. As such, I really did notice my palm staying cooler during gameplay and even normal use.
I can't write a review of the Level 10M Advanced and not mention the Avago 9800 laser sensor, either. It has a native DPI of up to 8200 – enough for most, I think you'll agree. However, Tt eSports do not agree, which is why they have implemented an overdrive mode for the sensor – allowing it up to an effective DPI of 16000. This is unbelievably sensitive – and I can only imagine you must need a multi-monitor 4K setup and still like your mouse to be on the twitchy side to ever use the maximum sensitivity.
Either way, I stuck at the 3200 DPI mark and found the mouse tracks very well. Being able to quickly flick the sensitivity down using the Z button is also very handy for Photoshop work or anything where fine precision is key.
Finally, I will just mention the matte coating on the Level 10M Advanced. Not only does it look great, but it provides wonderful grip as well. I did not notice my fingers or palm slipping at any point which is always beneficial.