Sony has been experimenting a lot with new products recently in an effort to crack the next big thing and return to profitability. This week, Sony's 'Future Lab' showed off one of its new prototypes- futuristic looking headphones that don't touch your ears.
The product is codenamed 'Concept N' so it is definitely not a final product yet. These are Bluetooth headphones that pack in multi-directional speakers so you can listen to music without over the ear or in-ear pads or buds.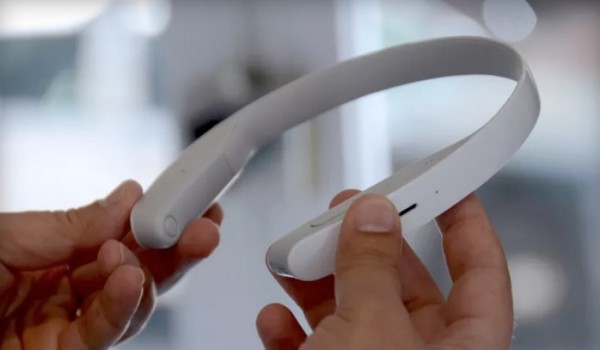 Image Source: The Verge
The headphones consist of a neck band and some optional, cone-shaped in-ear pieces that you can use for a more traditional listening experience. However, these in-ear pieces have a hole right through the middle so don't expect any noise cancelling. I would also imagine that the outside world would be able to hear what you're listening to fairly clearly.
Finally, Concept N also comes with voice control and a camera to allow for specific commands. As The Verge points out, it almost resembles Google Glass though rather than sitting on your face, Concept N sits around your neck.
KitGuru Says: It is good to see Sony experimenting with bold new ideas, rather than churning out 'safe' products. What do you guys think of Sony's new headphone concept? I don't necessarily see it taking off but it is cool to see.