We are not entirely sure that the advertised phrase 'Mobile Bluetooth Sound System' encapsulates exactly what the Arctic S111 BT actually is. We would be more inclined to describe the S111 as a set of Bluetooth Stereo speakers.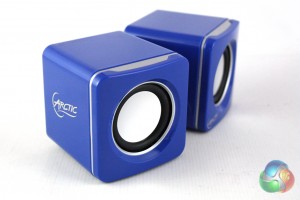 Unlike a lot of portable Bluetooth speakers on the market, the Arctic S111 BT takes the form of two discrete speakers rather than one unit.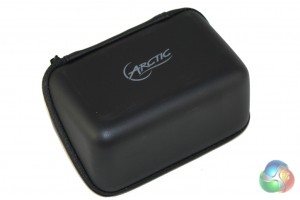 Arctic include a carrying case with the S111 BT, though, which should limit any damage while travelling, however it is more bulky than most single unit portable speakers.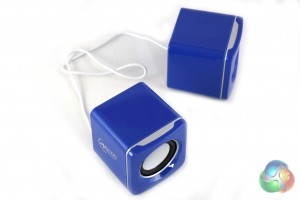 Perhaps the only other downside of having two separate speaker units is the need for a cable connecting the two. This restricts how they can be placed and looks a little out of place on a set of wireless speakers.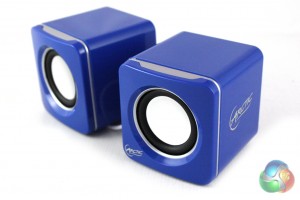 The speakers themselves are finished in glossy plastic, and are available in five different colours: black, blue, lime, pink and white. We have the blue version to test today which is one of the more practical colour options. We imagine that the white option in particular will show scratches and marks more than the darker hues.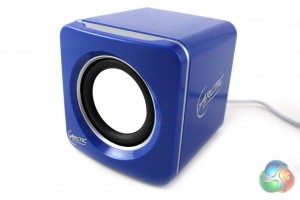 Each speaker unit is cube shaped, measuring approximately 70 x 70 x 70 mm and are fairly lightweight.  The plastics used in construction don't feel particularly good quality, though, and the cable doesn't feel particularly robust either.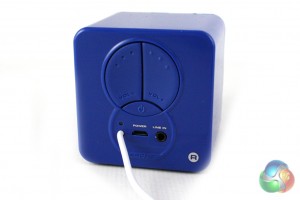 All of the buttons are located on the back of the right hand speaker.  There are three buttons in total, a power button and volume up and down buttons.  There is also an LED status indicator here which can be illuminated in various combinations of red and blue for different functions.  It indicates whether the unit is powered on, in pairing mode, and the battery level of the unit.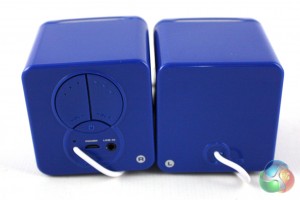 Moving further down the back of the unit, we find a micro-USB connector which can be used to charge the unit.  There is also a 3.5mm line in jack here which lets you hard-wire the S111 BT if you don't want to connect via bluetooth.