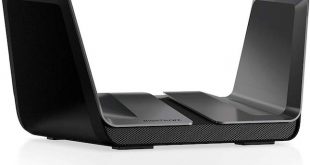 Good WiFi is now up there with food and breathable air as a basic human need for many people. Thankfully, the 802.11ac standard that arrived at the end of 2013 seemed like it had plenty of bandwidth for years to come, with up to 3,467Mbits/sec of  possible throughput. Today more and more devices are using WiFi, so wireless networking has had to adapt and grow. The new standard is called 802.11ax, and our first taster of it comes from NETGEAR with the Nighthawk AX12.
The official IEEE classification for the new standard might be 802.11ax, but vendors consider its arrival so monumental that the whole name system for wireless is being updated, so the new title for 802.11ax is also WiFi 6. This makes 802.11ac WiFi 5, 802.11n WiFi 4, and the 802.11a/b/g standards that came before that are now WiFi 3. This is a bit easier to understand (and remember) than the underlying IEEE standard number, and is a bit more in line with the 3G/4G/5G used with mobile data.
Where 802.11ac aka WiFi 5 maxes out ata theoretical 2,167Mbits/sec using 1024-QAM, but with most devices only hitting 1,733Mbits/sec using 256-QAM, WiFi 6 can hit as high as 9,608Mbit/sec. WiFi 5 can theoretically go to 3,467 with 160MHz channels, but in reality few routers reliably support this, despite Rivet Networks' attempt to make use of 160MHz channels. WiFi 6 can hit 4,804Mbits/sec with 80MHz channels and eight aerials, or 9,608Mbits/sec with 160MHz channels. Where 1024-QAM was an occasional option with WiFi 5, it's now a standard part of WiFi 6.
Another advantage of WiFi 6 is that it supports OFDMA as standard. This means it can send data to multiple devices in parallel at the same time, so there is less chance of experiencing lag or stuttering real-time data streams. As a result, more devices can be supported at once, so the WiFi won't appear to slow down if lots of people are using it intensively at the same time.
Within this context, NETGEAR's WiFi 6 offerings aim to take full advantage of the possibilities, with the AX12 sitting at the top of the range. There are actually two devices with this name – the RAX120 we have on test here, and the RAX200 that wasn't yet available for review.
The primary difference between them is that the RAX120 is dual-band, whilst the RAX200 is tri-band. However, the latter isn't necessarily the obvious premium choice, because although it's the most expensive member of the range, both devices are 12-stream. The RAX200 splits this into three lots of four, whereas the RAX120 uses one of eight and one of four to make up the total.
This means that whilst both offer 4,804Mbits/sec WiFi 6, the RAX120 can do this with 80GHz channels, and the RAX200 will require 160MHz channels. So in theory the RAX120 will have greater range whilst the RAX200 will support more devices. There are a few other mild differences too, but we'll cover those when we focus on the RAX200 in a future review.
Apart from the entry-level AX4 RAX40 model, the new Nighthawks all sport the same mean and futuristic winged appearance with external antennas hidden inside the flaps on either side. The RAX120 offers 4,804Mbits/sec at 5GHz and 1,147Mbits/sec at 2.4GHz. There's a 2.2GHz quad-core CPU inside with 512MB of RAM and 1GB ROM, so the internal hardware specification is pretty meaty to cope with all that throughput.
You get the usual quartet of Gigabit Ethernet ports for wired devices, plus a fifth one dedicated to the Internet WAN connection. But there's also a "Multi-Gig" port that will support 5Gbit and 2.5Gbit as well as 1Gbit LANs. There are two USB 3.0 ports as well for sharing external storage across the network.
So there is a premium hardware specification here. The big news is WiFi 6, though, so let's take a look at the hardware details, management interface and then get to the main question – exactly how fast is it in the real world?
Price: £359.99
Specification:
Wireless protocols: MU-MIMO with 802.11b/g/n/ax 2.4GHz, 802.11a/n/ac/ax 5GHz
Performance: AX6000 (4,804 + 1,147 Mbits/sec)
Antenna Configuration: 4×4 + 8×8 External Antennas for 2.4/5GHz
Ports: 5 x Gigabit Ethernet, 1x 5Gigabit Ethernet, 2 x USB 3.0
Modem Support: VDSL/ADSL 2+ or cable
Be sure to check out our sponsors store EKWB here