Razer is a brand very much focused on gamer chic, and from the box onwards, the motifs are a striking combination of black and bright luminous green. The Razer Sila bundle includes the usual power supply with UK and European plug options, plus an Ethernet cable.

Unlike most routers, the Sila does't bristle with unsightly antennas. Instead, it's a dark black slab around the same size as a hardback book, because the antennas are all held internally.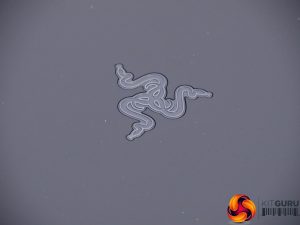 Although the box includes a host of eye-catching green panels, the Sila itself is entirely black from every angle. The only splash of colour is the Razer logo on top. This glows red during startup, then flashes blue a few times, before turning to Razer's signature green. This signals that all is well and the Sila is operating as it should be.
The rear hosts a typical array of ports, although not a particularly generous quantity thereof. There are four Gigabit Ethernet connections, one of which is dedicated for the broadband WAN. Then there's USB 2.0 and USB 3.0.
The SYNC button is not for WPS, as you might expect, but for use with the Sila's main party trick – mesh networking. If you buy more than one Sila, you can press this button to combine them into one WiFi mesh, for much wider wireless coverage. Unfortunately, we were only sent one unit so couldn't test this feature, but it's potentially a potent capability since the Sila is tri-band and can use one of its 802.11ac channels for backhaul.
There's also a recessed reset button at the end next to the USB ports. The one thing notable by its absence is a power switch. If you want to turn the Sila off, you have to pull out the power cord.
Overall, the Sila looks stylish and the mesh capability could be quite valuable, albeit expensive, but we would have liked to see a few more Gigabit Ethernet ports so your gaming LAN can have more than three systems connected.