We tested the performance of Razer Sila in two ways. First, we wanted to assess the raw throughput across the two different WiFi standards it supports – 802.11ac and 802.11n. We also tested the speed of the USB 3.0 port via 802.11ac.
For the first test we used the open-source iPerf 3.1.3 software, and for the second test we used a 3.7GB file collection. Three Windows systems were used. One was an Armari AMD Threadripper workstation running Windows 10, one an HP Spectre 13 X2 (for 802.11ac) and the third a HP Folio 13 (802.11n only).
For all tests, the workstation was connected to one of the Sila's Gigabit Ethernet ports, and the notebooks via WiFi connections. The notebooks were then placed in four different locations – within 1m of the router, approximately 5m away with a wall in between, 10m away and on a lower floor (with multiple walls and a floor in between), and then 15m away on a lower floor. We tested all four distances with the two WiFi standards, but only the 1m distance with the file copy.

With each WiFi standard and distance, we took 60 readings of throughput at one second intervals and calculated the average (iPerf does this automatically). For these tests, we are also comparing the Sila's performance with the NETGEAR Nighthawk XR500, Linksys WRT 3200 ACM, NETGEAR Nighthawk X10 R9000, and Synology RT2600ac.
802.11ac 5GHz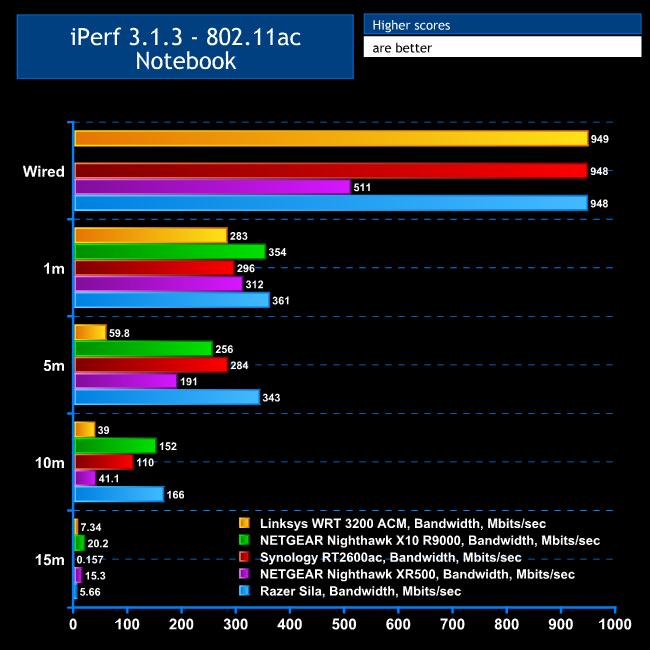 The "control" test of running the bandwidth assessment across a wired connection produced a result of 948Mbits/sec, showing that the LAN switch is running at close to wire speed so won't be causing any bottlenecks.
At a range of 1m, the 802.11ac performance was phenomenal, achieving 361Mbits/sec, which is even faster than our previous champ, NETGEAR's Nighthawk X10 R9000. The throughput at 5m was even more competitive at 343Mbits/sec, 34 per cent faster than the R9000. At 10m, the Sila is still ahead, recording 166Mbits/sec, although this is only slightly faster than the R900, and at 15m it falls behind to a barely usable 5.66Mbits/sec.
Nevertheless, at 10m range or lower this is the fastest router we have tested over 802.11ac, although the NETGEAR Nighthawk X10 R9000 still wins out for sheer range.
802.11n 2.4GHz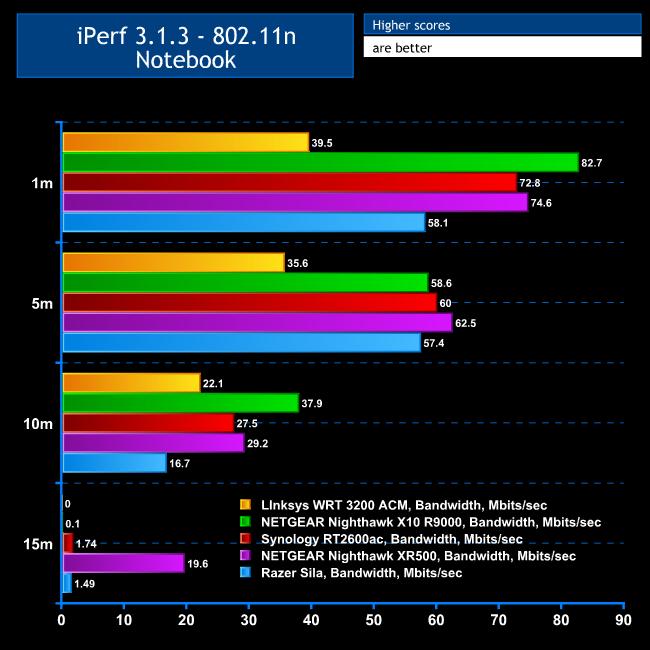 Performance with 802.11n isn't quite so impressive. The 1m throughput is notably behind the competition, apart from the Linksys WRT 3200, but 5m speed is competitive. However, the speed drops off again at 10m and beyond.
USB 3.0 File Copy

For this test, we hooked up a 32GB SanDisk Ultra USB 3.0 Flash Memory key to the Sila's USB 3.0 port and configured it via the sharing interface as network storage. We then copied the 3.7GB Windows 10 installer ISO (unpacked into individual files) to the HP Spectre 13 X2 via 802.11ac.
The Sila is quite a bit faster than the Synology RT2600ac and NETGEAR Nighthawk XR500, but the Nighthawk X10 R9000 remains in a class of its own for storage performance over 802.11ac.
Overall, the Razer Sila's performance is great with 802.11ac but mediocre with 802.11n, so if you have a modern client device with 5GHz WiFi you'll have great throughput, but not so much with legacy systems.