To test the HyperX Alloy FPS, I used it as my daily driver for over a week – using it to type documents and reviews as well as playing some games.
While I would usually begin a peripheral review with a look at the accompanying software, HyperX do not include any software with the Alloy FPS. Instead, everything can be configured directly from the keyboard itself.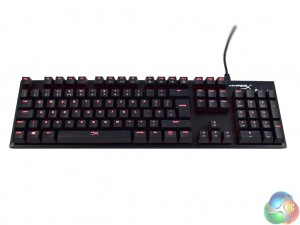 The lighting, for example, has 6 different modes (if we include 'off' as a mode.) These are: static, breathing, light-as-you-type, wave and 'wave-as-you-type'. It is also worth mentioning that the backlight is red only – this is not an RGB keyboard.
The backlighting itself, which I prefer to leave static, is very strong and clear. The only issue is the LED is positioned above the switch, so the number keys are not very well lit. There are 5 brightness levels, though, and the rest of the keys look great with the brightness turned up.
Moving on to physical use of the keyboard, I'll start with the Cherry MX Blue switches – they are truly excellent. My personal favourite, the tactile feedback is great for gaming as it helps me be extra-responsive. I personally like the click, too, though I know this can annoy some people – especially if you work with other people around you.
It is also worth mentioning the simple fact that these are Cherry MX switches – a lot of manufacturers are going with other variants, such as Kailh switches, to the extent it is almost refreshing to use Cherry switches again. Kailh switches are decent and get the job done, but Cherry's are still the gold standard if you ask me.
Having a steel alloy frame gives the Alloy FPS a very premium feel, too. Compared to plastic keyboards, the Alloy FPS is very noticeably a cut above when it comes to build quality and construction. When I met with HyperX in London, they were confident I could pick up the Alloy FPS and whack it on the table there-and-then and it would be OK. After using the keyboard for over a week it is easy to understand such confidence. The Alloy FPS really does feel great – and you can be sure it will withstand a bashing if you are on the road with it, too.
It is also worth pointing out how slim the keyboard is – it measures just 35.59mm deep. This means it takes up minimal space on your desk, for instance – something I appreciate given my desk is fairly busy with a 31.5″ monitor plus hefty speakers! It is also a boon for LAN-party gamers, as the keyboard really is only as big as absolutely necessary.
Finally, I had a good time with the Alloy FPS in-game. Out-of-the-box, the keyboard has 6-key rollover which is OK but not ideal for competitive gaming. The included 'game mode' (activated by pressing Fn+F12) however, raises this to n-key rollover and also disables the Windows key. Add that to the tactile MX Blue switches and the Alloy FPS is a capable gaming keyboard. Some gamers do prefer the faster, linear RED switches – but it is just a matter of personal preference.