The Alloy FPS is an excellent first venture into the mechanical keyboard market by HyperX.
For a start, I am very appreciative of all the added extras that are included. Eight replacement keys, a key-puller and a padded carry bag are part of the bundle you get with the Alloy FPS, which says to me HyperX are keen to make a good first impression.
The keyboard itself is very well designed too, with a top-quality steel alloy frame which gives the Alloy FPS its name. It really does feel like a cut above the rest of the plastic keyboards I have used.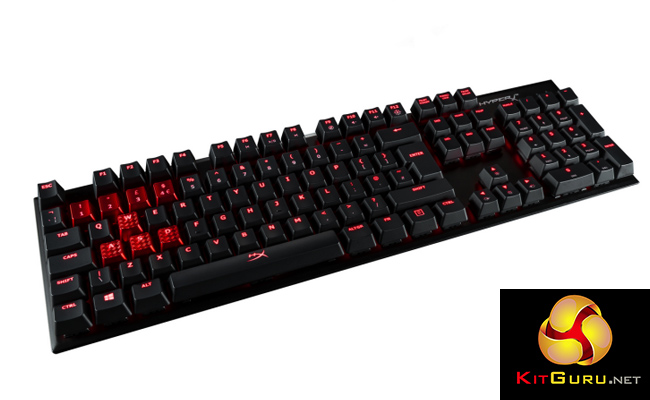 Cherry MX Blue switches are as good as ever – I really appreciate the tactile feedback. When I met with HyperX, too, they seemed confident that other types of switches will be available in the future – so even if blues are not your personal preference, there should be the option soon.
I did think about the lighting before coming to a final decision about how I should score the Alloy FPS. Admittedly, £99.95 is not cheap for a keyboard without RGB lighting. However, it is my opinion that while RGB lighting is cool, it does not make a good keyboard. Taking a mediocre keyboard and adding RGB lighting does not suddenly make it a great keyboard, for example. The HyperX Alloy is a good enough keyboard to justify the price without needing RGB lighting.
So all-in-all, I am very impressed with the HyperX Alloy FPS. It is very well made, with lovely extras and the legendary Cherry MX switches. If you are after a top-notch mechanical keyboard that just works, I am confident this is one of the best around.

You can pick one up from OverclockersUK for £99.95 HERE.
Discuss on our Facebook page HERE.
Pros
Great build quality.
Bundled extras is a lovely touch.
Cherry MX switches are as good as ever.
Nice and compact.
Gaming mode ensures n-key rollover.
Cons
RGB lighting would be nice.
KitGuru says: For a first mechanical keyboard, HyperX have done an excellent job. I look forward to seeing what they can produce in the future, too.