The Roccat Isku+ Force FX (which I'll just call the Isku Force from here on) ships in a very bright, eye-catching box. The analog feature of the keyboard is also highlighted straight away on the front of the box.
Inside, you just get two user guides and three different stickers accompanying the keyboard.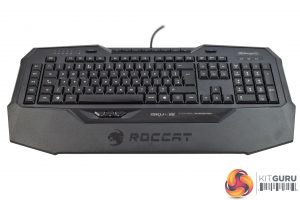 The keyboard itself does not look very different from the Isku FX we reviewed a few years ago. This means it keeps the large, integrated wrist-rest area, while it is also sports quite an angular design.
There are plenty of extra button options with the Isku Force, as the left-hand side of the board features 5 dedicated macros. There are even three 'thumbster' buttons located just above the wrist-rest area of the board, ideal for use with your thumbs.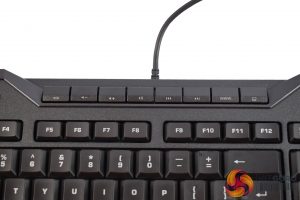 At the top of the board we also find a long line of dedicated multi-media keys, including volume, play/pause and skip buttons.
The QWEASD buttons are pictured as these are the 6 keys which feature analog control. You can see the front of the keycaps has some white lines running across them to designate these 6 keys as the analog buttons.
Removing the keycaps gives us a look at the rubber domes – after all, the Isku-series keyboards are all membrane, so no mechanical switches here.
Flipping the keyboard over, we find there are four rubber anti-slip feet along with the usual height-adjustment stands. Roccat has also implemented a cable-channelling solution whereby grooves cut into the keyboard allow you to route the cable either to the left or the right of the board.
Lastly, the USB cable measures 1.8m, but is sadly not braided. Considering the £99.95 asking price, I would have expected a braided cable, for the improved aesthetics if nothing else.