At a glance, Roccat Isku+ Force FX may look like a fairly typical gaming keyboard. However, it is quite the opposite, as it is actually the first commercially-available keyboard that uses analog keys.
This means the keys react to the amount of pressure you are exerting, as opposed to the binary nature of regular keyboards.
We must credit Roccat for implementing this technology in a keyboard, as it works really well. I was able to play racing games and have my car make the slightest of movements if I was just barely touching the keyboard, or I could mash my fingers against the keys and see my car swerve aggressively all over the track.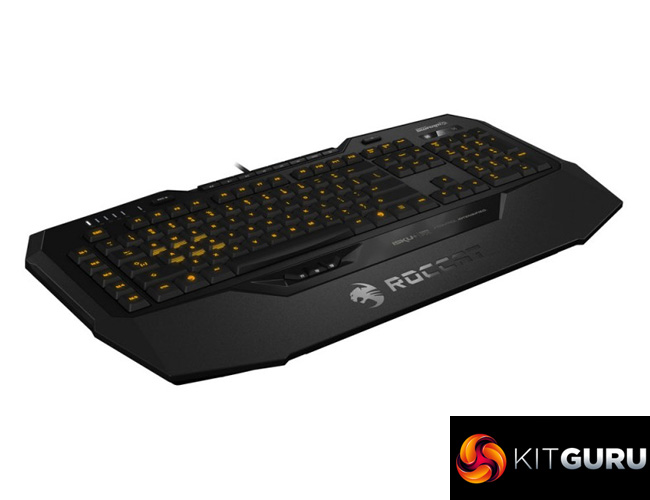 Simply by creating the Isku+ Force FX, Roccat have created a keyboard that will appeal to PC gamers looking for a competitive edge, as the analog functionality really offers something different to other keyboards on the market.
However, there is still one major downside to this keyboard, and that is the fact it is still a membrane board. The analog functionality is admittedly very cool, but mechanical switches are simply a cut above rubber dome boards. Considering the Isku Force costs £99.95, it is especially hard to take. I would imagine some people would prefer the all-round better experience of using a mechanical keyboard, even if it means missing out on the analog functionality.
That being said, I do think the Roccat Isku+ Force FX is still worth buying. The analog technology has the potential to revolutionise PC gaming, and I am excited to see how it progresses. The Isku+ Force FX may not win our highest award, as the overall experience suffers due to its membrane nature, but gamers looking for an extra dimension should definitely add it to their shortlists.

You can buy one from Overclockers UK for £99.95 inc. VAT HERE.
Pros
Analog functionality is very cool.
Lots of potential for a mechanical Force FX board.
RGB lighting is decent.
Swarm is as good as ever.
Cons
Still a membrane keyboard.
£99.95 is also a lot of money for a membrane keyboard.
KitGuru says: While we can't justify giving our highest award to a £99.95 membrane keyboard, the Roccat Isku[+] Force FX is very enticing thanks to its analog functionality.