Cooler Master has added a new keyboard called MasterKeys Pro M White LEDs to its impressive array of peripherals. The name pretty much tells you all you need to know about the hardware, although it takes a certain amount of analysis to pin down the most important details.
The M suffix stands for Medium and in terms of size the keyboard sits between existing Small and Large models. That part is fairly obvious however Cooler Master has managed to shrink the footprint by removing the pad of navigation arrows and the Insert/Home/Delete/End/Pg Up/Pg Down functions. In other words you have the usual QWERTY keyboard with 12 function keys across the top and you also have the number pad on the right so to our way of thinking this cannot be termed a ten keyless design.
Watch via our VIMEO Channel (Below) or over on YouTube at 1080p60 HERE
At the heart of the hardware we have the Brown Cherry MX switches that live under every single key. This is your reviewer's preferred choice of Cherry switch but if you insist you can instead buy this keyboard with Blue or Red Cherry MX switches,
The final part of the equation is the choice of white LED backlights. Previous MasterKeys models have RGB lighting but this new model has pure white backlights. You can still use control modes to make patterns or to let the lights breath but you can forget about colours. Cooler Master emphasises that the white LEDs are incredibly bright – we agree with that statement – however it looks like a curious move to deliberately dispense with RGB lighting at a time when it seems like RGB has become ubiquitous.
Specification:
Model Number
SGK-4080-KKCM1-US (Brown Switch)
SGK-4080-KKCL1-US (Blue Switch)
SGK-4080-KKCR1-US (Red Switch)
Switch Type Cherry MX
Material Plastic / Metal
Colour Black
LED Colour White
Polling Rate 1000 Hz
Repeat Rate 1x / 2x / 4x / 8x
Response Rate 1ms
MCU 32bit ARM Cortex M0
On board Memory 512KB
On-the-fly system Macro Record and Lighting
Smart cable manager 180 degree
Cable Detachable with Micro-USB
Connector Cable USB 2.0
Cable Length 1.5 Meters
Dimensions 38.01 x 14.38 x 4.24 cm / 14.96 x 5.66 x 1.67″
Product Weight (without cable) 1025 g
Warranty 2 years
Unboxing the MasterKeys Pro M is a satisfying experience as the keyboard feels rock solid in your hands and has a lovely compact design. The package includes a quick start guide to the function keys, a key cap puller and a USB cable. Flip the keyboard over and insert the Micro USB plug in the recessed port, route the cable either straight out the back or to the left or the right and then plug it in to your laptop or PC.
There are no other connections to think about as you don't get any pass-through USB ports and neither is there any control software. This looks like a step back from MasterKeys RGB designs as you are forced to use the various function keys on the keyboard to control the lighting or record a Macro.
If this is your first experience with a Cooler Master keyboard the initial couple of minutes might be frustrating but once you work out that tapping the FN key will trigger other other keys to flash and let you know which functions are currently enabled you will be pretty much home and dry. You can toggle through pre-set patterns or leave the keyboard statically lit or breathing. There are five levels of illumination from quite dim to very bright, or you can disable the LEDs altogether. The Macro recording function is present and correct but to be frank your reviewer was simply unable to think of any function worth recording.
We can hedge around this all day but our video sums up the MasterKeys Pro M fairly well as a black mechanical keyboard with white LED lighting does not offer a visual feast. To put it another way, it looks rather dull.
This is a shame as it is a decent keyboard but the simple fact is that anyone looking for visual impact needs the full RGB experience.
Closing Thoughts.
The Cooler Master MasterKeys Pro M is a lovely mechanical keyboard that feels great when typing or playing games. The small footprint is good, however the way that many keys double up their functions can get a bit confusing.
When you learn the lighting control short-cuts the MasterKeys Pro M makes a good deal of sense but even so it would surely be a simple matter to include a Windows control utility that allows you to click on a couple of buttons and choose your settings.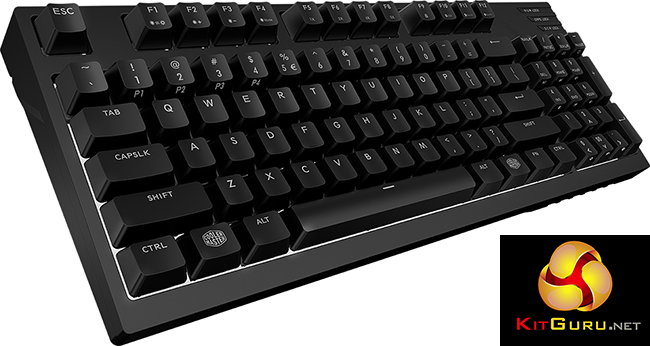 Cooler Master has included all the important functions such as full anti-ghosting, N-key and 6-key rollover and in that sense the Cherry Brown MX keyboard is a success. On the downside we feel that Cooler Master needs to cut the price even further to compensate for the lack of RGB lighting.
Discuss on our Facebook page, over HERE.
Pros:
Cherry MX Brown mechanical keys.
Small footprint takes up the minimum of desk space.
Good value for money.
Solid frame offers total support.
Strong white LED lighting with five steps of brightness.
Cable guide feeds to the rear, left or right as you prefer.
Micro USB port is recessed for protection.
Cons:
The doubling up of key functions can get confusing.
The lack of RGB lighting is a bit boring.
No control software so you are forced to use keyboard commands.
No wrist rest.
KitGuru says: MasterKeys Pro M is a cut-price mechanic keyboard with white LED lighting. Oh how we miss RGB.